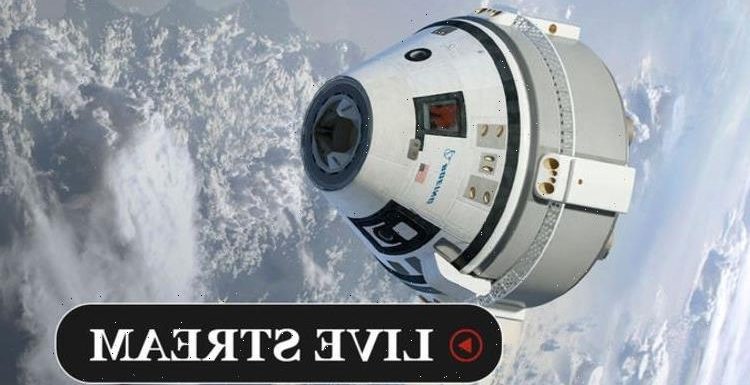 https://www.youtube.com/embed/tF9LpNpNjNI
The CST-100 Starliner is Boeing's answer to SpaceX's Crew Dragon – a futuristic space taxi built to ferry crew to and from orbit. Unlike SpaceX's sleek Dragon, however, Starliner is yet to earn its wings on an orbital flight. Starliner was originally pencilled in to launch last week but an emergency on the ISS scuppered NASA's plans.
The uncrewed mission, dubbed Boeing Orbital Flight Test 2, is now scheduled to blast off on Tuesday afternoon.
Starliner rolled out onto the launchpad at Cape Canaveral on Monday morning, strapped to a United Launch Alliance (ULA) Atlas V rocket.
NASA said: "For a launch Tuesday, meteorologists with the US Space Force 45th Weather Squadron are predicting a 60 percent chance of favourable weather.
"The primary weather concerns for launch day are the cumulus cloud rule, lightning rule, and thick cloud rule violations during the instantaneous launch window."
Today's launch will mark Starliner's second attempt to get into orbit after an onboard clock failed to fire the spacecraft's engines on its first attempt in December 2019.
NASA preview the launch of Boeing Orbital Flight Test-2
We use your sign-up to provide content in ways you've consented to and to improve our understanding of you. This may include adverts from us and 3rd parties based on our understanding. You can unsubscribe at any time. More info
How to watch the Boeing Starliner launch today:
Courtesy of NASA, you can watch the Starliner launch in the embedded video above.
The broadcast is presently scheduled to go live at 5.30pm BST (12.30pm EDT) – 50 minutes before liftoff at 6.20pm BST (1.20pm EDT).
You can also tune in to NASA TV on YouTube and the space agency's website.
If all goes according to plan, NASA will host a post-launch conference which you can also watch here at 8.30pm BST (3.30pm EDT).
Starliner will blast off into orbit without a crew, targeting a rendezvous with the ISS on Wednesday afternoon.
NASA expects the capsule to reach the ISS by about 3.30am BST (10.30am EDT) tomorrow.
Starliner will then dock to the orbital lab by 6.37pm BST (1.37pm EDT).
A successful flight will pave the way for Starliner's first crewed mission with astronauts Barry Wilmore, Michael Fincke, Nicole Aunapu Mann in late 2021 to early 2022.
Boeing and SpaceX were both awarded contracts by NASA to develop a new generation of flight-ready spacecraft.
SpaceX has already won the race with a total of four flights of the Crew Dragon, including two fully operational missions.
Since the end of the Space Shuttle era in 2011, NASA has relied on Russia's space agency, Roscosmos, to send crew into orbit.
The work done by Boeing and SpaceX will drastically cut the amount of money the tax-funded agency spends on human spaceflight.
NASA is a key player in manning and operating the ISS.
The space station is the product of an international partnership between 15 nations, including the members European Space Agency (ESA).
Orbiting the Earth at an altitude of about 250 miles, the ISS has been home to teams of astronauts and cosmonauts for more than 20 years.
There are presently seven astronauts on board the space lab.
The astronauts are NASA's Shane Kimbrough, Mark Vande Hei and Megan McArthur.
They are joined by Russian cosmonauts Pyotr Dubrov and Oleg Novitskiy, as well as ESA's Thomas Pesquet and Japan's Akihiko Hoshide.
Source: Read Full Article