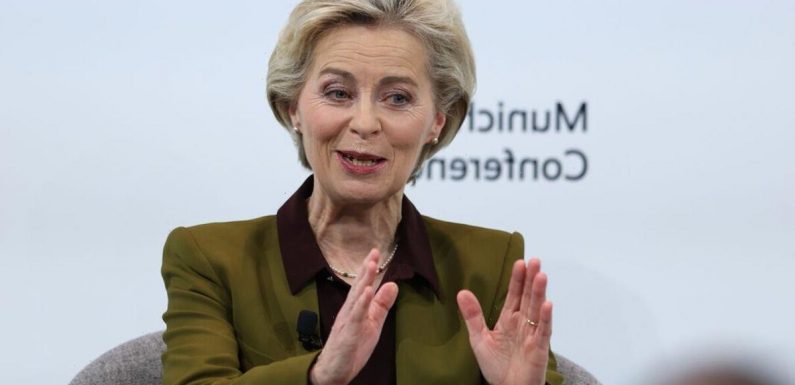 Brexit: Rishi Sunak says there is 'no deal'
We use your sign-up to provide content in ways you've consented to and to improve our understanding of you. This may include adverts from us and 3rd parties based on our understanding. You can unsubscribe at any time. More info
Prime Minister Rishi Sunak has been urged to resolve Brexit disputes with the European Union, and get Britain back into the bloc's 95.5billion (£84billion) flagship research project. Experts told Express.co.uk that the UK is being blocked from joining Horizon Europe is hampering the country's dreams of becoming a science superpower. As a result, they published a recent report that found that 70 percent of UK based firms are planning to move their Research and Development to other countries, including the US and the EU.

Speaking to Express.co.uk, Mark Smith, Partner R&D Incentives and Grants at Ayming UK, a consultancy specialising in innovation funding, warned that recent ambitious government subsidies in the EU and the US were playing a role in accelerating this exodus.
Last August, the US passed President Joe Biden's Inflation Reduction Act, which provided massive boosts to companies looking to develop renewable energy and build electric vehicles in the country.
With such tantalising tax incentives offered by the US, experts have warned that companies in Europe have begun moving their production across the continent.
In response, the EU launched the Green Deal Industrial Plan, with the goal of slashing red tape, speeding up access to finance, and fast track new clean energy production projects.
Mr Smith said: "From both sides of the Atlantic, governments are throwing significant investment behind R&D and the UK is at risk of being crowded out if it doesn't act quickly.
"Both the Inflation Reduction Act in the US and the EU's recovery fund have been designed with innovation at their heart and are representative of the findings of our recent report, which revealed 70 percent of UK firms are planning to offshore R&D to competitor markets this year.
"To reverse the outflow of R&D investment, the UK Government needs to learn from the policy initiatives coming out of Brussels and DC.
"Rejoining Horizon is a priority, but the UK Government should also consider the benefits of a supercharged green tax incentive that is aimed at industry not just consumers."
Britain's furious post-Brexit dispute with the bloc, which has been dragging on for months has left British researchers in the dark after the EU told the UK it cannot take part in Horizon Europe until the argument is smoothed over.
This is despite Britain negotiating to stay in the programme as part of the 2020 Trade and Cooperation Agreement.
Horizon lets researchers apply for prestigious EU grants and facilitates collaboration with European scientists who work on projects of all kinds, from climate change studies to quantum mechanics and AI. But researchers have been dragged into a political feud and have been left in limbo as the back-and-forth drags on.
Mr Smith noted that to combat the US Inflation Reduction Act, the UK will need to incentivise "capital investment in advanced and green manufacturing", which would help given that "private sector R&D investment is closely linked to manufacturing in many sectors."
DON'T MISS:
Man unearths family's buried treasure from WW2 after following map [REVEAL]
Heat pump blow as Government blamed for 'disappointing' £450mn scheme [REPORT]
Vibrating capsule that 'stirs colon to action' alleviates constipation [INSIGHT]
Despite Minister of State for Science George Freeman laying out a plan B for Horizon, which he claims could propel the UK to "science superpower status", Ayming notes that exclusion from the programme is set to cause an "inevitable transfer of activity from the UK to Europe".
He continued: "UK businesses have lost access to a €95.5billion funding pool and will not be involved in some of the most cutting-edge R&D collaborations in the world, which encourages businesses to set up in Europe.
"To put it simply, the UK just isn't competing at the very highest level and other markets are creating more favourable and supportive ecosystems for R&D activity.
"The big issues facing the world today aren't waiting and neither can the companies trying to find the solutions. Businesses need to keep moving forward and can't afford to wait around for the UK to conjure up funding to begin filling the hole left by Horizon.
"Ultimately, rejoining the programme would be an important step in the right direction but we need to build on it further with collaborations with the US, Japan and other competitive markets around the world."
Source: Read Full Article