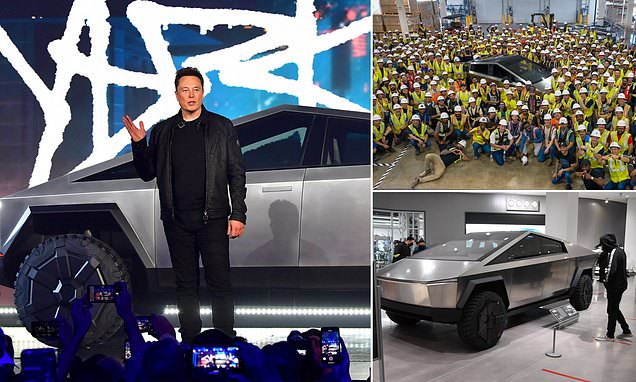 Tesla FINALLY builds its first $70,000 Cybertruck – FOUR YEARS after Elon Musk's eagerly-anticipated concept was first unveiled
Tesla tweeted the first Cybertruck has been built at its huge Giga Texas facility

The firm's vehicle was unveiled in November 2019 and had its windows smashed
Tesla's futuristic Cybertruck has finally rolled off the assembly line, nearly four years after Elon Musk unveiled the vehicle to the public. 
In a tweet, the company confirmed the first Cybertruck for customers has been built at its 'Giga Texas' manufacturing facility in Austin, Texas. 
A photo showed more than 100 Telsa staff in hard hats and high-vis vests surrounding the vehicle at the 10 million square foot facility. 
Tesla's Cybertruck – which will be priced at between $50,000 (£38,000) and $70,000 (£53,000) – is a bizarre all-electric vehicle with a futuristic angular body in gunmetal grey. 
Musk – who was left red faced when the truck's windows smashed during its initial unveiling as a prototype in 2019 – has said 'looks like it was made by aliens from the future'. 
A tweet from the company, showing staff surrounding the car fresh off the production line, simply said: 'First Cybertruck built at Giga Texas!'
READ MORE: Tesla unveils Cybertruck but botches live demo
Musk was embarrassed during the live demonstration when the truck's windows shattered
Designed mostly for truck drivers who have to go long distances, Cybertruck has an estimated battery range of up to 500 miles, acceleration from 0-60 mph in as little as 2.9 seconds and capabilities on water as well as land.
It's been described as a vehicle that will 'change the look of the roads', with 'better utility than a truck with more performance than a sports car'. 
After Musk first provided a glimpse of Cybertruck in November 2019, it had been set to go into production in 2021, but this was pushed back to 2022, and yet again to 2023. 
Musk has previously blamed battery supply issues for the delay, saying that each Cybertruck would 'literally cost a million dollars a piece or more' if Tesla had started producing the futuristic vehicle in 2021. 
Musk originally said will cost $39,900 (£31,000) for a single motor version with 250 miles of range, but that's now expected to be around $50,000 (£38,000), according to TechCrunch.
Meanwhile, the most expensive version with three electric motors and 500 mile battery range will be $70,000 (£53,000) it claims. 
Tesla's Cybertruck has been available to pre-order since 2019 and has received more than 1.5 million orders, according to a report last November. 
In a May shareholder meeting, Musk said that Tesla would like to produce a quarter-million Cybertrucks per year, depending on demand. 
Tesla CEO Elon Musk introduces the all-electric battery-powered Tesla Cybertruck at Tesla Design Center in Hawthorne, California on November 21, 2019
With its wedge shape and stainless-steel body – which Tesla calls the exoskeleton – the Cybertruck looks nothing like a traditional pickup 
READ MORE: Tesla car 'self-combusts' in London 
A shocked resident captured a Tesla that 'self-combusted' into flames 
Tesla boasts that the car's nearly impenetrable monochrome exoskeleton provides passengers maximum protection, together with ultra-strong glass that absorbs and redirects impact force.
Despite this, Musk was left embarrassed at the car's launch event in 2019 when the Cybertruck glass was smashed. 
At the time, Tesla design chief Franz von Holshausen tried to prove the glass was 'shatterproof' by throwing a heavy metal ball at close range.
But Musk was heard muttering 'oh my f***ing God' when the glass smashed – despite appearing to withstand the same test prior to the launch event. 
Since this first prototype, design tweaks have been made to Cybertruck, mostly to ensure it's more durable and resistant to impact from the likes of rocks and debris that may fly up as it powers through rough terrain at high speeds. 
The Cybertruck's exoskeleton is now made from a new type of stainless steel that is said to be strong enough to withstand impact from a 9mm handgun.
Visitors the Telsa Cybertruck prototype at the Petersen Automotive Museum in Los Angeles, California, July 2020. The US automaker has announced that its first Cybertruck has rolled off the assembly line at its huge plant near Austin, Texas
Although not bulletproof, the windows are made of layers of glass that have been chemically treated to make them stronger. 
A more recent prototype of the truck, shown off during the Cyber Rodeo event in Texas in April last year, doesn't have handles on the doors.
Musk said the truck 'can tell that you're there and it just knows that it needs to open'. 
The CEO has also said Cybertruck 'will be waterproof enough to serve briefly as a boat', although it's unclear how exactly this would work. 
MailOnline has contacted the firm for more information. 
Cybertruck is one of several Tesla products that the company has announced but is yet to deliver, along with the Roadster car and the Optimus robot.
Its 20-foot semi-autonomous lorry started being delivered to customers in December, five years after it was unveiled. 
Cybertruck timeline: Heavy duty vehicle was first unveiled back in 2019
November 2017: Elon Musk describes a concept of a 'pickup truck that can carry a pickup truck'. 
November 2019: Musk unveils the Cybertruck prototype. The windows get smashed in a botched demo. 
January 2021: The CEO tweets that Cybertruck 'doesn't need a garage' – because it offers sufficient protection on its own. 
April 2021: Musk says he's been 'driving Cybertruck around the site where it will be built'. 
September 2021: Musk said Cybertruck isn't expected to go into production until late 2022. 
Musk speaks in front of the newly unveiled all-electric battery-powered Tesla's Cybertruck with shattered windows, after a failed resistance test, at Tesla Design Center in Hawthorne, California on November 21, 2019
January 2022: Musk reveals he's been driving the latest 'awesome' prototype around Giga Texas. 
January 2022: Cybertruck production delayed until 'hopefully next year', Musk says in an earnings call. 
September 2022: Musk tweets: 'Cybertruck will be waterproof enough to serve briefly as a boat, so it can cross rivers, lakes & even seas that aren't too choppy.'
November 2022: Musk tweets: 'Cybertruck is something special that comes along once in a long while.'  
February 2023: Musk reaffirms that Cybertruck production will start in 2023. 
May 2023: Musk says Tesla is 'working hard to get Cybertruck into production, calling it a 'tough product to design and even tougher to build'. 
July 2023: First Cybertruck built at Giga Texas. 
Source: Read Full Article