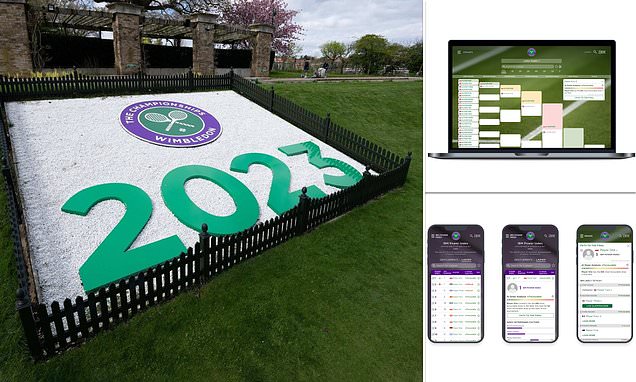 The technology behind the tennis: Behind the scenes at Wimbledon where futuristic systems power the tournament – including AI commentary and Hawk-Eye
The tournament kicks off on Monday, July 3, and is packed with new technology

READ MORE: Murray is handed British first round clash after Nottingham victory 
For sports fans globally, the day we've been waiting for is nearly upon us – the start of the Wimbledon Championships. 
From Monday, some of the biggest stars will battle for the most prestigious prize in tennis, including defending champions Novak Djokovic and Elena Rybakina. 
Britain's hopes rest on Cameron Norrie, Katie Boulter and Andy Murray, fresh from his victory at the Nottingham Open – although Emma Raducanu will be absent. 
More than ever before in its nearly 150 history, data-guzzling technology underpins the fan and player experience at SW19. 
MailOnline takes a look at the innovations, including controversial AI commentary and a new prediction tool that estimates the chances of players progressing. 
From AI commentary to AI draw analysis, a few new additions are powering the experience for fans at the Wimbledon Championships this year 
READ MORE: Andy Murray is handed all-British first round clash
Andy Murray during a practice session on June 29 before the tournament 
AI COMMENTARY 
One of the biggest changes introduced for this Wimbledon year affects broadcast coverage – and no, we're not talking about the departure of Sue Barker. 
In what will be a controversial move in the eyes of tennis lovers, Wimbledon is introducing audio and text commentary provided by artificial intelligence (AI) for its app and website. 
The feature uses IBM's AI platform, called Watson, to analyse ball tracking data and information about the types of shot being used and locations of the players around the court. 
Commentary based on this information is then generated for viewers, although it can be toggled on and off if fans want to hear natural sounds from the court, like the ball hitting a racket and cheers from the crowd between points. 
It means commentary becomes available for matches whether or not they take place outside of Wimbledon's six 'show courts' for big matches, which already have live human commentary. 
Both male and female-sounding AI commentators will feature, although the voices will have no human input meaning they'll be created solely from computers – and they've not been modelled on any particular person.  
Wimbledon commentary with AI instead of John McEnroe? It doesn't look like an eventuality any time soon 
It means commentary becomes available for matches outside of Wimbledon's Show Courts – which are Centre Court as well as courts 1, 2, 3, 12 and 18. Pictured is a map with Wimbledon's courts labelled (court 19 no longer exists)
READ MORE: Is Centre Court really the best place for a British win?
IBM researchers trawled through 21 years of Wimbledon data
It's important to note the feature only applies to post-match highlights on wimbledon.com and the Wimbledon app – not the BBC's coverage.
So millions of fans will still be gifted the AI-free insights from the likes of John McEnroe and Tim Henman during live play as they tune in to the BBC. 
IBM said the first set of AI commentary will be available after the first day of play on Monday, although similar AI commentary used for the US Masters golf in April gives an idea of what it will sound like. 
IBM sports partnerships leader Kevin Farrar said he sees the AI commentary as 'complementing the human element', rather than replacing it. 
'You can't replace John McEnroe doing commentary, that human element always needs to be there,' he said.
AI DRAW ANALYSIS 
Another brand new feature for Wimbledon 2023 also uses AI but to improve the fan experience on the Wimbledon app. 
IBM Draw Analysis uses AI to define how favourable the path to the final might be for every player in the singles tournament
A player's draw likelihood of progressing to particular rounds of the tournament will be indicated with a traffic light-style rating, from 'favourable' (green), 'neutral' (amber) or 'difficult' (red)
READ MORE: 2022's Wimbledon finalists could meet in this year's quarters 
Feisty Australian Nick Kyrgios reached the final last year but lost to Novak Djokovic 
IBM's Draw Analysis tool uses AI to define how favourable the path to the final might be for every player in the singles tournament. 
Each player's chances in the draw are indicated with a traffic light-style rating, from 'favourable' (green), 'neutral' (amber) or 'difficult' (red). 
For example, a British favourite might have a favourable chance of getting to the second round, but only a neutral chance of getting to the third or fourth rounds or a difficult rating for the quarter finals onwards. 
According to IBM, this favourability rating isn't a prediction, but a description of how difficult their match with a potential future opponent – and their path to the final – is likely to be.
AI Draw Analysis will help fans uncover potential dark horses in the singles draw that wouldn't be apparent by just looking only at their tournament ranking. 
AI POWER INDEX 
AI Draw Analysis is based on the IBM Power Index, an AI-powered analysis of player performance presented as a leaderboard on the app.
Introduced for Wimbledon 2021, IBM Power Index updates every day of the tournament to reflect the most recent data. 
IBM Power Index is an AI-powered analysis of player performance presented as a leaderboard on the app. This year, it has been improved with IBM's Draw Analysis tool (pictured) that shows colour-coded 'favourability' ratings
How does the tennis scoring system work? 
In tennis, players must win enough games to win a set, and then a certain amount of sets to win the match. 
This unique layout means that in many games, the eventual victor of a game actually wins less points. 
The key to a victory in tennis is to 'break' the other person's serve – winning a game when the opposing player serves the ball into play.
This can be done by winning just four consecutive points, and provides a huge advantage.
Winning one point takes the score to 15-0. This is read as 'fifteen love', with love meaning zero. Another point will take the score to 30-0. The next point would take the score to 40-0.
The next point, should it be won by the person who is 40-0 up, would win the game.  
If the game becomes tied at 40-40, this is then called deuce. When the game is on deuce, the next point does not win the game.
In this instance, the winner of the next pint gets 'advantage'. 
At this point, if they win again they will win the game, if they lose the score returns to deuce and the process continues until a player wins the advantage. 
It's powered by an AI that cribs multiple bits of information online, including recent performance stats and media coverage about how well they've played. 
This year, the leaderboard should go live on the app and website on Sunday, complete with the new favourability ratings from AI Draw Analysis. 
HAWK-EYE 
Now a stalwart of Wimbledon is the Hawk-Eye electronic system, which has made individual points even more exciting for the crowds. 
Since 2021, Hawk-Eye has been used on all courts at Wimbledon to allow line calls to be challenged by the players – and potentially win crucial points. 
The system uses multiple cameras positioned around the court to track the precise movement of the ball during play. 
A 3D image is then processed frame-by-frame to show the ball's trajectory and determine whether it was in or out when it touched the turf. 
According to Hawk-Eye Innovations, the British firm that developed the tech, the result is accurate to within 0.2 inches (5mm) and can also be used to track foot faults.
Of course, human umpires still have the say whether or not the ball was in, but with Hawk-Eye, players have the opportunity to challenge these human calls, which are sometimes wrong. 
Players are currently only allowed three incorrect challenges per set, although they get one additional challenge during a tie-break.
Even though Hawk-Eye gives more precise judgments than the naked eye, there are no long-term plans to replace the human umpires at Wimbledon. 
'Line umpires remain an important element of our officiating set-up at the Championships, and there are no plans to switch to electronic line-calling,' a spokesperson said. 
Spain's Rafael Nadal reacts as the scoreboard shows the result of a hawk-eye challenge during a point against Russia's Karen Khachanov at Wimbledon in 2017 
INTERACTIVE FAN PREDICTIONS 
Introduced to Wimbledon last year and carried over for this year are interactive fan prediction tools on the app and website. 
'Have Your Say' lets users compare pre-match predictions with the aggregated predictions of other fans and AI-powered predictions generated by IBM Watson. 
For each match, Watson can give a likelihood to win as a percentage – so 64 per cent for a British favourite and 36 per cent for his first round opponent, as an example. 
A feature called 'Have Your Say' lets Wimbledon fans make their own interactive predictions about how matches will play out
For fans who are looking to burn some time before the next big match, it's a fun way to test their own capabilities against that of a machine. 
PERSONALISED HIGHLIGHTS REELS 
In the Wimbledon app, fans can also follow their favourite players by tapping on 'Player Profiles' followed by the star next to the names. 
IBM Watson will then provide a series of personalised recommendations and highlights reels based on who they have picked. 
IBM will also send suggestions for new players to follow based on their current favourited players, the IBM Power Rankings, top players, country and age.  
Bjorn Cy-Borg! Watch as a ROBOT tennis player zips around the court ahead of the Wimbledon Championships 
The moment that tennis fans have been waiting for is almost finally here, with the Wimbledon Championships set to start on Monday. 
This year's tournament will see the likes of Petra Kvitova, Novak Djokovic and Carlos Alcaraz take to the grass. 
But in the near future, they could face stiff competition from an unlikely new contender – a robot. 
Scientists from Georgia Tech have developed a new robot named ESTHER (Experimental Sport Tennis Wheelchair Robot), which can zip around the court and even return human shots.
The team believes the bot could serve as a training partner for professional players in the future, removing the psychological pressure of training against another human. 
Read more 
Source: Read Full Article