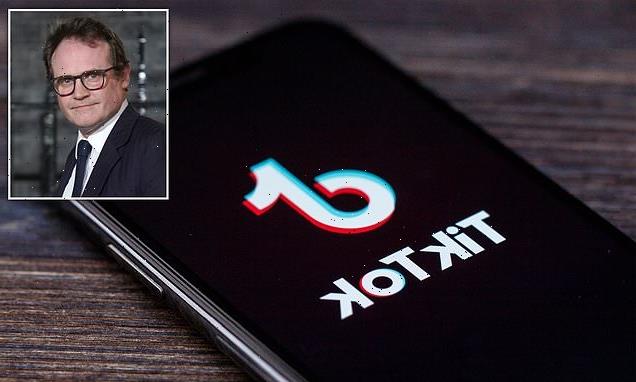 Could TikTok be BANNED in Britain? Security minister has not ruled out making the app illegal amid fears staff in China can spy on user data
Tom Tugendhat said he is awaiting a review from National Cyber Security Centre
PM Rishi Sunak also hinted that UK could ban the app from Government phones
Britain's security minister has refused to rule out making TikTok illegal in the UK — amid fears that staff in China can spy on users' data.
Tom Tugendhat said he was waiting on a review from the National Cyber Security Centre before deciding on the 'hugely important question'. 
Security experts have grown increasingly concerned about the data-mining algorithms used by TikTok, which is owned by Beijing-based ByteDance. 
Prime Minister Rishi Sunak has already hinted that the UK could follow the US and the EU by banning the Chinese-owned social media app from Government phones and devices.
Mr Tugendhat was asked if he would go further and order a complete ban on the app, such as those ordered by India and former US president Donald Trump.
The UK's security minister has not ruled out imposing a ban on TikTok in Britain amid security fears about the Chinese-owned app (stock image)
'I don't have it, and the prime minister asked me to defend the leading democracy taskforce a little while ago, and as part of that we're looking at the various threats to parliamentarians but also to journalists,' he told Times Radio.
TIKTOK: A CHINESE-OWNED SOCIAL MEDIA APP SPECIALISING IN SHORT VIDEO CLIPS 
TikTok is a Chinese social media app where users can live stream and create short videos. 
Its tagline is 'Make every second count'.
The app was the most downloaded in the US in 2018 and the world's fourth most downloaded in 2018, ahead of Instagram and Snapchat.
TikTok is known as Douyin in China, where it was launched in 2016, before being made more widely available around the world in 2017.   
It offers users a raft of colourful modification and editing tools including overlaying music, sound, animated stickers, filters and augmented reality (AR) for creating short videos. 
The Beijing-based social network has been downloaded almost 4billion times and owner ByteDance is now said to be worth more than $75billion (£58billion).  
In 2020 Donald Trump called for the US arm of TikTok to be sold to an American company over fears the app posed a national security risk. 
'Looking at the various different apps people have on their phones and the implications for them is a hugely important question and I've asked the National Cyber Security Centre to look into this.'
When pressed on whether this meant there could be a full ban on the app, Mr Tugendhat added: 'It will be addressed with the challenges we face, with the threats we face. 
'I'm not going to give you an answer until I know what the risks are.'
The prime minister, meanwhile, has been facing calls to ban TikTok on Government phones amid growing cybersecurity fears over China.
Last month the European Commission decided to suspend the use of TikTok on devices issued to staff and even personal phones if they have official apps installed, following the US's ban last year on federal employees using the app on work devices.
Mr Sunak said the UK would 'look at what our allies are doing' in response to the pressure to follow suit.
Parliament's TikTok account was shut down last year after MPs raised concerns about the firm's links to Beijing.  
ByteDance has previously admitted that some staff in China can access the data of European users. 
But it reacted to the bans by describing them as 'political theatre' and said it was 'disappointing to see that government bodies and institutions are banning TikTok on employee devices with no deliberation or evidence'.
The company added: 'These bans are based on basic misinformation about our company, and we are readily available to meet with officials to set the record straight about our ownership structure and our commitment to privacy and data security.
'We share a common goal with governments that are concerned about user privacy, but these bans are misguided and do nothing to further privacy or security.' 
Keeping a watchful eye: Britain's security minister Tom Tugendhat said he was waiting on a review from the National Cyber Security Centre before deciding on whether to ban TikTok
US officials have raised concerns that the Chinese government may pressure ByteDance to hand over users' personal information, which could then be exploited for intelligence or disinformation purposes.
But China's Foreign Ministry accused Washington of 'generalising the concept of national security' and 'unreasonably suppressing enterprises of other countries'. 
Trump's ban, which faced a series of legal challenges and never came into force, was revoked by his successor in the White House, Joe Biden. 
Mr Tugendhat also noted the Indian government's decision to bar many Chinese-owned apps from the country.
He told Sky News: 'What certainly is clear is for many young people TikTok is now a news source and, just as it's quite right we know who owns the news sources in the UK… it's important we know who owns the news sources that are feeding into our phones.' 
In 2020, ministers announced that Chinese technology company Huawei would be removed from the UK's 5G networks by 2027. 
Daily Mail investigation shows teenagers are being bombarded with self-harm and suicide content on TikTok within minutes
A recent Daily Mail investigation found teenagers are being bombarded with self-harm and suicide content on TikTok within minutes of joining the platform.  
An account set up by the Daily Mail as 14-year-old Emily was shown posts about suicidal thoughts within five minutes of expressing an interest in depression content.
After 15 minutes of scrolling, its algorithm was demonstrating how to hide content from parents.
Within 24 hours, the account had been bombarded with more than 1,000 videos about depression, self-harm, suicide and eating disorders. Some videos had millions of views. 
TikTok says that the account the Mail created for this experiment 'liked' a number of videos which were proactively removed by its team for violating its policies, without being reported. 
Read more  
Source: Read Full Article