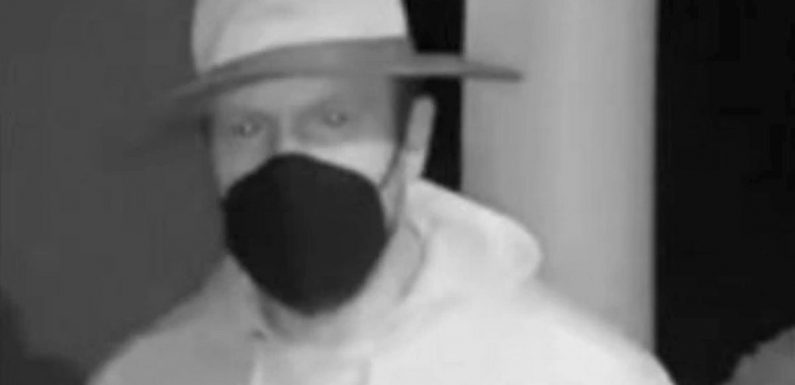 A mysterious prowler terrorising a small town has been captured on video without his usual mask as an FBI profiler confirms he is "preparing".
The so-called "Night Stalker" has been stalking the streets of Geelong, just south of Melbourne, Australia, late at night for at least the past three months.
The man doesn't appear to have stolen anything, or does any damage, but locals have voiced growing concerns about his motives.
READ MORE: Mum harassed by late night doorbell ringing realises culprit is friendly 'alien' slug
In the most significant update yet, local police have released CCTV images of the man's uncovered face.
The doorbell camera footage was captured in the suburb of Werribee earlier this month, as the man appeared to be testing the locks of several properties in the area.
Scott Holbrook, from nearby Rippleside, captured the images on his night-vision camera. He told reporters: "He seems to be snooping… he moves around quite nonchalantly with his hands behind his back."
"A lot of my neighbours had footage of him," he added. "It was a matter of time before he came up our driveway".
"I think he's just looking for keys left under mats and scoping the place out. He never goes for cars or anything."
Scott, who is in the security business himself, told the Geelong Advertiser: "Knowing they have been on your property and you don't know what their intentions are… The invasion of privacy is concerning."
Cops release CCTV of mooning 'thief' and appeal for anyone who recognises his bum
In the most recent video, "The Night Stalker" is unceremoniously chased off by a dog.
Former FBI profiler Mike King told the Geelong Advertiser that, from the sightings so far, the prowler appeared to be "working his way down from Melbourne".
"It's not someone who just happened to be walking home from the beach in their flip-flops and T-shirt and is peeking through a window," he added. "This guy is preparing".
Doorbell camera captures creep saying he'll 'rape and kill the girl living here'
Victoria Police told Daily Mail Australia that they were looking into the matter.
"Police are aware of several reports of a suspicious person seen in the Rippleside and Bell Post Hill areas between January 31 and February 3.
"The investigation remains ongoing."
READ NEXT
'Innocent' death row inmate who is 'mentally challenged' has evidence denied by court
Man says he killed girlfriend with axe after he 'went for the tree and it hit her head'
Suspected hitmen killed in plane crash as 'black hole' takes down wanted pair
Paedo bus driver who killed boy, 8, and then moved in with his parents could be freed
Source: Read Full Article