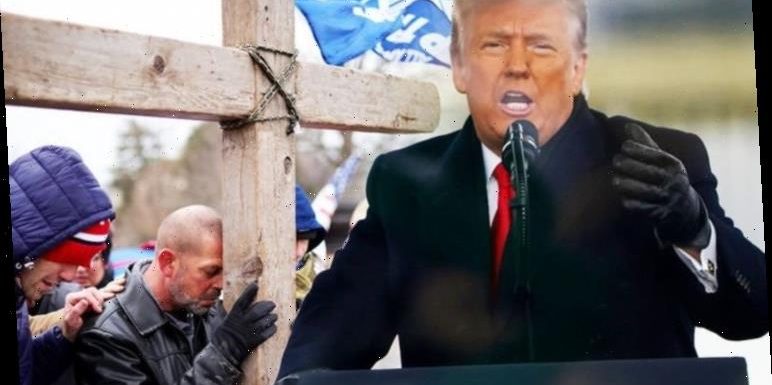 Washington: Trump supporters march on Capitol Hill to protest
Donald Trump supporters stormed the US Capitol in Washington DC today in a bid to disrupt Congress from certifying the results of the November Election. Scenes of violence unfolded as supporters of the incumbent president clashed with police, with pepper spray being used in the skirmishes. President Trump called on Vice President Trump today to nullify the election's results in a last-ditch attempt to secure another term in office.
Mr Pence, however, declined to cave in under pressure and instead recalled his oath to uphold the US constitution.
The President has since tweeted his second-hand man did not "have the courage to do what should have been done to protect" the US.
Niche groups of evangelical Christians have now suggested the unfolding unrest is a sign of Biblical prophecy coming to fruition.
Paul Begley, a popular online personality and TV host took to YouTube to announce during a live broadcast America was bleeding out before his very eyes.
We will use your email address only for sending you newsletters. Please see our Privacy Notice for details of your data protection rights.
Pastor Begley is a fervent believer in Biblical prophecy who has in the past declared President Trump a child of prophecy.
Earlier last year he told his more than 340,000 YouTube followers President Trump would secure a second term in office based on his interpretations of the Bible.
He now said: "We know, of course, a couple of things in the election last night in Georgia.
"Looks like the Devil went down to Georgia looking for an election to steal.
"Anyway, it looks like the Democrats miraculously are going to win these two senatorial seats by less than a percent each."
Violence erupted today after President Trump told his followers gathered in Washington to "never to concede".
President-elect Joe Biden is expected to take over the reins of power in just 13 days but President Trump has said the handover of power amounts of "the country being destroyed".
He said: "All of us here today do not want to see our election victory stolen by emboldened radical Democrats.
"We will never give up. We will never concede. It will never happen. You don't concede when there's death involved.
"Our country has had enough. We will not take it anymore."
This is a breaking story. More will follow.
This is a breaking story. More will follow.
Source: Read Full Article