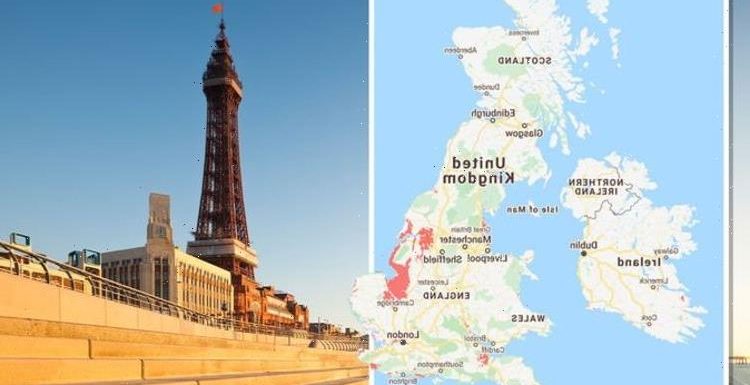 Global warming: Expert warns in 2019 that sea levels could rise
We use your sign-up to provide content in ways you've consented to and to improve our understanding of you. This may include adverts from us and 3rd parties based on our understanding. You can unsubscribe at any time. More info
From Blackpool Beach to Dungeness, some of the nation's most iconic coastlines could vanish in just 30 years. According to the latest data compiled by the non-profit Climate Central, vast swathes of the country are at risk of falling below projected waters levels. Rising sea levels, increased coastal flooding and higher tides have all been linked to the threat of climate change.
The worrying forecasts follow the latest Intergovernmental Panel on Climate Change (IPCC) report, which warned humans are to blame for the climate crisis.
Climate Central's maps have now revealed which parts of the country could be submerged in the next 30 years.
In the south of England, many of the coasts around Hampshire, Sussex and Kent are painted red.
These include major hubs like Portsmouth, Bognor Regis and Worthing, as well as parts of Southampton, Cosham and Chichester.
Further east and parts of Brighton and Hove, including the Brighton Marina and Brighton City Airport, are below projected water levels.
Parts of Eastbourne, Pevensey Bay and Normans Bay are also projected to be flooded, with the waters extending inland past Westham, Langey and Downash.
Further along the coast and the historic Camber Castle built by Henry VIII is expected to be flooded alongside Dungeness and the Dungeness National Nature Reserve.
The projections extend all the way from Pet Level Beach to Dungeness and Folkstone, reaching as far inland as Woodchurch, Rye and Newenden.
At risk are also Dover, Sandwich and Sandwich and Pegell Bay, as well as Margate and Reculver.
Rising sea levels are also forecast to flood Herne Bay, Whitstable and Conyers in Kent.
Travelling inland along the Thames and entire portions of London and the surrounding areas have been painted red.
Stratford, Greenwich, Bermondsey, Lambeth, Camberwell, Battersea, Hammersmith and Fulham are at greatest risk.
The projections also extend northward towards Tottenham and parts of Wanstead.
Parts of Norfolk and Lincolnshire are also in the red, including Great Yarmouth and Skegness.
Further up north and the areas around the River Tees and Middlesbrough are forecast to be submerged.
On the east coast of the UK, the iconic Blackpool, Morecambe and Southport are also firmly in the red.
In Wales, sea levels are forecast to consume parts of Swansea, Cardiff and Newport, as well as Weston-super-Mare across the Briston Channel.
Climate Central's projections are based on data published in peer-reviewed scientific journals.
However, the organisation notes there is plenty of room for error in the forecasts.
Climate Central said the maps "should be regarded as screening tools to identify places that may require deeper investigation of risk".
Climate change: Boris Johnson's 'targets' questioned by Menon
The group added: "Our approach makes it easy to map any scenario quickly and reflects threats from permanent future sea-level rise well.
"However, the accuracy of these maps drops when assessing risks from extreme flood events."
The forecasts do not account for other risk factors such as coastal erosion, inland flooding or rainfall.
The overwhelming scientific consensus states emissions of greenhouse gases are the leading cause of climate change and global warming.
Here is a list of some of the areas expected to be hit by rising sea levels by 2050:
Folkestone
Dungeness
Whitstable
Llandudno
Prestatyn
Rhyl
Shotton
Queensferry
Morecambe
Blackpool beach
Lytham St Annes
Formby
Crosby
Southport
Grimsby
Cleethorpes
Mablethorpe
Skegness
Hartlepool
Worthing
Bognor Regis
Portsmouth
Gloucester
Weston-super-Mare
Sandwich and Pegwell Bay
Winchelsea Beach
Fraisthorpe Beach
Hornsea Beach
Tankerton Beach
Mablethorpe
Great Yarmouth
Walberswick
Orford Ness National Reserve
Hamford Water Nature Reserve
Dengie National Nature Reserve
Coasts around the Humber
Source: Read Full Article