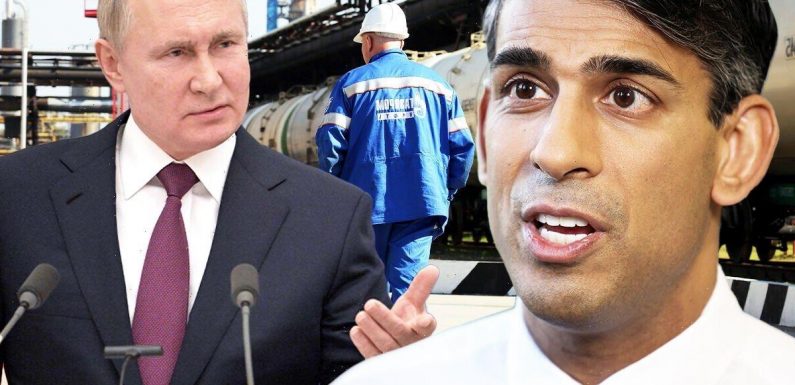 Putin claims Nord stream pipeline was 'attacked'
We use your sign-up to provide content in ways you've consented to and to improve our understanding of you. This may include adverts from us and 3rd parties based on our understanding. You can unsubscribe at any time. More info
Britain's critical energy supplies could be under threat, as Russia has threatened retaliation against the West over the alleged sabotage of the Nord Stream pipeline leaks. Last year, a number of leaks were discovered in both Nord Stream 1 and 2, both of which could transport massive quantities of natural gas from Russia to Germany through undersea pipelines in the Baltic Sea. Experts believe that the leaks were most likely sabotage, with the US and Russia both blaming each other for the act. Now, Kremlin, officials have said that the world should "know the truth" about the sabotage.
They noted that those who were found responsible for the leaks should be "punished" after an investigative journalist accused US Navy divers of blowing up the pipelines with explosives.
In a blog post, Pulitzer Prize-winning investigative journalist Seymour Hersh cited an unidentified source, which was dismissed by the White House as "utterly false and complete fiction".
Kremlin spokesman Dmitry Peskov praised Mr Hersh's post, saying the story deserved more attention.
He told reporters: "The world must find out the truth about who carried out this act of sabotage. This is a very dangerous precedent: if someone did it once, they can do it again anywhere in the world."
The Russian mouthpiece called for "an open international investigation of this unprecedented attack on international critical infrastructure", adding: "It is impossible to leave this without uncovering those responsible and punishing them."
Russia has repeatedly accused the West of sabotaging the Nord Stream pipelines, as last October, Moscow's Ministry of Defence accused Royal Navy personnel of blowing up the Nord Stream gas pipelines, an assertion that London said was false.
Following this accusation, Kremlin spokesman Dmitry Peskov warned that Russia is considering what "further steps" should be taken, raising fears that the UK's energy could now be at risk.
Given these threats, experts fear that Russia could use "retaliate" by targeting Western undersea pipelines and cables, which could be devastating for the UK's energy security, the country relies on exports from Norway for 60 percent of its gas.
Senior military and intelligence sources previously warned that Putin could try to sabotage the Langeled pipeline, which provides one-fifth of the country's gas demand.
A NATO source said: "Sabotage is the next step if they want to escalate by attacking Britain's critical energy infrastructure because we are so fragile. And it's no coincidence that Britain has been one of Ukraine's biggest backers."
Another NATO official who works directly on threats to critical infrastructure warned that the 725-mile-long Langeled pipeline is an "obvious target" for the Russians because of the vital role Norway has played in helping Europe wean itself off Russian gas.
Attacking European energy pipelines and cables would not be out of character for the Kremlin, as over the past year, Putin has manipulated gas flows into the EU as retaliation to Western sanctions.
DON'T MISS:
Twisted eye vessels linked to high blood pressure and heart disease [REPORT]
Oldest examples of 'sophisticated' stone tools found at site in Kenya [INSIGHT]
Sturgeon humiliated as Scotland missed '£60bn surge from energy deal' [REVEAL]
Speaking to Express.co.uk, Dr Simon Cran-McGreehin noted that if Putin were to target the UK's energy infrastructure, this could cause enough disruption to force the Government to trigger Programme Yarrow.
Programme Yarrow, which is a blueprint for how the UK could deal with a week-long national power outage. As fears of energy supply grew this winter, the Government had been war-gaming such a scenario.
He said: "Yes. If our supplies from Norway and the continent were disrupted in some way, then it would have a significant impact on our gas supplies.
"We also import significant amounts from LNG ships, they come directly to ports. But nevertheless, if any of our energy infrastructures were to be compromised, then absolutely we'd see the sort of major interruption that the Government is planning for now."
He added that while he doesn't know whether Russian sabotage would be factored into the UK's plans, "I think that the Government will be very concerned about the rumours and suggestions that Russia has been allegedly interfering with energy infrastructure."
Source: Read Full Article