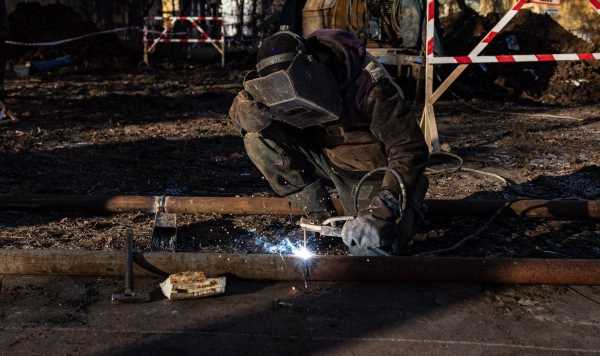 Ukraine: Video reportedly shows strike in Svatovo
We use your sign-up to provide content in ways you've consented to and to improve our understanding of you. This may include adverts from us and 3rd parties based on our understanding. You can unsubscribe at any time. More info
As Russia's brutal strikes continue to wreak havoc in Ukraine, engineers are scrambling to make repairs to bring power back online after getting plunged into darkness. Russia's barrages of missile strikes in Ukraine are deliberately targeting critical energy infrastructure, with the result being blackouts that can last up to 24 hours or more. This has now become a constant fixture in the invaded nation's major cities, including the capital Kyiv.
But this is not leaving Ukraine defeated, as the country is doing as best it can to make quick fixes and restore the power.
The maintenance engineer at DTEK, Ukraine's biggest private energy company told the Financial Times: "I've got all my team ready at the other end of my phone, they are Marvel superheroes. It's our job to bring light to people, doing the impossible."
Volodymyr Kudrytskiy, chief executive of Ukrenegro, Ukraine's state-owned power company, has said the engineers are getting to grips with the Russian strategy, making measures "aimed at minimising the consequences" of the attacks.
Speaking to express.co.uk, Mark Savchuk, a local resident and an energy expert, said: "Blackouts are getting even more frequent and they will be until the end of winter. To have no electricity for 24 hours is not even uncommon anymore. Sometimes you get periods of two or three hours without power but you have no idea when they will be.
"You have no idea how the electricity will even be distributed – the houses in front of me are lit up all the time and I have nothing, but I have no idea why. It is sporadic and nobody knows anything…but most of the time, we do not have electricity full stop, it is not even periodic anymore."
While the engineers appear to be doing a great job, Ukraine has been called calling for more equipment to help them make quicker fixes, as well power generators, which keep the electricity running even when the grid is down.
Mr Savchuk said: "Generators and Elon Musk's Starlink satellites will help us to run basic utilities off the grid, making life bearable. It is difficult, but it is ok. The situation is tough and we hope that Western partners will keep on supplying repair tools so we can keep on working on the grid. Even if we only have power for two hours a day, it is still better than not having it at all."
But according to the Financial Times, a large part of Ukraine's grid uses the old Soviet system, operating at higher voltages than the EU's, for instance. This means a lot of western equipment is incompatible with the grid and cannot then be used to replace damaged gear.
However, Eastern European nations with similar infrastructure, such as Lithuania and Poland, have been stepping in.
Lithuania's energy grid operator has shipped over hundreds of smaller-sized transformers, slashing voltage as it goes from power station to consumer. The Balkan state's gas grid has also provided Ukraine with spare parts.
Meanwhile, Tauron, Poland's state-owned utility firm donated 13 miles of wire, 39 transformers and 11 overhead circuit breakers, and 129 insulators to the country, among other vital bits of equipment.
The firm said in a press release: "The power equipment given by Tauron in the second tranche includes 15 km of power cables, 168 poles, 13 drums and nearly 4,000 additional elements for the construction of power lines."
These appear to be getting put to good use, as locals see impressed by the repair teams that rapidly make fixes to the grid after Russian attacks.
DON'T MISS
UK signs breakthrough deal with BioNTech for cancer vaccine trials [REPORT]
Nuclear fusion quest dealt blow as leading project warns of delays [INSIGHT]
The 19 drugs addressing serious shortages amid NHS crisis [INSIGHT]
Denys Sakva, energy analyst at Kyiv-based Dragon Capital, an investment management company, told the Financial Times: "I've been uber impressed at how the country has been able to keep the system running."
According to Ukrainian officials, Russia is focused on taking out transformers that are based at key nodes of the electricity grid's distribution system, instead of going for power plants themselves.
The intention was to break-up the grid into isolated islands and stop power from getting sent between regions, according to energy experts.
A large bulk of he country's power generating capacity is reportdly based in west, and it is sent through high-voltage lines to the centre and east of the country.
Maxim Timchenko, DTEK's chief executive, said: "All the equipment is located in the open air, so it's quite easy to hit. If there is a direct hit, there is no chance the equipment can be saved."
Source: Read Full Article