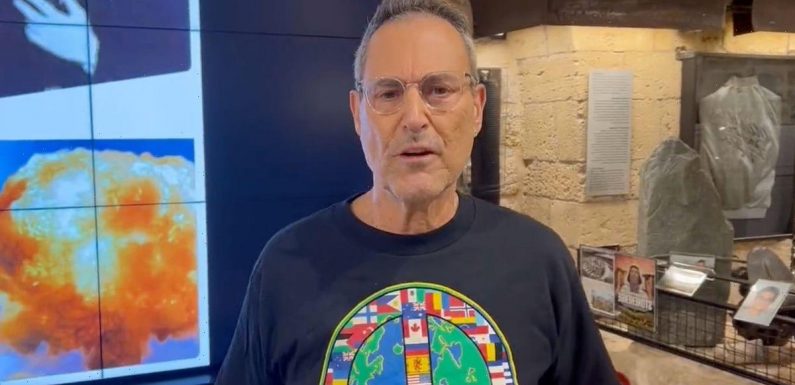 Spoon bender Uri Geller is calling for help to deescalate tensions between Russia and the West by keeping Mad Vlad from the nuke button.
Geller claims to have convinced the Kremlin to cut down its nuclear arsenal using only his mind in 1987, resulting in a breakthrough arms treaty at the time.
He said he bombarded the Russians 'with telepathy' to make them sign a reduction treaty, which they eventually did.
READ MORE: Spoon-bender Uri Geller 'stunned at sceptics' who debunk 'real and amazing' UFO footage
On Twitter, the British-Israeli illusionist said: "In 1987 I was asked to attend US-Soviet #nuclear talks in Geneva. My task: to telepathically convince the Soviets to agree to cut nuclear arms. Within a day they did! Now #Putin is "suspending" the last remaining nuclear treaty. I sense catastrophe! His decision MUST be reversed!"
Geller told the Daily Star he has a trip planned to go and meet Mad Vlad himself.
"I am planning to fly to Russia to meet Putin it's very difficult but I am doing my best with Israel authorities. It depends on other elements," he said.
In a new video posted on Twitter, he called for a joint effort from his followers to "focus their minds" on getting Putin's finger "off the nuclear button".
"I need your help. Everyday at 11.11am Israel time and 11.11pm Israel time I need you to focus with me for a few seconds to get Putin off the nuclear bomb."
Dad was left paralysed and almost died after eating dodgy chicken bhuna curry
It comes as Putin announced his intention to pull Russia out from New Start, one of the last remaining nuclear arms control treaties between Russia and the US.
Putin also said that Russia was ready to start up new nuclear weapons testing.
"Of course, we will not do it first. But if the US conducts tests, we will do it as well," he said.
Andrei Kolesnikov of the Carnegie Endowment for International Peace, said: "In order to avoid nuclear war, it's better to have a framework.
"By losing this framework we are witnessing the real threat of a nuclear war."
To get more stories from the Daily Star delivered straight to your inbox sign up to one of our free newsletters here.
READ NEXT:
Uri Geller 'will stop French superstar Mbappé from scoring' in England World Cup clash
Psychic detective gives '100%' verdict on woman who thinks she's Madeleine McCann
Mystery Russian rocket launch sparks claims Putin's hypersonic missile test failed
Teacher stabbed to death by pupil in horrifying classroom attack
UK spud shortage sees shop shelves stripped bare and strict veg rationing introduced
Source: Read Full Article