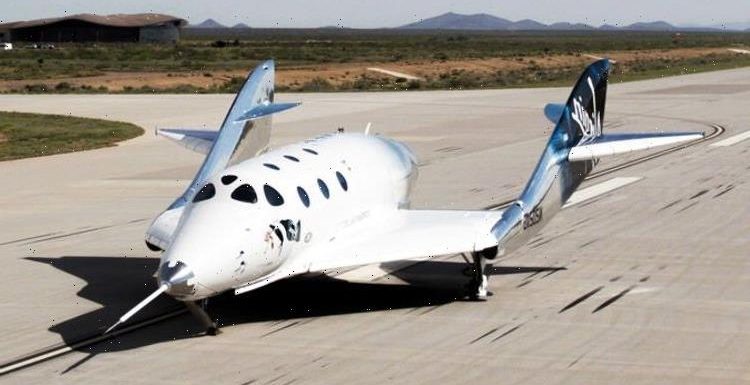 Virgin Galactic introduces the Unity 22 crew
We use your sign-up to provide content in ways you've consented to and to improve our understanding of you. This may include adverts from us and 3rd parties based on our understanding. You can unsubscribe at any time. More info
Virgin Galactic will launch from New Mexico's Spaceport America today (July 11) on what promises to be a journey of a lifetime. The mission, dubbed Unity 22, marks the company's fourth voyage into suborbital space. Even more critically, it will mark Virgin Galactic's first fully-crewed spaceflight – and it involves a special guest: Sir Richard Branson.
The Virgin empire mogul was announced on July 1 as one of the four mission specialists flying aboard this mission.
Sir Richard will personally inspect the company's "private astronaut experience" before the company inaugurates its space tourism service.
In a brief video shared to his Twitter account, the billionaire said it his dream to make spaceflight accessible to everyone.
He said: "My mission statement is: To turn the dream of space travel into a reality for my grandchildren, for your grandchildren, for everyone."
And he is not the only multi-billionaire pursuing this dream.
Former Amazon Jeff Bezos will fly into space later this month with his space tourism company Blue Origin.
South African tech entrepreneur Elon Musk is also making strides with his company SpaceX, in hopes of building a human colony on Mars.
Virgin Galactic's dreams may not be as far-reaching, but after more than 16 years of hard work, the company is on course to make brief excursions into space a reality.
Sir Richard said earlier this month: "I truly believe that space belongs to all of us."
Virgin Galactic: Spaceship VSS Unity reaches space
What time is the Virgin Galactic launch today?
Richard Branson and company are due to launch from Spaceport America in New Mexico, aboard the SpaceShipTwo, VSS Unity.
The spacecraft will launch from the runway strapped to another aircraft, the VMS Eve, before taking off to space.
The mission is pencilled in to kick off sometime after 2pm BST (9am EDT/7am MDT/6am PST).
Virgin Galactic has not yet revealed a specific launch time but past test flights indicate you won't have to wait too long.
And the good news is you can watch the mission live online and from the comfort of your home.
The VSS Unity will first fly to an altitude of about 10 miles before detaching from the VMS Eve.
The spacecraft will then engage its rocket engine and blast off into suborbital space.
After reaching an altitude of above 50 miles, the spacecraft and its crew will experience about four minutes of weightlessness.
This will be the perfect opportunity to photograph some breathtaking vistas of the planet below.
Once this jaunt wraps up, the VSS Unity will plunge back towards the ground and head back to Spaceport America.
Sir Richard estimates the whole affair will last about 90 minutes.
He told NPR's Leila Fadel: "What we expect to see is this beautiful Earth that is still beautiful that only 500 other people have ever seen from space.
"And, hopefully, everybody who goes out will come back absolutely determined to spend the rest of their lives committed to protecting this Earth."
Source: Read Full Article