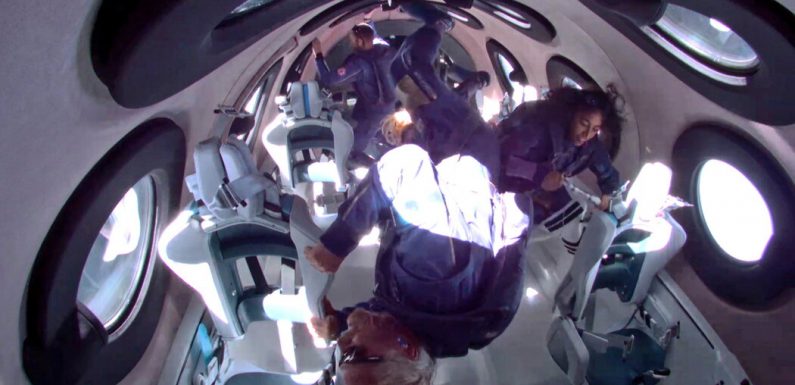 Not long after Richard Branson re-entered Earth's atmosphere on Sunday, he and other employees of his Virgin Galactic venture boasted that the company would greatly expand opportunities for the general public to travel to space. For the moment, those otherworldly views and feelings of weightlessness will still be held in rarefied air.
A seat on one of the company's spaceships originally cost $200,000. The company later raised the price to $250,000. It then stopped sales after a crash during a test flight in 2014. When the company resumes sales later this year, the price will probably rise again, said Michael Colglazier, Virgin Galactic's chief executive.
"We're here to make space more accessible to all," Mr. Branson said on Sunday as he was presented with his astronaut wings after his milestone flight.
For a vast majority of Americans, the cost of such a trip is out of reach. In the future, Virgin Galactic and other spaceflight companies hope broadening opportunities to fly to space will bring down the cost of a ticket. But for now, primarily people with spare cash equivalent to the cost of some houses will be able to afford a few moments at the edge of space.
Nevertheless, the company estimated on Sunday that more than 600 people from some 60 countries had signed up for one of its flights. The first paying SpaceShipTwo passengers may begin flying in the next year, after the company completes two more test flights.
During Virgin Galactic's livestream on Sunday, some space tourists-in-waiting spoke about how they were looking forward to taking the flights. They had been invited to watch Mr. Branson's flight from Spaceport America in New Mexico. There was no discussion of the steep cost associated with space travel, which is not limited to Virgin Galactic.
An unnamed passenger paid $28 million to join the Amazon founder Jeff Bezos later this month when his rocket company, Blue Origin, is to launch its New Shepard rocket and capsule. The company has yet to announce the standard fare for a trip on its spacecraft when Mr. Bezos isn't in the next seat.
While the price of a brief suborbital trip with Virgin Galactic or Blue Origin is expensive, trips even higher to orbit and beyond are downright, well, astronomical.
Three people paid $55 million each to Axiom Space in Houston to fly in SpaceX's Crew Dragon to the International Space Station as soon as early next year.
But not all trajectories to space will involve six or seven figures. On Sunday, Mr. Branson announced that Virgin Galactic would give away two tickets to space as part of a sweepstakes initiative with the charitable fund-raising platform Omaze.
No donation is required to win, according to Omaze, which said that a nonprofit organization, Space for Humanity, would seek to "democratize space and send citizen astronauts of diverse racial, economic and disciplinary backgrounds to space."
"If you ever had a dream, now is the time to make it come true," Mr. Branson said.
Source: Read Full Article