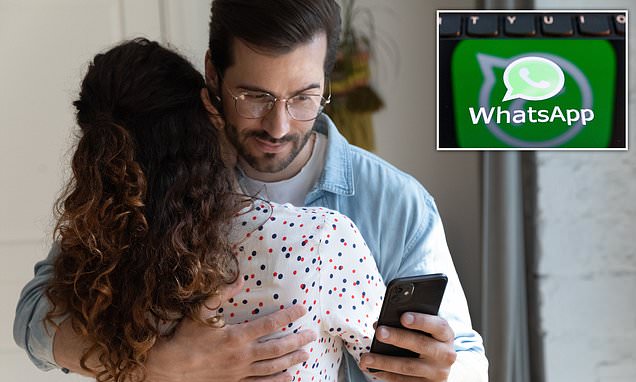 'Cheating has been upgraded!' WhatsApp users joke the new Chat Lock feature will be perfect for people having affairs
WhatsApp users joke that it is easier to cheat on partners thanks to a new feature

Chat Lock allows users to hide conversations with a password or biometric data

A cyber security expert claims it could also be used for 'nefarious' purposes 
Snooping on a partner's phone is not unheard of in a mistrusting or unfaithful relationship.
But WhatsApp users have joked that cheating has now been 'upgraded' thanks to the app's new Chat Lock feature, which allows users to keep secret conversations locked up with a password.
While it can be used for more innocent purposes such as planning surprises, many have thanked owner Mark Zuckerberg for helping to keep infidelities under the radar.
'This is so great and wonderful news thanks Mr,' one Facebook user said. 'Cheating has been upgraded.'
But a cybersecurity expert warned that it could be used for 'nefarious purposes', with numerous Metropolitan Police officers previously charged and sacked over discriminatory WhatsApp messages.
WhatsApp users joke that it is now easier to cheat on partners thanks to a new feature
HOW TO LOCK WHATSAPP CHATS 
The Chat Lock feature was rolled out as part of WhatsApp's continued efforts to keep messages 'private and secure'.
In a blog post, it said: 'Locking a chat takes that thread out of the inbox and puts it behind its own folder that can only be accessed with your device password or biometric, like a fingerprint. It also automatically hides the contents of that chat in notifications, too.
'We think this feature will be great for people who have reason to share their phones from time to time with a family member or those moments where someone else is holding your phone at the exact moment an extra special chat arrives.'
Yet Facebook has been flooded with comments after Zuckerberg suggested that it could be used to hide a 'secret sauce recipe' and a 'fight club'.
Referring to the 1999 film starring Brad Pitt, one user joked: 'First rule of fight club…'
Another added: 'On behalf of CPA (cheating partners association) we commend the great work you are doing.'
Someone else chimed in: 'Wow, this is absolutely fascinating and groundbreaking! 
'The realm of cheating has just entered a whole new level of sophistication and advancement. Thank you for enlightening us with this intriguing information.' 
Chat Lock allows users to hide secret conversations with a password or biometric data
Facebook has been flooded with comments after Zuckerberg shared a image suggesting it could be used to hide a 'secret sauce recipe' and a 'fight club'
However, the feature also comes at a time when numerous Metropolitan Police officers have been charged or sacked over discriminatory messages.
READ MORE: Could WhatsApp be BANNED in Britain? 
An open letter opposing the Online Safety Bill has been signed by Will Cathcart (pictured), Meta's head of WhatsApp
Sarah Everard's murderer Wayne Couzens was found to be in a WhatsApp group called 'Bottles & Stoppers' where officers joked about rape. 
Meanwhile, eight Metropolitan Police officers were previously charged following their involvement in another warped WhatsApp conversation. 
The so-called 'Secret Squirrel S**t' chat was revealed to contain sexist, racist, homophobic and transphobic profanities. 
With that in mind, Jake Moore, a global cybersecurity adviser at software firm ESET, believes privacy features could be used for 'nefarious' purposes, though he acknowledged it is difficult to establish how so this early on.
He added: 'It's difficult to point the finger at who specifically would use the feature but it could suggest nefarious use indeed.
'Locking chats with a passcode adds a layer of security and improves privacy from prying eyes with physical contact. 
'Many other privacy-focused chat applications are available but WhatsApp is the clear frontrunner with most people. Although messages are sent with end-to-end encryption (meaning that such messages cannot be intercepted) the key to unlocking these messages is the device passcode.
'For more private chats, the "disappearing messages" feature in the app adds a much better level of security which wipes messages completely after a certain amount of time.'
To lock a chat, users should open WhatsApp and tap on the name of a group or one-to-one conversation.
A lock option should then appear, which will prompt users to enter the device password or biometric data to secure that chat. 
To reveal these, a password or biometric data should be applied after pulling down on a WhatsApp inbox.
WhatsApp claims that more options will be added to this over the coming months, as the firm believes that texting should be as private as in-person conversations.
It said: 'Over the next few months we're going to be adding more options for Chat Lock, including locking for companion devices and creating a custom password for your chats so that you can use a unique password different from the one you use for your phone.'
WhatsApp has been approached for comment. 
BEST WHATSAPP ALTERNATIVES
If you're considering deleting WhatsApp, you'll be happy to hear that there are several alternative apps to choose from:
1. Telegram
With more than 400 million users, Telegram is one of the most popular WhatsApp alternatives. 
While it looks very similar to WhatsApp, what sets it apart is the fact that it gives the option to set messages to self-destruct after a given period of time, leaving no trace. 
Telegram also offers end-to-end encryption.
However, as a WhatsApp spokesperson pointed out, Telegram 'does not offer end-to-end encryption by default so it's not necessarily more secure than WhatsApp'.
2. Signal 
Signal is one of the most secure messaging apps, thanks to the fact that it is open-source. 
This means that the code for the app is publicly available to view, making it near-impossible for the app's creators to sneak in any backdoors that could allow governments or hackers to spy on your messages.
3. iMessage
If you use an iPhone, you may consider simply switching to iMessage, Apple's own messaging app. 
The app has a number of impressive features included no character limits, the ability to send pictures and videos, and of course Apple's animated emoji feature, Animoji.
Unfortunately, iMessage is only available for iPhone users, so you'll struggle to interact with anyone using an Android. 
4. Google Messages
Google's answer to iMessage is Google Messages, an Android-only messaging service. 
The app replaces your standard SMS app, and integrates with all of Google's apps and services, making it easy to share images or use Google Assistant. 
5. Facebook Messenger
If you were put off using WhatsApp due to its sharing of data with Facebook, Facebook Messenger may not be the best option for you.
However, the app offers a number of helpful features, including games, secret conversations and video calls. 
Source: Read Full Article