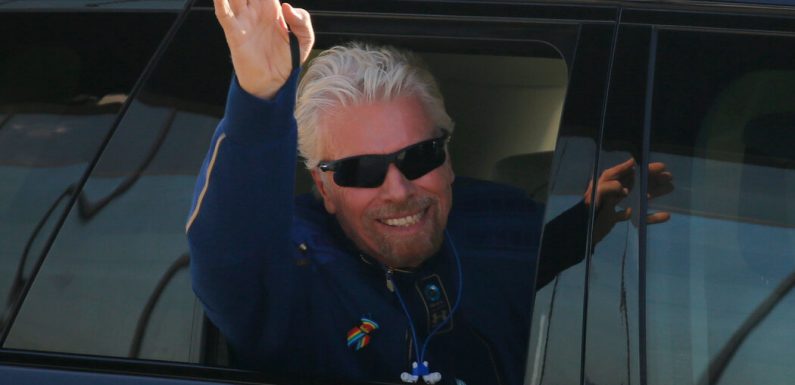 Founding a space exploration company was perhaps an unsurprising step for Mr. Branson, who has made a career — and a fortune estimated at $6 billion — building flashy upstart businesses that he promotes with a showman's flair.
What became his Virgin business empire began with a small record shop in central London in the 1970s before Mr. Branson parlayed it into Virgin Records, the home of acts like the Sex Pistols, Peter Gabriel and more. In 1984, he co-founded what became Virgin Atlantic to challenge British Airways in the field of long-haul passenger air travel. Other Virgin-branded airlines followed.
The Virgin Group branched out into other businesses as well, including a mobile-phone carrier, a passenger railroad and a line of hotels. Not all have performed flawlessly: Both Virgin Atlantic and Virgin Australia filed for insolvency during the pandemic last year, while few today remember his ventures into soft drinks, cosmetics or lingerie.
Virgin Galactic was announced to much fanfare in 2004 with the promise of creating a space tourism company with style. Virgin Orbit, a spinoff of that company that launches small satellites from a jumbo jet, came 13 years later. Virgin Orbit, now separate from Virgin Galactic, has carried payloads to orbit twice this year.
The space tourism company is of a piece with Mr. Branson's penchant for highflying pursuits like skydiving and hot-air ballooning. And unlike many of the Virgin Group's businesses that are actually minority investments or simply licensees, Virgin Galactic has been a major focus of Mr. Branson's. He raised $1 billion for the space companies from Saudi Arabia, only to call off the deal in 2018 after the killing of the dissident journalist Jamal Khashoggi. And in a regulatory filing, the company said it had benefited from his "personal network to generate new inquiries and reservation sales, as well as referrals from existing reservation holders."
"We've spent 14 years working on our space program," Mr. Branson said in a Bloomberg Television interview in 2018. "And it's been tough, and space is tough — it's rocket science." He added that he had hoped to travel on one of Virgin Galactic's flights by the end of that year.
Virgin Galactic joined the New York Stock Exchange in 2019 after merging with a publicly traded investment fund, giving it a potent source of new funds to compete with deep-pocket competitors — and publicity, with Mr. Branson marking its trading debut at the exchange in one of the company's flight suits.
But while Virgin Galactic has sought to keep pace with the likes of Mr. Bezos' Blue Origin, Mr. Branson has downplayed any rivalry between the two. "I know nobody will believe me when I say it, but honestly, there isn't," he told The Today Show earlier this week.
Source: Read Full Article