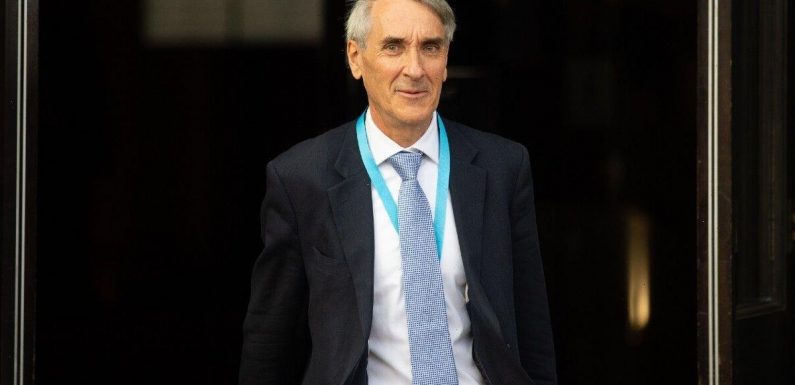 Autumn Statement: Jeremy Hunt outlines plans for windfall taxes
We use your sign-up to provide content in ways you've consented to and to improve our understanding of you. This may include adverts from us and 3rd parties based on our understanding. You can unsubscribe at any time. More info
A Conservative MP has claimed that the tax on the excess profits of energy companies operating in the North Sea is an act of "self harm" that could boost its reliance on imports. John Redwood has argued that the North Sea windfall tax has seen oil companies shy away from investing in the region in a move that is threatening to harm the UK economy. In order to fund energy bill support measures, the Government announced it was raising the 25 percent levy on oil and gas companies to 35 percent as household bills surged to record highs.
But Mr Redwood warned: "Oil companies are cutting back on investment in the North Sea following UK tax rises.
"That means more oil imports, less UK tax revenue, fewer well paid UK jobs and less growth. Why so much self harm?"
This comes after Harbour Energy, the UK North Sea's biggest oil and gas producer announced planned job cuts and a reduction in investment plans because of the windfall tax. Meanwhile, companies including Shell Plc and Equinor have said they will review their North Sea investments.
France's TotalEnergies SE has also said it would cut investments in Britain by a quarter this year.
However, the tax on extraordinary profits comes as energy giants raked historically high levels of revenue as a result of surging wholesale gas costs sparked by Russia's war in Ukraine.
While energy majors profits' broke records, households across the UK have also be forking out more than ever to pay their bills, with millions of Britons being forced into fuel poverty as a result.
This is why the Government stepped in with measures to shield households from the true extent of the astronomical wholesale costs, such as the energy price guarantee. This caps bills for households with typical energy use at £2,500.
The windfall tax will no doubt help the Government fund the measure, which could raise as much as £40billion over the next 6 years.
But Shadow Chancellor Rachel Reeves has said that Labour would extend the windfall tax to "close the fossil fuel investment loophole, and taxing oil and gas profits at the same rate as Norway."
In a speech at the Fabian Society Conference, she added: "By backdating this from the start of 2022 – when oil and gas giants were already making historically large profits – we can raise more than £13billion."
But according to Offshore Energies UK, an industry trade body, a windfall tax is a dangerous measure.
A spokesperson for the organisation representing the oil and gas industry told Express.co.uk: "Without companies like BP and Shell the UK would not be able to heat their homes, power their vehicles and run their businesses.
"Multinationals like Shell and BP are not single companies but groups with multiple overseas subsidiaries – so most of their profits are made abroad. Subsidiaries based in other countries will pay taxes – but in those countries. The UK cannot then impose a second tax just because the group has its headquarters in the UK. That would breach global tax agreements. And, if we did, they would all leave.
DON'T MISS
UK's heat pump goals face major hurdles as Britons stick to boilers [REPORT]
Octopus Energy grows largest UK virtual power plant to slash bills [INSIGHT]
Energy lifeline as map shows UK's untapped goldmine for blackouts [REVEAL]
"We already have a 75% windfall tax on profits made in the UK – the highest for any industry.
"It would also be invidious for the UK to tax profits made in other countries. The taxes on those revenues belong to the countries where they were generated. It would be wrong for another country's revenues to be effectively seized by the UK.
"Our leading politicians in all parties know very well how global tax law works and we would call on them to avoid these misrepresentations."
This comes after Shell announced record 2022 profits of £33.1billion, which could pay this year's energy bills for nearly half (13.2million) of all UK households.
Jonathan Noronha-Gant, a Senior Campaigner from the NGO Global Witness, said: "People have every right to be outraged at the enormous profits that Shell has made in the midst of an energy affordability crisis that has pushed millions of families into poverty.
"For those facing exorbitant energy bills, and for all of our nurses, firefighters and teachers on the picket line this week, Shell's profits are an insult. Shell is richer because we're poorer."
"If oil and gas companies were properly taxed, and if our government stopped handing them billions of pounds in the form of tax breaks and other subsidies – then that would free up the money that's desperately needed to give Brits long-term support with the cost of their energy bills, and to give our key workers the financial recognition they deserve. But so far that hasn't happened."
Meanwhile, BPs annual profits have more than doubled in 2022 due to surging energy costs sparked largely by the war in Ukraine, hitting £22.9billion for the year. Global Witness claimed BP's record profits could pay this year's energy bills for a full third of all UK households.
Source: Read Full Article