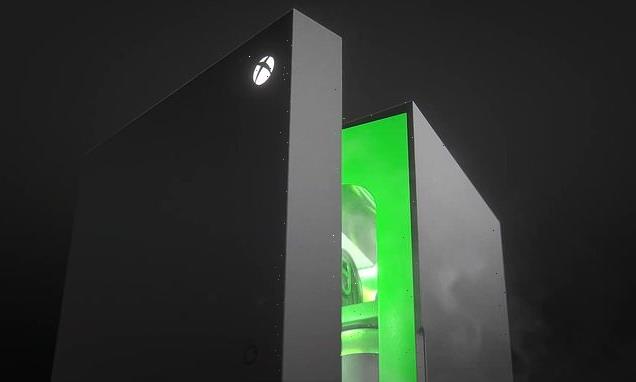 Xbox is launching a MINI FRIDGE as it joins in on jibes that its Xbox Series X console resembles the kitchen appliance
Series X was lampooned on social media when its design was unveiled in 2019
Fans said its long rectangular shape reminded them of the kitchen appliance
Microsoft revealed a full-sized fridge in the style of Series X in a promo last year 
Now it's making a mini version of the fridge generally available this Christmas
In a delightful self-parody, Microsoft has unveiled a mini fridge that resembles its new Xbox Series X.
Microsoft revealed the mini fridge in a mock unveiling video, featuring all the pomp and circumstance usually reserved for a new console. 
'For the first time in Xbox history, a new system that leaves others cold – the world's most powerful mini fridge,' the video says. 
The fridge is coming 'holiday 2021', according to Microsoft, meaning it should be available to buy as a Christmas gift, although pricing and release countries have not been announced.  
When Microsoft unveiled its Series X console in December 2019, fans were quick to notice its weird resemblance to the kitchen appliance, largely due to its stocky, rectangular shape and fan at the top.
One Twitter user, @MisaSasekage, said at the time: 'That new Xbox X looks like it's supposed to be a mini-fridge. Do you put games in it or water bottles.'
Another creatively Photoshopped an image of the Series X in a modern kitchen, where it actually looked pretty at home among the cupboards and kitchen hobs. 
Xbox fans weren't sure about the design of the Series X when it was revealed by Microsoft in December 2019
Then, in 2020, Microsoft revealed an actual full-sized fridge replica of the Series X, measuring about six feet tall and weighing 400 pounds.
The company offered the fridge to one lucky winner as part of a promotion on Twitter leading up to the Series X's release.  
Now, Microsoft is offering a smaller version of this impressive mock-up as the perfect accompaniment to an hours-long gaming session.  
The firm says it has 'velocity cooling architecture' – which likely means it keeps drinks cool when connected to a power supply. 
From the promo video, MailOnline estimates that it can fit at least 10 330ml cans of your beverage of choice. 
The design is faithful to the Series X – it even has a series of indents at the top that mimics the fan on the console 
Shot from Microsoft's promo video showing the mini fridge's interior. It has 'velocity cooling architecture' – which likely means it keeps drinks cool when connected to a power supply
Series X is actually one of two consoles that make up Microsoft's fourth-generation Xbox range. Released on November 10 last year, the range consists of the Series X and slimmer, cheaper Series S. 
The flagship Xbox Series X is priced at £449, while the compact version, the Xbox Series S, retails at £249. 
Microsoft has said the Series X is the most powerful console it has ever made – featuring processing power twice that of the current generation Xbox One X. 
The fourth generation Xbox consoles have backwards compatibility, which allows them to play games from older consoles. 
Both the Xbox Series X (left) and Series S (right) will be available on November 10. The release date was already rumoured but unconfirmed until now. Pre-orders for both begin September 22
Microsoft's Series X Xbox is the company's most powerful console ever, delivering significant upgrades to the internal hardware – but its design is odd to say the least 
The feature means gamers will have access to thousands of titles across four generations of content – from the original Xbox, released in 2001, to 2005's Xbox 360 and 2013's Xbox One. 
The smaller, cheaper Series S offers another choice for consumers who don't want to shell out £449 for the Xbox Series X.  
'Really the Series X is for the gamer who wants the ultimate gaming experience – the most immersive with the highest graphical fidelity on the world's most powerful console,' James Butcher, head of Xbox UK, said last year. 
Everything you need to know about the Xbox Series X and Series S 
Xbox Series S
Priced at £249 and measuring in at 6.5cm x 15.1cm x 30cm with a weight of 1.9kg, the Series S is compact in every sense.
It is in fact the smallest Xbox ever, but it packs a punch, with four teraflops of processing power – which is similar to a PlayStation 4 Pro.
In terms of performance, it can run games at 1440p resolution, better known as Quad HD, and at 60 frames per second, but with support for up to 120 fps for even smoother visuals.
Xbox has also confirmed there is support for 4K resolution if developers choose to render games in such high resolution.
Content from platforms such as Netflix, Amazon and Disney can be streamed in 4K Ultra HD.
Elsewhere inside the device there is 512GB of storage, but both the Series S and Series X support storage expansion.
Crucially the Series S is a digital-only console which means there is no disc drive so all content must be downloaded digitally.
But it does share a number of key features with its bigger sibling, including the harnessing of DirectX raytracing technology, which greatly improves how games can render light, making them look more realistic.
It also offers Quick Resume, enabling players to jump between and back into games in seconds, drastically cutting load times.
Xbox Series X
The new flagship of the Xbox family, the Series X, has been described as the most powerful device the gaming giant has ever made.
Priced at £449, the Series X comes in a surprisingly compact package at 15.1cm x 15.1cm x 30.1cm, although it does weigh 4.4kg.
That is because inside is a range of technology normally found in a high-end gaming PC.
Part of what Xbox calls its Velocity Architecture in both consoles, the Series X houses 12 teraflops of processing power, which is double what can be found in the current generation Xbox One X, a powerhouse in its own right.
With those processing capabilities, the Series X will run games in 4K resolution at 60 fps, with further support for 120 fps too.
But thanks to its high-tech fan and cooling system, which involves the eye-catching black and green vents on the top of the console, the device stays very cool and makes little noise.
It also comes with one terabyte of storage.
Like the Series S, it too uses Quick Resume to rapidly launch games and has a disc drive which supports 4K UHD and Blu-Ray discs.
Both consoles also support Dolby Vision enhanced video technology, as well as Dolby TrueHD with Atmos audio for better all-round sound output.
Owners of either console can also choose to join Xbox Game Pass, where a library of more than 100 games can be streamed instantly.
Source: Read Full Article