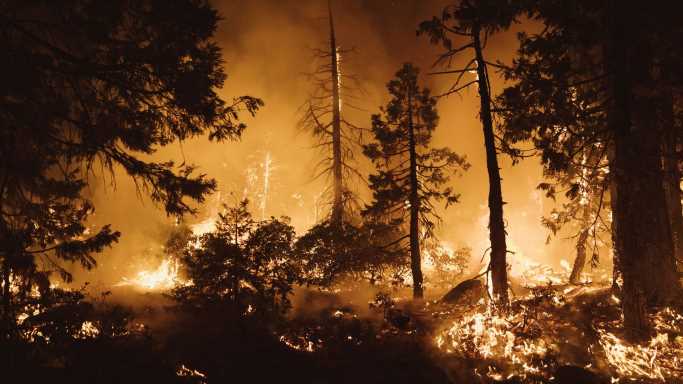 Trees burning during the Mosquito Fire in Foresthill, California, in September 2022. Photo: Eric Thayer/Getty Images
Xprize, a nonprofit that holds international contests to stimulate technological innovation, unveiled an $11-million dollar competition on Friday to transform how the world detects and fights wildfires.
Why it matters: With global warming and land-use change projected to make wildfires more frequent, intense, and possibly more destructive, wildfire agencies around the world may have to the adopt novel technologies and techniques to control future blazes.
In recent years, wildfires have injured, displaced, or killed millions of people around the world and have caused billions of dollars in damages.
Driving the news: Xprize, which has launched other competitions to spur innovation in recent years, is inviting engineering teams from around the world to develop two different types of systems over four years to help fight wildfires.
One of the systems should be able to autonomously suppress fires minutes after they are discovered, while the other space-based system should be able to quickly detect all fires across a massive area and transmit the data to authorities, per the announcement.
The systems can rely on artificial intelligence, drones, robotics, satellites, sensors, and other technologies.
The big picture: The tools firefighters use to suppress wildfires generally haven't changed over the last few decades.
Fire agencies still depend on low-tech yet reliable equipment, such as axes, chainsaws, bulldozers, and water hoses — as well as torches for setting backfires or prescribed burns.
The widespread adoption of firefighting aircraft, like fixed-wing airplanes and helicopters, in the late 20th century revolutionized fire suppression by allowing firefighters to spot and combat blazes from the air.
More recently, GPS systems, satellites, and drones have allowed agencies to better detect and predict the behavior of fires while providing the public and crews on the ground with near real-time wildfire data.
Still, fire agencies may be unprepared and understaffed for the expected age of extreme fires, so transformative technologies could be key, Axios' Erica Pandey reports.
What they're saying: "We are in a suppression mode right now, and that is not sustainable. We've got a shortage of firefighters already," U.S. Fire Administrator Lori Moore-Merrell told Axios.
"That is only going to continue to put us behind if we choose to stay — and I think it's a choice — in suppression mode," said Moore-Merrell, who leads the U.S. Fire Administration, a division of FEMA.
Moore-Merrell said technologies from the Xprize competition could help relieve fire personnel from responding to active fires so they could focus instead on preventing them through prescribed burns and fuels management projects.
New technologies could also limit the harms — exhaustion and exposure to cancer-causing chemicals, for instance — firefighters face by reducing the amount of time they spend responding to active fires, she said.
Details: The competing teams developing the autonomous suppression system must be able to spot a high-risk fire in a 1,000-square kilometer area in challenging terrain, and extinguish it within 10 minutes all while ignoring decoy fires intended to distract the system.
The space-based detection system must be able to accurately observe all fires across a landscape larger than entire states or countries in one minute and, within 10 minutes, send two ground stations fire data that includes as few false positives as possible.
The details of how the systems will be tested are still being worked out between the nonprofit and competitors, Xprize CEO Anousheh Ansari told Axios.
Of note: The Gordon and Betty Moore Foundation, a nonprofit established by Intel co-founder Gordon Moore and his wife Betty, and Pacific Gas and Electric are providing $10 million of the prize money, while defense industry giant Lockheed Martin is sponsoring a $1-million bonus prize.
What's next: Palmer Luckey, founder of Oculus VR and Anduril Industries, said Friday he would register for the contest, making him the first competitor to do so.
Members of Sceye, a material science company developing high-altitude airships, said during the competition's unveiling event Friday that they planned to join as well.
Go deeper: Ancient Indigenous practice could curtail today's wildfires
Source: Read Full Article