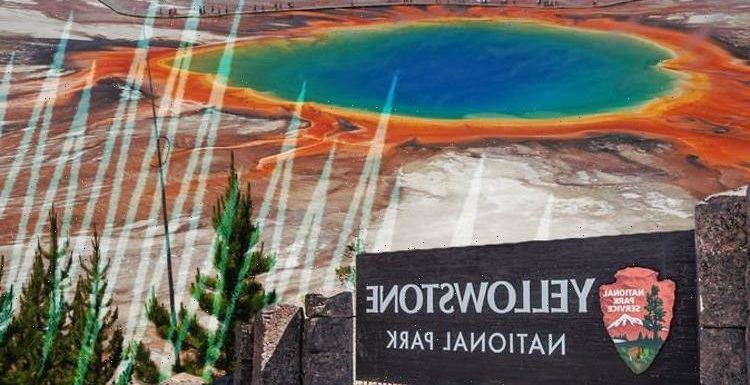 Yellowstone Volcano: Super eruptions 'are very rare' says expert
We use your sign-up to provide content in ways you've consented to and to improve our understanding of you. This may include adverts from us and 3rd parties based on our understanding. You can unsubscribe at any time. More info
After a period of intense seismic activity, the USGS has published its monthly report for the Yellowstone National Park and volcano. Stretching across a 43 by 28 mile section of the Western United States, the supervolcano is one of the nation's most seismically active regions. The Yellowstone volcano has also been the site of three cataclysmic eruptions that are estimated to have gone off about 2.1 million, 1.3 million and 640,000 years ago.
The eruptions covered vast swathes of the US in a layer of volcanic ash and should that happen today, the fallout would likely disrupt climate patterns and affect global food production.
The eruptions have also falsely led many to believe Yellowstone erupts like clockwork every 600,000 to 700,000 years and that we are overdue for another blast.
And though geologists have assured us time and time again this is not the case, fears about the volcano violently awakening persist.
The latest report from the USGS might do little to dull the concerns as it confirms 1,008 earthquakes were detected in the Yellowstone National Park region in July 2021.
The earthquakes were all recorded by the Yellowstone Seismic Network, which is maintained by the University of Utah.
However, the USGS noted this is only a preliminary analysis and the number of tremors "will likely increase".
Geologists expect dozens of small earthquakes to be tacked on the report, following a particularly intense period of seismic activity recorded on July 16.
The USGS said: "This is the most earthquakes in a month since June 2017, when over 1,100 earthquakes were located."
Earthquakes like these are typically associated with the movement of faults – fracture zones in a layer of rock – that can be caused by groundwaters rising.
The strongest earthquake recorded last month was a minor magnitude 3.6 event about 11 miles under Yellowstone lake.
The USGS said: "This event was part of an energetic sequence of earthquakes in the same area that began on July 16."
Yellowstone volcano: Expert debunks theory of 'overdue' eruption
This period of heightened seismicity was also marked by a number of swarms.
Starting on July 16, for instance, a swarm o 764 tremors were detected under Yellowstone lake.
A swarm of 40 quakes was also detected about 12 miles east-northeast of West Yellowstone in Montana on July 19.
Earthquake swarms account for about 50 percent of all seismicity in the Yellowstone region.
The good news is though, none of this is a sign of an impending Yellowstone eruption.
The earthquakes are triggered by the movement of fault lines and geothermal processes, rather than the movement of magma.
The USGS assured: "While above average, this level of seismicity is not unprecedented, and it does not reflect magmatic activity.
"Earthquakes at Yellowstone are dominantly caused by motion on preexisting faults and can be stimulated by increases in pore pressure due to groundwater recharge from snowmelt.
"If magmatic activity were the cause of the quakes, we would expect to see other indicators, like changes in deformation style or thermal/gas emissions, but no such variations were detected."
And yet, many people continue to live in fear, believing the US will one day be blindsided by a cataclysmic blast.
Social media, in particular, is rife with debunked claims and conspiracy theories about Yellowstone being overdue.
One Twitter user recently said: "I'll just say that when I went to Yellowstone 15 years ago, I was freaked out the entire time.
"Sleeping among free-roaming animals and on top of a super-volcano that's overdue for an eruption definitely made me nervous."
Another person said: "Even after reading for years about how we were overdue for a pandemic I (of course) still wasn't emotionally prepared for COVID-19
"It's just so outside our normal experience. Like if Yellowstone erupted; we know it's overdue but there's no way to truly imagine that devastation."
So rest assured knowing that Yellowstone volcano is not overdue for another eruption and there is no reason to believe another big blast will ever happen again – at least not within our lifetimes.
The USGS said: "Yellowstone is not overdue – that's one of the more common misconceptions. First, volcanoes don't work like that.
"Second, even if they did, we would still have about 100,000 years to go for a Yellowstone explosion."
Source: Read Full Article