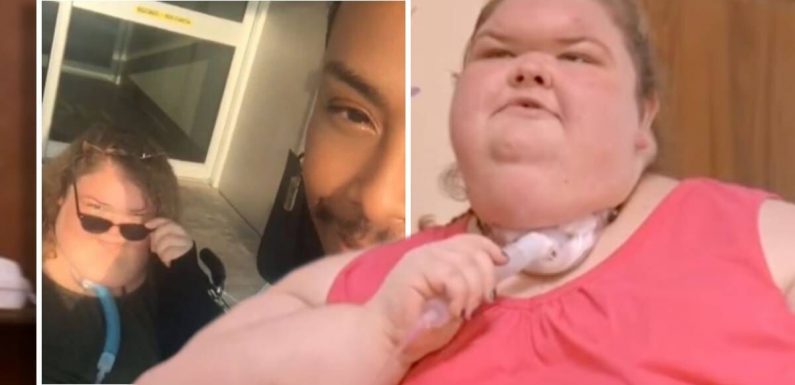 Tammy Slaton dances with mystery man in TikTok video
We use your sign-up to provide content in ways you've consented to and to improve our understanding of you. This may include adverts from us and 3rd parties based on our understanding. You can unsubscribe at any time. More info
1000lb Sisters fans are fearing the worst after Tammy Slaton shared a flirtatious video with a mystery man on her social media, less than six months after tying the knot with husband Caleb. She called the unidentified friend a "bad little boy" in her TikTok post's caption.
The TLC reality star appeared close to the male companion as the pair filmed the short video outside, while Tammy sat in a wheelchair.
She was called "cute" by the man who continued to compliment her throughout the clip, thought to be shot near her treatment clinic.
Tammy smiled and giggled throughout the video which she shared with her near 600,000 followers on TikTok.
Some fans raised concerns after the man said Tammy was going to "be a bad little girl with this bad little boy" during the exchange.
He started the video by saying: "Someone's put on my glasses back here looking like the police, look at her.
"Yeah, you're cute with your dog and cat ears and stuff.
"I mean my friend she wanna be bad when she wanna be bad. She a bad little girl. (sic)
"She a good little girl right now but she gonna be a bad little girl with this bad little boy." (sic)
Fans flocked to the comment section after watching the man as he appeared to flirt with Tammy throughout the short video.
User Dianna clarified: "You don't look like Caleb"
While TikToker ChloeMeadow asked the reality TV star: "What abt your husband?" (sic)
Another account User8241474278114 asked: "Where's your husband?" While tori_80 probed: "WHAT IS THIS??? it must be OLD."
Don't miss…
Ant and Dec's Saturday Night Takeaway moved to new time in schedule [LATEST]
1000lb Sisters' Tammy slams claims she's pregnant [LATEST]
Tammy Slaton's family gobsmacked as fiance drops pregnancy bombshell [LATEST]
Tammy and her husband Caleb got married way back in November last year after meeting each other just weeks before in the food rehab centre.
But the pair are currently apart after Tammy left the centre to move into her home in Kentucky.
An insider previously claimed that she was feeling upset about their long-distance relationship.
"Tammy is sad her husband is not with her," the source told The U.S. Sun.
They said: "She is frustrated Caleb has not made an effort to move to a facility in Kentucky from Ohio.
"They have been arguing because she feels he is not handling the transfer with urgency."
Express.co.uk has contacted Tammy's representatives for comment.
1000lb Sisters season 4 continues Tuesdays on TLC in the USA.
Source: Read Full Article