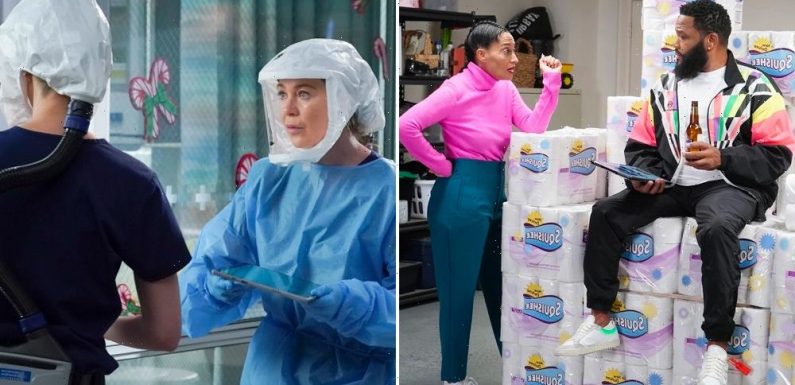 ABC set the spring season finale dates for its scripted programming today, including the series signoff for Kenya Burris' long-running Black-ish.
The 13th and final episode of Season 8 of the Anthony Anderson and Tracee Ellis Ross-starring show will air on Tuesday, April 19 at 9 p.m.
The network also announced the season finale date for juggernaut Grey's Anatomy. Meredith Grey and the other doctors at Grey-Sloan Memorial will end their 18th season with a two-hour sendoff on Thursday, May 26 from 8 p.m.-10 p.m.
Additionally, the network set a string of season finales for Wednesday, May 18, including those for The Goldbergs, The Wonder Years, The Connors, Home Economics and A Million Little Things.
Here are the spring finale dates revealed by ABC today (all times ET/PT):
Tuesday, April 12
9-9:30 p.m. – Abbott Elementary
Tuesday, April 19
9-9:30 p.m. – black-ish (series finale)
Sunday, May 15
10-11 p.m. – The Rookie
Monday, May 16
10-11 p.m. – The Good Doctor
Wednesday, May 18
8-8:30 p.m. – The Goldbergs
8:30-9 p.m. – The Wonder Years
9-9:31 p.m. – The Conners
9:31-10 p.m. – Home Economics
10-11 p.m. – A Million Little Things
Thursday, May 19
8-9 p.m. – Station 19
10:01-11 p.m. – Big Sky
Thursday, May 26
8-10:01 p.m. – Grey's Anatomy (2-Hour Season Finale)
Must Read Stories
'Sherlock Holmes' Spinoff Series Eyed By HBO Max With Robert Downey Jr. Producing
Nancy Meyers Sets Deal To Write And Direct Ensemble Comedy At Netflix
Gaumont On 'Lupin' & 'Narcos' Future, Paramount+ Deal; HBO Max Keynote
Robert Downey Jr Sets Publishing Deal For First Non-Fiction Book 'Cool Food'
Read More About:
Source: Read Full Article