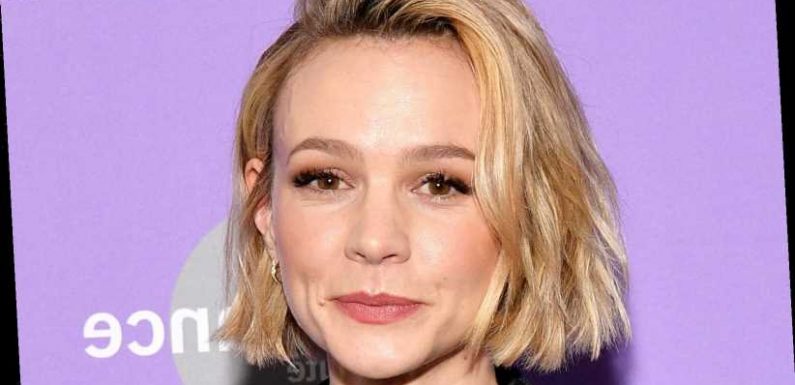 Acclaimed actor Carey Mulligan has captivated audiences in Promising Young Woman, An Education, and Never Let Me Go, per IMDb. Already the rumored Best Actress winner for the 2021 Academy Awards, Mulligan is known for thoughtfully selecting her on-screen roles with powerful messages. "I gravitate towards [roles] that scare me quite a lot," Mulligan revealed to Backstage in 2018. "It's exciting to be completely bewildered by something."
The British-born star famously keeps her personal life private, but it's safe to say her love story rivals some of the on-screen greats. Mulligan tied the knot with Mumford & Sons frontman Marcus Mumford in 2012 (via Britannica), and the couple has two children together: daughter Evelyn Grace and son Wilfred. Mulligan told Baby that becoming a parent has "altered [her] attitude," but she is passionate about balancing her prestigious film and theatre career with motherhood. 
So, how did Mulligan and Mumford first meet? Keep scrolling to find out all the details about their A-list marriage! 
Carey Mulligan and Marcus Mumford were childhood pen pals
In a twist of fate akin to a Nicholas Sparks' novel, actor Carey Mulligan first crossed paths with now-husband Marcus Mumford when they were kids in the U.K. The Great Gatsby starlet apparently attended the same Christian youth camp as the Mumford & Sons singer-songwriter while they were both about 12 years old, per Bustle. They stayed in touch as pen pals, but things didn't become romantic until 2011 when Mulligan attended a Mumford & Sons party in Nashville. The couple wed in 2012, with Mumford's parents officiating. 
However, their shared love for letter-writing didn't conclude after their nuptials. According to The Telegraph, both Mulligan and Mumford still pen notes to one another. Just don't expect any of those letters to be made public: Mulligan and Mumford are fiercely passionate about their privacy. "Marcus is the only thing that's mine that I can keep away, so I try to," Mulligan told Vogue in 2015. 
The couple also welcomed their daughter in 2015, followed by their son in 2017. Per The Daily Mail, the family of four resides in a renovated 16th century farmhouse in Devon, England. They even raise chickens on their property, according to Mulligan's Vogue interview! It's clear that Mulligan and Mumford were meant to be. 
Source: Read Full Article