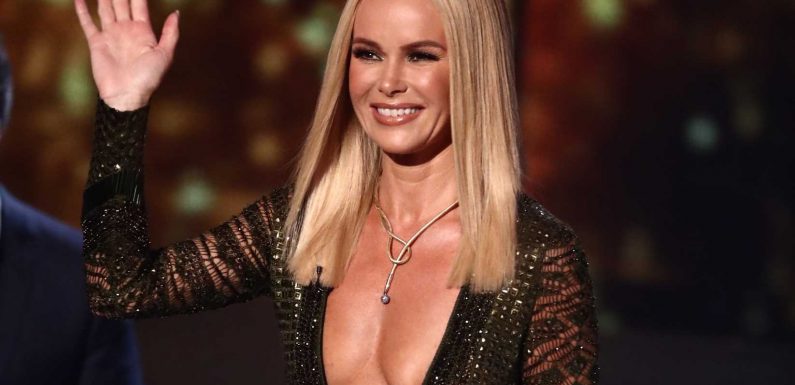 AMANDA Holden is no stranger to flashing the flesh on Britain's Got Talent.
But over the years the TV star, 52, has faced a huge backlash from viewers due to her risqué looks as a judge on BGT.
Tonight viewers will see Amanda return to her job as one of the judges on the ITV talent show, with fans waiting to see what she'll be wearing.
In the past she's sparked thousands of Ofcom complaints from viewers outraged over her flashing the flesh.
But Amanda is not set to disappoint her loyal followers, and has vowed to keep her look sexy.
Speaking to The Mirror she said: She said: "I am thinking more rubber. I enjoyed wearing latex in the audition and I am thinking more latex in their lives.
More on Amanda Holden
Amanda Holden teases appearance on Britain's Got Talent rival in glam snap
Inside Amanda Holden's incredible five bedroom house she's struggling to sell
"More latex and more sweating!"
In 2020 Amanda wore a revealing blue gown on Britain's Got Talent which some viewers insisted you could see her nipples through.
It caused 235 angry people to complain to TV watchdog Ofcom.
Meanwhile, making a nod to new judge Bruno Tonioli's low cut shirts, she told the MailOnline: "Everyone talks about my t**s and his are out all the time. No Ofcom complaints about me this year please!"
Most read in TV
I want to be a dad again, says Simon Cowell – it will be hard but I'm desperate
Strictly star in shock quit U-turn after BBC bosses convince them to stay
Dancing on Ice star announces shock split after five and a half years together
EastEnders' Matthew Rose and Tony Hills actors unrecognisable as they reunite
And Bruno jumped in to defend Amanda, saying: "If you've got it, flaunt it! I don't understand this complaining.
"She's a beautiful women."
Amanda previously insisted she won't cover up just to please some people.
She told the The Mirror: "When my mum was 48 she wouldn't have dared wear a mini skirt, because she's of the era where you wouldn't dare get your knees out if you were nearly 50.
"Whereas I look at Kylie and J-Lo and think, well if she's still doing it, I'm still doing it."
The BGT judge now regularly takes to Instagram to share her outfits with followers.
Her 1.2 million strong following are quick to praise her style choices, and often flood the comment section with praise.
And Amanda remains defiant towards any kind of backlash.
She added: "Of course, I have fun on Britain's Got Talent – it's the perfect opportunity to take risks.
"Times have changed and I don't feel anyone should feel pressure to dress for your age.
Read More on The Sun
Tesco shoppers rush to buy 'bargain' baby essential scanning at £130 less
My six-month-old baby is toilet trained – he grunts when he needs to go
"It's all about body positivity and feeling good."
See what Amanda is wearing tonight when BGT returns at 8pm on ITV.

Source: Read Full Article