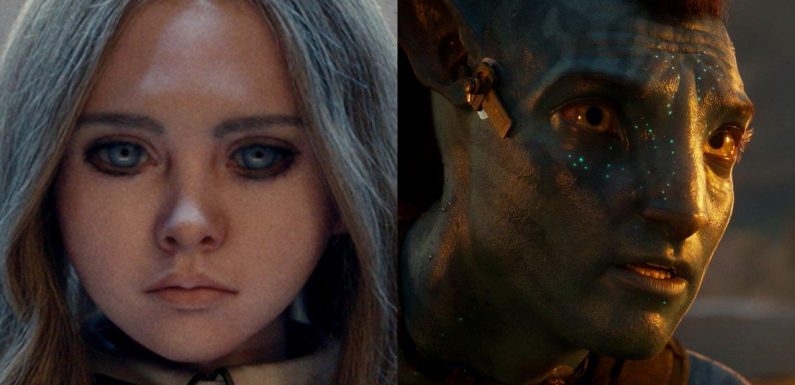 The 'Avatar' sequel is closer to crossing $2 billion mark globally after adding an estimated $31.1 million from North American theaters, while Tom Hanks' 'A Man Called Otto' beats expectations after expanding wide this weekend.
AceShowbiz -"Avatar: The Way of Water" and "M3GAN" are unchallenged at the domestic box office. Both movies hold on to the top two spots at the chart, with the epic sci-fi pic maintaining a substantial lead against competition.
The long-awaited "Avatar" sequel added an estimated $31.1 million on its fifth weekend, dropping roughly 36% from last weekend. It is projected to add roughly $36 million through the four-day Martin Luther King Jr. Day weekend.
This brings the James Cameron-directed blockbuster closer to passing the $2 billion mark globally. It has so far grossed $570.3 million domestically and $1.3 billion internationally for a worldwide total of $1.9 billion.
"There were such huge expectations and a lot of naysayers that opening weekend," said Paul Dergarabedian, the senior media analyst for Comscore. "But 'Avatar', for a James Cameron movie, is moving at lightning speed up the domestic and global box office chart. I think he always knew this would be a $2 billion movie."
Also showing signs of strength at the domestic box office is "M3GAN", which added an estimated $17.9 million over the three-day weekend frame. It is projected to bring in $20 million over the four-day holiday frame, showing a solid hold for a horror movie.
"The 41% hold on 'M3GAN' is unheard of for a horror film," Dergarabedian weighed in. "The great reviews, audience reaction and PG-13 rating created a perfect storm for success. Scary is scary, no matter the month." He gushed that the movie shows "world class staying power."
But showing the most impressive performance this week is "A Man Called Otto". The comedy-drama film starring award winner Tom Hanks holds on to the fourth place with approximately $12.6 million. That's a 198.6% increase from last weekend after it expanded wide, adding more than 3,000 theaters after beginning with a limited release over the holidays.
"Puss in Boots: The Last Wish" remains solid at the third place, earning an estimated $13.4 million on its fourth weekend. It dropped only 1% percent from last weekend, bringing its domestic haul to $106.3 million.
Landing on the fifth place is newcomer "Plane", which debuted to an estimated $10 million. The action thriller boasts the star power of Gerard Butler, who portrays a pilot who must team up with a convicted murderer to survive after making an emergency landing in a war zone.
Top 10 of North America Box Office (Jan. 13-15, 2023):
"Avatar: The Way of Water" – $31.1 million
"M3GAN" – $17.9 million
"Puss in Boots: The Last Wish" – $13.4 million
"A Man Called Otto" – $12.6 million
"Plane" – $10 million
"House Party" – $3.8 million
"Black Panther: Wakanda Forever" – $2.2 million
"The Whale" – $1.4 million
"Whitney Houston: I Wanna Dance with Somebody" – $1.1 million
"Waltair Veerayya" – $1.08 million
You can share this post!
Source: Read Full Article