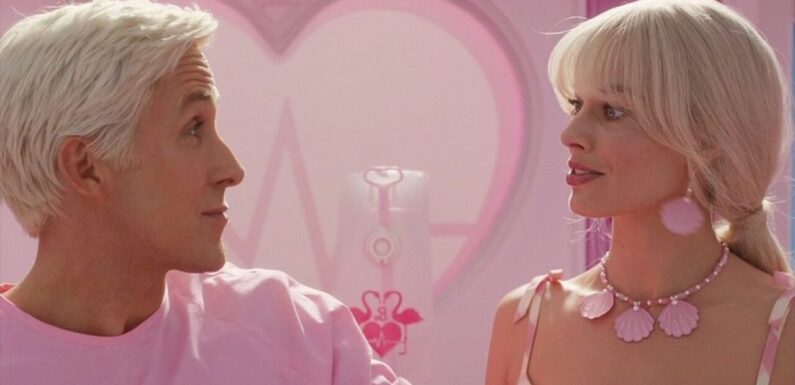 Filmmaker Greta Gerwig talks about her inspiration for the upcoming Margot Robbie and Ryan Gosling-starring movie, citing classic musicals like 'The Wizard of Oz'.
AceShowbiz –Greta Gerwig has likened the "Barbie" movie to disco music. The 39-year-old filmmaker took inspiration from musicals such as "The Wizard of Oz" when it came to her tale about the beloved Mattel doll, and she hopes it gives audiences a fun, communal experience in the same way as the popular 1970s musical style.
"Basically, the assumption of disco is that when people get together, what they want to do is dance. I feel like that's really optimistic for a musical genre. And I feel like 'Barbie' is the same way," she told Total Film magazine.
The movie was shot on the Warner Bros. lot in Leavesden and lead star Margot Robbie was amazed at how many people working on site would "gravitate" towards their studio in the hope of catching a glimpse at a scene.
She laughed, "You've never seen so many grown men find excuses to come to set. Everyone would gravitate towards it. I mean, 'Fast + Furious' was shooting at the same studio and they would all come over to look. Our crew was made up of extraordinarily talented people who've seen the greatest sets in the world and they would tear up. Everyone was so excited."
Greta previously admitted she feared making the film would end her career. Speaking to Dua Lipa on the "At Your Service" podcast, Greta, 39, said, "It was something that was exciting because it was terrifying. I think that was a big part of it, like, 'Oh, no, Barbie.' "
"It felt like vertigo, starting to write it, like, 'Where do you even begin, and what would be the story?' And I think it was that feeling I had was knowing that it would be really interesting terror. Usually that's where the best stuff is, where you're like, 'I am terrified of that.' Anything where you're like, 'This could be a career-ender' – then you're like, 'I should probably do it.'"
You can share this post!
Source: Read Full Article