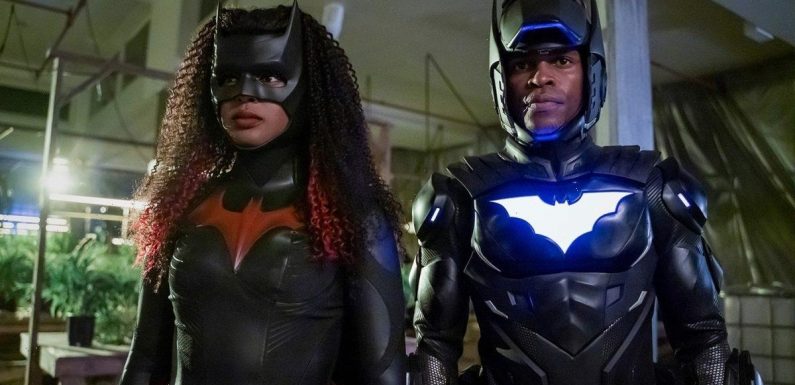 Batwoman Season 3 kicked off on Oct. 13, and its premiere proved an action-packed installment that promises an exciting new chapter for the Bat Team. The CW series welcomed a new lead in Javicia Leslie's Ryan Wilder back in season 2. The third outing will see her fully embracing the spotlight, especially now that Kate Kane (Ruby Rose/Wallis Day) has departed Gotham for good.
In the first episode alone, Batwoman Season 3 welcomes new characters into the mix — some of whom are iconic members of DC Comics' lineup. It also presents interesting dynamics heading into this new chapter. It's definitely enough to intrigue viewers into sticking around.
[Spoiler warning: This article contains spoilers for Batwoman Season 3 Episode 1, "Mad as a Hatter."]
Batwoman and Batwing make an impressive team in the premiere
The season 3 premiere of Batwoman kicks off with an action-packed fight sequence that shows off Ryan and Luke's (Camrus Johnson) new hero/sidekick dynamic (although Luke prefers not to be called the sidekick, thank you very much).
Luke has been an essential member of the Bat Team since season 1. However, Batwoman Season 2 saw him taking up a vigilante persona of his own. The premiere emphasizes that he's still getting the hang of fighting alongside Ryan, especially with his suit glitching non-stop.
He's also trying to come up with a name for himself. And while Ryan's suggestion of "The Dork Knight" is hilarious, the ending finally sees them considering Batwing.
That's cut short by Luke's father speaking to him through the Batwing helmet, potentially revealing the reason he's been having trouble with the suit. It seems Lucius Fox left a message for his son inside of it — either that or part of his consciousness. The ending really isn't clear on that bit. However, fans can look forward to more emotional moments centered on Luke and his late father.
'Batwoman' Season 3 introduces a Mad Hatter hellbent on saving Alice
The Batwoman Season 3 premiere also introduces the villain teased as the show's next Big Bad. The Mad Hatter (Amitai Marmorstein) is every bit as eccentric as he should be, and Marmostein plays the role to a T. However, Batwoman puts a twist on the iconic Batman villain. This version of him is slightly obsessed with Alice (Rachel Skarsten), and he's hellbent on setting her free from Arkham.
Add in a hat that can make the people around him do whatever he pleases and Marmostein's villain makes a compelling addition to the show. Unfortunately, he doesn't wind up becoming the next major threat to Gotham — but more on that later.
Ryan asks questions about her birth mother in 'Batwoman' Season 3
While Luke gets used to his new suit and the Mad Hatter seeks justice for Alice, Ryan's dealing with her own personal dilemma. The tail end of Batwoman Season 2 saw Alice revealing that her birth mother is still alive. In the third season, she'll have to decide what she wants to do with that information.
And the season 3 premiere shows our new Batwoman grappling with that decision. She's unsure whether she wants to seek out her mom, and she confides in Sophie (Meagan Tandy), leading to some touching moments between the two characters. Sophie offers Ryan whatever support she can, and she even digs into her mother's history a bit.
Of course, that security breach gets picked up on Jada Jet's (Robin Givens) company radar. So, although Ryan chose not to search for her mother at the end of the premiere, Jada may come looking for her.
Mary's graduation goes south
The Batwoman Season 3 premiere comes to a head with Mary's (Nicole Kang) graduation from medical school, which goes south very quickly when the Mad Hatter arrives.
In a scene heart-wrenchingly similar to Catherine Hamilton's (Elizabeth Anweis) final moments in season 1, the Hatter commands Mary to give a speech. Ryan and her friends immediately realize the words aren't her own. Unfortunately, they start the clock on the Hatter's plans, which they'll need to derail if they want to save lives.
The Hatter asks Mary to de-organ the chair of her university, all while controlling the other graduates in the room. Mary starts with the expendable organs while her friends break Alice out of Arkham. Of course, Ryan needs to convince her that she's been imagining all of her correspondence with Jacob (Dougray Scott), leaving fans with another sad revelation for Alice.
But Alice shows a bit of character growth when she finally confronts the Hatter, talking him down before stabbing him. It's a shame Batwoman decided to take him out of the equation so early in the season, but he made some good points about the state of medicine before taking his final bow.
Poor Alice probably should have stuck with the Hatter though, as Ryan goes back on her promise to let her run. Alice returns to Arkham after saving Mary's commencement ceremony. Thankfully, it doesn't look like she'll be staying there.
Renee Montoya makes her Arrowverse entrance
The Mad Hatter isn't the only iconic DC character to make their Arrowverse entrance during the Batwoman Season 3 premiere. Renee Montoya (Victoria Cartegena) also shows up during the first episode. And although she doesn't play much of a role in diffusing Mary's disastrous commencement, she does end the episode with a proposition.
In an attempt to rein in Gotham's villains — and find the missing Batman trophies — she asks Ryan and Alice to work together. Well, ask is a strong word. She actually threatens to expose Ryan's identity if she refuses — which means we'll be seeing more of this duo in future installments.
That's one way to keep Alice in the picture, and to explore her entertaining dynamic with the Bat Team. So far, Batwoman Season 3 is off to a promising start. Let's hope they keep the surprises coming.
New episodes of Batwoman Season 3 air on The CW every Wednesday at 9 p.m. ET.
Source: Read Full Article