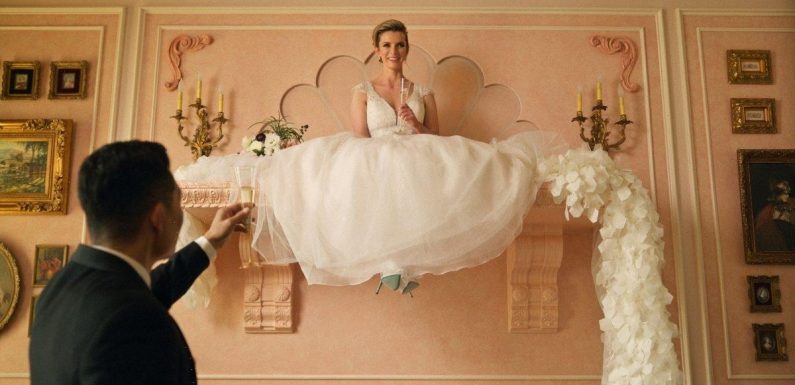 The Apple TV+ series Roar gives us the gift of eight different stories starring eight different women. The cast includes Nicole Kidman, Issa Rae, Cynthia Erivo, and Merritt Wever. Betty Gilpin's episode is about a gift that ends up a bit Twilight Zoney. Gilpin plays a woman literally put on a shelf in "The Woman Who Was Kept on a Shelf". Portraying a woman sitting on a shelf was harder than it looked. 
Roar co-creator Liz Flahive spoke with Showbiz Cheat Sheet by Zoom on March 31. She explained how they built the shelf for Betty Gilpin. All episodes of Roar are now streaming on Apple TV+.
Betty Gilpin 'Roar' shelf challenged her performance
Gilpin plays a model whose husband (Daniel Dae Kim) literally considers her a trophy wife. He builds a shelf for her to sit on all day. Flahive said Gilpin was inspired by the limitations of the shelf. 
Betty on a shelf was one of the most joyful experiences ever because if you've seen Betty do anything, it's never just one thing going on with Betty as an actor. She contains so many things at once. So I think in a way the constraint of putting her on a shelf was its own joy and fun. And getting to kind of literalize the kind of male gaze, the objectification that both she imposed upon herself and was imposed upon her was really cool to see how that would play out and how she played that through as her character. We just all had such a blast trying to figure out that puzzle of how to shoot that, how long we could sustain her on the shelf narratively.
Building the Betty Gilpin shelf was elaborate for 'Roar' producers
Flahive said Roar found a real home to use for the set. They added a wall on which they could construct the shelf.
"We knew we wanted to put up a wall in an existing home so we had the reality of a location," Flahive said. "But we basically found a location, brought in a wall, tested the height of the shelf a million different times, integrated that wall into the existing house for production and the house around it, that room is actually bigger than you see. We sort of cut the room in half and then created the shelf."
The shelf had to not just support Gilpin, but also accommodate the camera.
"That sort of shell area behind her, the detail behind her is a camera port because we knew we had to get a camera to go over and down," Flahive said. "So technically, it was so many different things. Once we got her up there, it was just all fun and games. Yes, there was a lot to figure out in terms of the scale, the magic trick of the episode, how to sustain that shelf visually. So yeah, it was a lot of work."
The shelf was safe
Gilpin also wore a harness to ensure she didn't fall off the shelf. You just don't see it in Roar.
"She had a harness on, believe me," Flahive said. "Shauna Duggins, our Emmy Award winning stunt coordinator from GLOW was with us on Roar. There was no one who was unsafe on our show. Betty was fully harnessed."
Source: Read Full Article