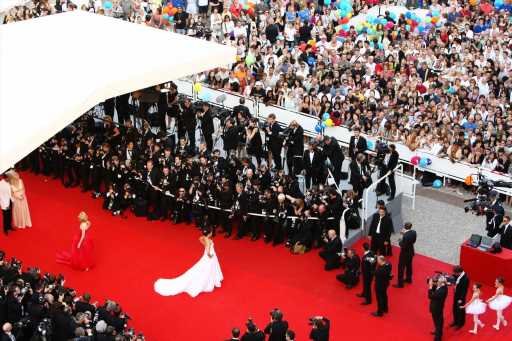 In total, Cannes Film Festival General Delegate Thierry Frémaux today announced 52 titles that will debut at the 76th edition which runs May 16-27 on the Riviera, and which he dedicated to the late producer and Telluride co-founder Tom Luddy. It's set up to be yet another starry affair – though to outdo last year's Top Gun: Maverick screening replete with French fighter jets buzzing the Palais would be a real feat.
Perhaps Harrison Ford, just shy of his 81st birthday, could ride up the red carpet on a steed, snapping a bullwhip to John Williams' iconic theme from Raiders of the Lost Ark when Disney/Lucasfilm's James Mangold-directed Indiana Jones and the Dial of Destiny world premieres out of competition on May 18. Certainly, if the mega-ensemble from Wes Anderson's competition entry Asteroid City (Focus) — which includes Scarlett Johansson, Tom Hanks, Tilda Swinton, Jason Schwartzman, Bryan Cranston, Edward Norton, Jeffrey Wright, Adrien Brody, Liev Schreiber, Steve Carell, Matt Dillon, Willem Dafoe, Margot Robbie, Jeff Goldblum and Hong Chau — turns up, it could be a crowded and starry Palais entrance for the annals. Hope springs.
Related Story
Cannes Film Festival: Record Number Of Female Filmmakers To Play In Competition 
In total, Frémaux revealed 19 films in competition this morning (he will likely add more in the weeks to come). They include new works from previous Palme d'Or winners Nuri Bilge Ceylan (About Dry Grasses), Nanni Moretti (Il Sol Dell'Avvenire), Ken Loach (The Old Oak), Wim Wenders (Perfect Days) and Hirokazu Kore-eda (Monster). Wenders also has Anselm (Das Rauchen der Zeit) in Special Screenings while Kore-eda may be making history returning to the competition with a Japanese film one year after his Korean-language Broker.
There are a lot of familiar faces in the mix but there are also six filmmakers in competition for the first time including Tran Anh Hung (La Passion de Dodin Bouffant) and Karim Ainouz (Firebrand). Sexy Beast and Under the Skin helmer Jonathan Glazer will make his Official Selection debut with Holocaust drama The Zone of Interest starring Toni Erdmann's Sandra Huller.
So, it's a mix of the so-called "usual suspects" and some fresh faces. In an encouraging record, there are six female filmmakers in competition including debut helmer Ramata-Toulaye Sy who will be eligible for the Camera d'Or with Banel e Adama, and French provocateur Catherine Breillat with her first film in a decade, L'Eté Dernier, an adaptation of Danish Sundance prize winner Queen of Hearts.
It's a refreshingly global lineup with a strong contingent of Asian and North African filmmakers as well as films from Mongolia, Senegal and Iran.
In terms of omissions, Roman Polanski and Woody Allen's latest projects are awol, though would certainly have courted controversy. No Russian films made the cut either.
Directors whose names we didn't hear this morning include Yorgos Lanthimos, Robin Campillo, Bruno Dumont, Bertrand Bonello, Michel Franco, Abderrahmane Sissako, Kitty Green and Cristi Puiu. As he always does, Frémaux noted that there will be additions, so some of these could potentially still make it.
Un Certain Regard is an eclectic mix of eight first-timers and films from around the globe while the Out of Competition strand will, alongside Indiana Jones, feature Martin Scorsese's Killers of the Flower Moon (Paramount/Apple) which Frémaux indicated he would have liked to see in competition. Also playing there is The Idol from HBO and A24, director Sam Levinson and starring Lily-Rose Depp and The Weeknd. According to reports, it has been a troubled production. While it has been billed as a series until now, Frémaux referred to it as a film. We've clarified with sources that this was a confusion or a mistranslation and that it remains a series. It's still not clear, however, how many episodes will show on the Riviera or which ones.
All in all, Cannes is about the films and filmmakers — both Frémaux and newly-minted fest President Iris Knobloch maintained as such at this morning's press conference. But it's also about the glamour. Along with the aforementioned A-listers, here's a sampling of the talent we may see strolling up the Palais' famous red carpet: Johnny Depp, Leonardo DiCaprio, Robert De Niro, Natalie Portman, Julianne Moore, Phoebe Waller-Bridge, Alicia Vikander, Jude Law, Cate Blanchett (producer on The New Boy), Romain Duris and Juliette Binoche to name just a few.
Must Read Stories
'Pearl' & 'X' Star Mia Goth Joins Mahershala Ali In Marvel's 'Blade' Redo
Max Launch Date, Programs, Pricing & More About WBD's Rebranded Streamer
Sides Remain "Far Away" From A Deal Despite "A Little Bit Of Progress" In Talks
Nicki Minaj To Lead Toon Series 'Lady Danger' In Works At Freevee From 50 Cent & Others
Read More About:
Source: Read Full Article