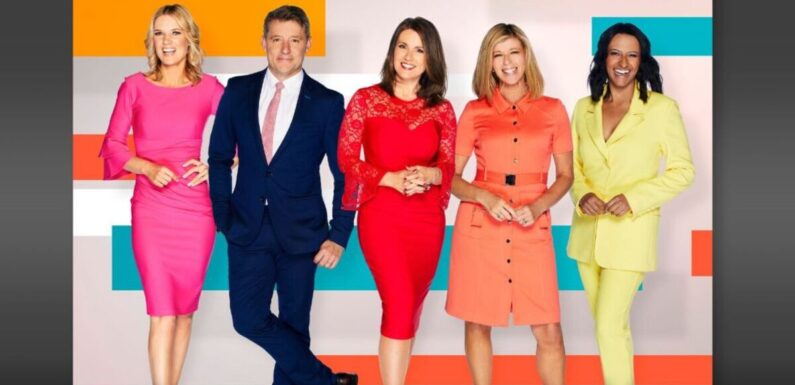 Alex Beresford gives his Dancing on Ice predictions
Good Morning Britain star Alex Beresford is part of this year's line-up and will compete along with his dad Noel on Celebrity Race Against the World.
The other famous faces joining the weather presenter on the journey are singer Mel Blatt and her mum, Helene, McFly drummer Harry Judd and his mum, Emma, and British Racing Driver and pundit Billy Monger and his sister, Bonny.
This new BBC series will see the celebrities taking on the challenge of the BAFTA Award-winning format Race Across The World.
Starting in Marrakech, Morocco, the most north-western country in Africa, and ending in Tromsø, Norway, known as the Arctic capital, the epic journey will span 24 countries and over 10,000 km.
The route will see the pairs race through every landscape and culture that this part of the world has to offer.
READ MORE Loose Women star slams Gregg Wallace for eating 'human meat'[LATEST]
Speaking about why he wanted to take part in the challenge, Alex shared: "I thought it was a fantastic opportunity to do something that we've never done before.
"Neither of us have ever backpacked, so it's a new experience. And, also, just to see some amazing places!
"Across continents and across countries, and you're getting to see everything at ground level, so it's completely different to just flying over – getting to immerse yourself in different cultures and communities."
Noel Beresford added: "I'm into exploring new things, so this seemed like a good opportunity to see all the different cultures and how other people live and see how we get on."
Don't miss…
Emmerdale exit for villager as fans 'work out' Bob Hope betrayal[REACTION]
Channel 4 fans 'complain to Ofcom' after Gregg Wallace eats 'human meat'[VIDEO]
BBC star says George Alagiah 'wasn't afraid to die' two weeks before death[LATEST]
View this post on Instagram

A post shared by A L E X B E R E S F O R D (@alexberesfordtv)
We use your sign-up to provide content in ways you've consented to and to improve our understanding of you. This may include adverts from us and 3rd parties based on our understanding. You can unsubscribe at any time. More info
The star-studded line-up will tackle the great North African city of Marrakech, through the seaside ports and beaches of the Mediterranean, to unrivaled historic and cosmopolitan cities.
They will also trek through the mighty Alps, unexplored Central Europe, the fairy-tale Baltic States, and snowy Scandinavia.
In this six-part celebrity version of the much-loved series, the four celebrities and their racing partners will race to a finish line that's thousands of miles away – without the use of air travel or any trappings of modern-day life.
Stripped of all mod-cons and all luxuries they will have to rely on their skills, cunning, ingenuity, and hard work in order to succeed.
Singer Mel said she wanted to take part "to be out of my comfort zone".
She explained: "To do something that I wouldn't necessarily choose to do on my own. I'm definitely up for challenges and pushing myself… And this is what mum does all the time!"
Harry went on: "I never travelled when I was younger. I travelled with the band, but I never properly did backpacking and I always wanted to. I think the same applies for my mum, she always wanted to but started a family when she was 22."
Celebrity Race Across The World will debut later this year on BBC One.