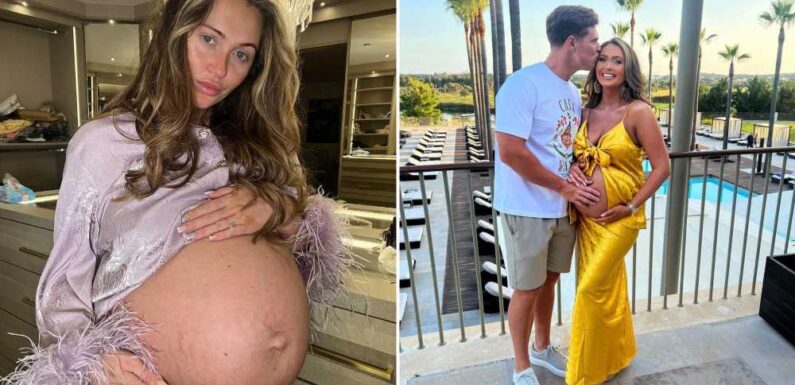 CHARLOTTE Dawson has opened up about the realities of pregnancy and said she is 'proud' of her stretch marks.
The TV star, who is preparing to welcome her second child with fiance Matthew Sarsfield, took to Instagram and shared an unfiltered snap of her blossoming baby bump.
Charlotte, 30, penned: "Breaking up the glamness of the feed with some reality.. (well I still have my glam pjs on from @lavishalice) my bumpalicious seems so much bigger this time & I've grown a lot more tiger stripes which I'm so proud of but I can't help but think how magical the woman's body really is.
 "As I'm coming to the end of my pregnancy I can't help but feel mixed emotions.. I'm obvs exhausted, drained, hormonal but I'm really gonna miss my bump, I can't believe I've been lucky enough to grow another human after losing one last year.
"My little rainbow baby boyo it could be any day now!! I'm so excited so nervous but can't wait for our little fambo to grow… Ps why do belly buttons go mingin".
Fans rushed to comments and showed Charlotte their support, with one writing: "A mama births not only her child but also herself. she is forever changed.
Read More on Charlotte Dawson
Charlotte Dawson cruelly mum shamed by trolls over pregnancy diet
Charlotte Dawson shows off enormous bump at festival themed baby shower
A second said: "Thank you for sharing the realities of pregnancy. It's hard work. You're doing an amazing job honey!"
A third replied: "I love that you rock your mama stripes. 2 tiny life have grown in there always wear them with pride."
Back in February Charlotte announced her happy news after suffering a heartbreaking miscarriage last year.
The reality TV star miscarried last April, 10 weeks into her pregnancy.
Most read in TV
EastEnders star 'signs for Strictly' – 17 years after shock soap exit
Love Island's Davide snorts white powder during Ibiza bender days after split
Love Island star looks worlds away from show five years later
This Morning faces further crisis that 'risks splitting 2 presenting duos'
But at 17 weeks she went public with their baby joy.
Charlotte told OK!: "I wanted to scream and tell everybody, ring my mum and all my friends, but we couldn't really get excited enough because of what happened last time.
"I can't believe it's actually happened again and Noah is going to be a big brother! Obviously this one is a rainbow baby. I feel very blessed and very happy that I've managed to get pregnant again.
"We were absolutely heartbroken about the miscarriage last year. It came as a shock when I found out last April. It was like we'd just come to the realisation that we were having a baby and I lost it at 10 weeks."
Read More On The Sun
Drivers are only just realising you can remove car scratches with a £1 item
People are just realising what crabsticks are made from and they're grossed out
Source: Read Full Article