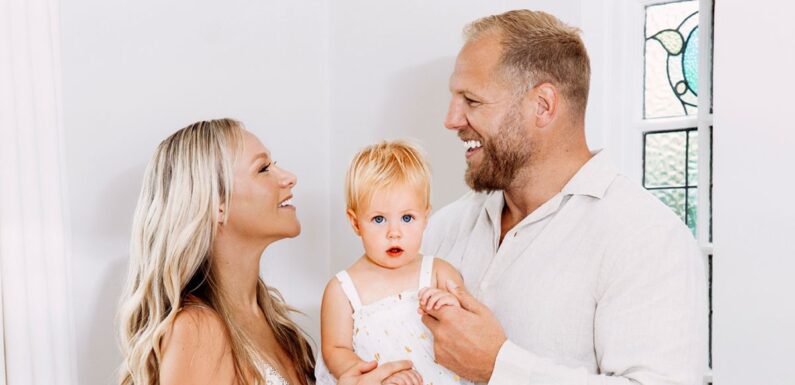 Chloe Madeley and James Haskell looked glum as they were both spotted for the first time since their marriage split was confirmed.
Earlier this week the pair issued a statement saying they have separated, just 13 months after the birth of their daughter, Bodhi.
Speaking to The Sun, Chloe explained: "James and I mutually decided separate at the end of September, 2023.
"We had not planned on releasing a statement at this time – certainly not while the television show was airing – but constant speculation about our marriage has, unfortunately, forced our hand.
"Beyond this statement, we will not be speaking about this matter publicly, and we would request privacy at this time.
"Our sole focus now is our beautiful daughter. We shall continue to co-parent with nothing but love."
Now the pair have been seen out separately from each other. Thirty eight year old James was seen wearing a blue tie-dye style sweatshirt, with a pair of blue trousers and white trainers.
While, 36 year old Chloe was wearing a green hoodie, with a pair of black shorts, and white high-top trainers.
The daughter of Good Morning Britain host Richard Madeley had her hood up and was holding a couple of bottles of water.
Now an astrology expert has exclusively revealed to OK! how "feisty" Chloe could have clashed with "ambitious" James to have a "tumultuous" relationship.
Michelle Bell, the founder of the personality and compatability app Cosmic Fusion, looks at both Western and Chinese astrology to get a better understanding of people's personalities and explained: "It's a bit complex because Chloe (Cancer Fire Hare) is quite a sensitive and feisty character. She's hugely compassionate, but her inherent insecurities mean she can be quite defensive and not always sure of herself. Her feistiness is a pure defence mechanism."
But Chloe's estranged husband is quite different, according to Michelle, who said: "Meanwhile James (Aries Wood Ox) is an extremely proud, confident and ambitious person. He's very sure of himself and isn't remotely sensitive. He's a competitive person who has to be the best at everything he does. He's the kind of person who won't back down and will always back himself.
"Having one uber confident character with someone who is far more sensitive can be quite difficult. Their opposing personalities mean their relationship will be really tumultuous and unpredictable. There could be explosive scenes given their core characters are so different, it's like an epic clash of personalities."
Meanwhile a dating and relationship expert has exclusively told OK! that an apparent "lack of respect" between the pair, could have led to the "downfall" of their relationship.
Louella Alderson, co-founder of the So Syncd dating app said: "It appears there was a lack of respect and communication between the two, which ultimately led to their downfall as a couple. James felt like Chloe spoke down to him, and Chloe felt like James was dismissive of her. Ultimately, these issues were not addressed or resolved and only festered over time.
"It's clear Chloe felt like James' DJing gigs were a core issue when it came to their relationship. The embarrassment Chloe felt from James being pictured with women in Ibiza was only made worse when he dismissed her feelings as not being his problem. This shows a lack of empathy and understanding on James' part, which likely caused further resentment on Chloe's end.
"Additionally, James' decision to continue with his DJing career despite Chloe's disapproval also shows a lack of compromise and consideration for their relationship. James shouldn't have to give up his career for Chloe, but he could have been more open to finding a balance and compromise that worked for both of them.
"The disconnect and lack of understanding between Chloe and James highlights the importance of communication, respect, and compromise in a relationship. It's crucial for couples to listen to each other, validate each other's feelings, and find solutions together rather than making decisions without considering their partner's perspective."
Despite all of the upset, it appears that the pair are keeping a united front for their daughter after Chloe shared an adorable video of the little one's bath time.
James can be heard in the background of the video, while Chloe can be seen watching on, as Bodhi runs around dressed as a fox.
Alongside the video, Chloe wrote: "This little fox loves bath time with her daddy."
Source: Read Full Article