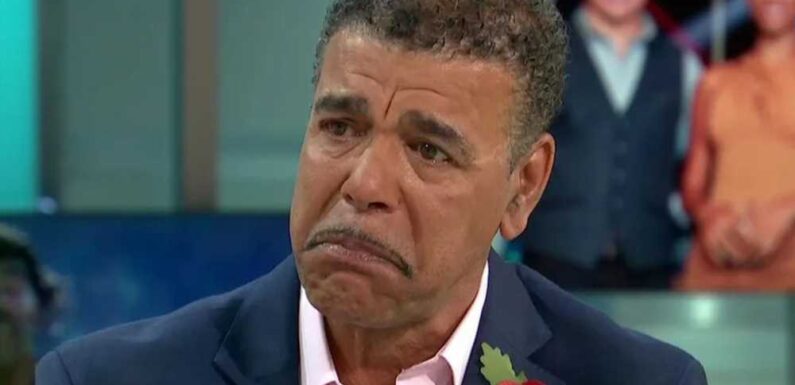 CHRIS Kamara broke down in tears as he admitted he felt "ashamed" of his speech disorder diagnosis in an emotional Good Britain segment.
The former Sky Sports host, 65, was visibly upset and watery-eyed as he opened up on his apraxia of speech condition.
Chris explained how it saw his brain and mouth connections break down and "you can't say words."
Kammy left his role on Sky Sports in 2022 after being diagnosed with an underactive thyroid, leaving him with a condition that affects his speech.
Previously, he explained how he felt like a "fraud" following his apraxia of speech diagnosis – and like someone else is controlling his voice.
On Thursday's Good Morning Britain, he was clearly emotional as he admitted: "I get upset talking about it.
"I was in denial. I was ashamed I couldn't speak."
As tears filled his eyes, GMB host Susanna Reid, 52, leant over the the desk to hold his hand.
He continued: "I didn't want to be a burden, that's the thing.
"I have spent so long looking after my family and I didn't want them to be in a position where they were looking after me."
Most read in News TV
OUCH
Corrie's Alan Halsall undergoes major surgery that will take a year to recover from
WALTZ OFF
Strictly legend tears into show's decision to keep Angela Rippon
TOE CURLING
Amy Childs shamed after fans spot 'disgusting' detail in photo with her kids
TREE-MENDOUS
Kate Garraway risks feud with neighbour over Christmas tree photo
She reassured him: "You have got nothing to be ashamed of – let me take your hand.
"You have done so much to inspire people."
She was referring to Chris' inspiring apraxia documentary and his numerous interviews which have highlighted the condition.
Susanna's Good Morning Britain co-host Ben Shephard, 48, is a close mate of Chris and appeared in his documentary.
Chris rounded off his chat by thanking Ben for his help and saying he "couldn't have done it without him" which prompted the ITV anchor to start crying too.
As he gave Chris a hug, Ben said: "Laura can you do the weather or something?
"This is embarrassing."
Chris later told how realised he was "wrong" to feel ashamed and urged others with the condition not to be.
Fans watching at home were just as touched.
One wrote on X: "Don't think there's a more likeable bloke than Chris Kamara proper national treasure."
Another put: "I think @chris_kammy is the first person I've seen on the show who doesn't have a bad word said about them on Twitter, just unanimous love."
One then simply put: "Kammy what a legend," as another addeD: "What an emotional but inspiring story @chris_kammy you are an amazing man, loved by so many people. @benshephard what a legend too."
A fan then concluded: "@chris_kammy on #GMB has me in tears. As a parent of a child who has reciprocated SLT and a daughter of someone with Apraxia, more needs to be done.
"You're amazing Kammy!! Thank you for raising awareness."
Read More on The Sun
dressing down
Katie Price reveals vile fate of £45,000 bejewelled Peter Andre wedding dress
FACE BROKE
Facebook users raging as key button stops working and it's 'driving people nuts'
Chris has previously bravely told how he contemplated suicide following his diagnosis.
He also told how how he felt like a "fraud" when he appeared on-screen with his condition.
What is apraxia of speech?
CHRIS Kamara has been diagnosed with apraxia of speech – but what is it?
Apraxia of speech is a condition which makes talking difficult, with sufferers knowing what they'd like to say, but having trouble communicating their words.
The NHS says that the condition can be extremely frustrating for people.
They explained: "Frequently the person with apraxia will have difficulties with conversational speech. However they may be good at 'automatic' speech tasks such as counting, swearing, repeating rhymes, greetings and farewell.
It's usually caused by damage to the left side of the brain, such as a stroke.
The condition does not affect a person's understanding and the symptoms of the condition can vary occurring to the severity of the disorder.

Source: Read Full Article