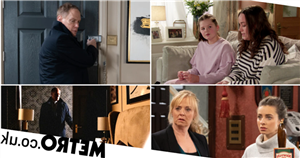 There is danger aplenty in next week's Coronation Street, as sinister villains move in on their victims.
With Carla Connor's (Alison King) future in his hands, killer Stephen Reid (Todd Boyce) slithers into her home while she sleeps.
And as he turns on the grill and leaves, is a fire set to take hold and claim his third murder?
Meanwhile, with scared Daisy Midgely (Charlotte Jordan) unable to break free of stalker Justin, she gets more serious news as she discovers from his sister that he has struck before.
With Daisy more chilled to the bone than ever, Justin seizes a terrifying situation.
And Faye Windass (Ellie Leach) has a blast from the past, when she comes face to face with her daughter Miley.
As they begin to bond, a decision faces her – but what will she do?
Here's what to expect next week in Weatherfield.
Monday March 13
Daniel attempts to put things right with Daisy. Will she agree to go ahead with the wedding? Finding Justin lurking outside, Daisy declares she's had enough, whips out her phone and starts filming him in a bid to prove to him what it feels like.
In the pub, Jenny and Glenda watch the livestream in horror. After Justin hurries away, his sister calls at the Rovers, warning Daisy that this isn't the first time Justin has become obsessed with someone and she needs to watch herself as he's dangerous. 
As Faye heads out for the day with Craig, Sally warns Tim he's playing a dangerous game as he welcomes Jackson and Miley in.
All goes well until Miley and Eliza recognise each other on the street and stop to chat as Craig and Faye pull up in a cab. Tim's heart sinks. 
Having dressed to impress, Beth asks Glenda to accompany her to meet Marco but realising she's surplus to requirements, Glenda makes herself scarce.
As Carla stresses about ending up back in prison as an uninsured driver, Peter promises her that won't happen. Sarah's surprised when a preoccupied Carla agrees to a staff bonus after they bagged the American deal. Meanwhile Stephen surreptitiously calls Rufus.
When Tyrone reveals that Sam and Hope are now an item, Nick's reminded of how much he misses his son. Having cadged money off Tyrone for cinema tickets, Hope and Sam set off on a date. 
Wednesday March 15
Carla sees Dr Gaddas, describing how each time she's suffered an episode, it feels like she's tripping on drugs. Dr Gaddas prescribes her with diazepam. As the Americans arrive Stephen reminds Carla how it's imperative that she's on top form.
Carla can't believe his nerve and as she takes charge, orders him to make the tea. Angry at being belittled, Stephen double doses Carla's drink. As the meeting draws to a close and the LSD kicks in, Carla's behaviour becomes erratic.
With the Americans gone the girls celebrate the deal, but they're interrupted by a worse for wear Carla who barks at them to get out of her factory. The girls are dumbstruck while Stephen allows himself a satisfied smile. 
When Daisy spots a delivery van on the street, she suffers a panic attack. Ryan does his best to calm her down as Daisy opens up about how she's continually looking over her shoulder. 
Adam confides in Peter and Steve that he's worried about his business. In the solicitors'.
As Fiz and Kirk reminisce about the time he proposed to her Beth bristles. When a despondent Nick admits that neither Sam nor Leanne want anything to do with him, Sarah has an idea.
Tim points out to Faye that if she passes up the opportunity to get to know her daughter, she'll regret it for the rest of her life. Will Faye listen?
Friday March 17
Feeling better, Carla announces she's going to work. She assures Peter and Stephen that yesterday was a blip but as she goes to make a drink she smashes a mug and cuts her finger.
Struggling to cope, Carla concedes that she needs another chat with Dr Gaddas who suggests she takes an extended break and goes back on her antipsychotic drugs.
Having pocketed her keys from the factory, Stephen lets himself into the flat and checking Carla's asleep, drops her keys back in her bag before heading into the kitchen and turning on the grill. 
Dee-Dee's horrified to find Damon in the solicitor's office chatting to Adam. Revealing that it's Damon who's been making Nick's life a misery, Dee-Dee orders him to sling his hook.
When Adam suggests they should take Damon on as a client as he's in need of legal representation and he's loaded, Dee-Dee's appalled at the idea. 
Daisy tells Daniel that everyone is back on board with the wedding apart from the florist. Daisy bites the bullet and asks Tracy if she'd do the flowers. Tracy agrees on condition that she and Amy are bridesmaids. Will Daisy agree? 
As a grumpy Evelyn opens her birthday cards, she relents and agrees to a small family gathering. Evelyn invites Roy who's delighted to accept. Faye's a nervous wreck as Tim ushers Jackson and Miley into the house.
Source: Read Full Article