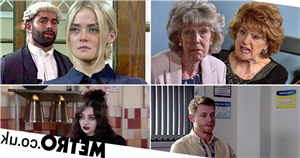 Daniel Osbourne (Rob Mallard) faces losing his new found career in Coronation Street as his feud with David Platt (Jack P Shepherd) escalates – but can he restrain himself after behaving aggressively in public?
Elsewhere, Imran Habeeb (Charlie de Melo) continues to hide his guilty secret – but after making an allegation, will Toyah Battersby (Georgia Taylor) get to the heart of the matter?
Coronation Street spoilers next week
David reports Daniel to the school for assaulting Max. Daniel's summoned to a meeting with the deputy head. He apologises for grabbing Max's jacket but refuses to withdraw his accusation about the stolen wallet. David declares Daniel should be sacked and if the school won't act, he will. When Shona refuses to support David the couple row.
Mrs Crawshaw advises Daniel to pacify David rather than throw away his career. In the corner shop, a bank card Max tries to use is declined, leaving Dev suspicious. Daniel's horrified to hear that David has reported him to the police for assaulting Max.
Sabeen asks Imran to join her on a lucrative appeal case but he's gobsmacked when he sees the defendant's name – Harvey Gaskell! Imran refuses but Sabeen reminds him what he got up to on the night of Kelly's verdict and urges him to reconsider. Imran fears blackmail.
Audrey remains deeply hurt by Rita's disloyalty and accuses Gail, Claudia et al of laughing at her behind her back. Explaining her feelings of redundancy to Shona, Audrey's touched by her words of comfort.
As Asha enthuses about her studies, Roy encourages Nina to seek an outlet for her creative talents.
Danny's ears prick up when he hears Ed telling Paul they have a cash flow problem at the yard. James is puzzled, knowing how busy his dad has been busier lately.
James demands to know what's going on. Aggie reveals that Grace forced them to give her their house and carry out renovations for free, if they want to continue seeing Glory. James is stunned.
Dev informs David about the declined bank card. David plays it down, pretending he loaned his card to Max, but then lets rip at Max. As Dev chats in the shop about Max, David and the bank card, Daniel's mind whirs.
Sabeen conceals her surprise when Imran sticks to his guns and refuses to play any part in trying to free Harvey, adamant that he belongs in prison.
Summer's gutted when Daniel reveals he can't tutor her as he's been suspended. Gail plots a surprise belated birthday meal to lift Audrey's spirits, and invites Rita.
Nina asks Carla about resuming her designing work for Underworld but is disappointed to learn she's been replaced. Roy suggests she go back to college to do a fashion course.
It's the day of Kelly's sentencing. An impassioned Imran delivers his speech, begging the judge to consider Kelly's troubled upbringing and fragile mental health. Kevin's incensed to see Sabeen in the court lobby and rages at her for getting Corey off scot-free.
Audrey's underwhelmed to find only Gail, Sarah and David at her birthday meal. Having refused a drink, claiming they regard her as an old lush, Audrey's offended by her old-lady gifts and snaps at Gail for remarking on her squinting to read. When Rita then turns up wanting to bury the hatchet, Audrey loses her temper and storms out. Audrey gets in her car but there's a loud crunch. She's aghast as Gail reveals she's reversed into Rita's car.
David wonders if he did right in protecting Max when his insolence prevails.
Nina informs Asha she's hoping to study Fashion at Weatherfield College and asks her to model some samples for photos she can use at her interview. Asha's thrilled.
When Gary mentions he saw Imran heading into a bar on the night of Kelly's verdict, Toyah's perturbed to realise Imran lied to her. Sabeen reminds Imran how she helped him on the night of the verdict. Toyah clocks their intimacy. Back home Toyah's unable to hold her tongue any longer and asks Imran outright if he's cheating with Sabeen. Will Imran come clean about his whereabouts that night?
Rita's furious with Audrey for denting her car. As Gail and Sarah question Audrey about the accident and wonder if she's losing her faculties, Audrey accuses them of being ageist.
Jack reveals that Corey's been promoted to County's first team and put on the bench for the next match. Kevin realises this is another blow for Abi.
Roy's pleased to see Nina and Asha getting on but Nina tells him not to read anything into it.
Debbie announces her plans for the bistro to host a 'House of Horrors' themed event in the derelict brewery building in the run-up to Halloween.
David admits to Shona that Max defied him and went out when grounded. David orders him home but is forced to conceal his rage in front of a passing Daniel.
Audrey meets Rita in the cafe, apologises for damaging her car and offers to pay for the repairs. She takes offence when Rita suggests she maybe needs her eyes testing. Gail convinces David and Sarah to stage an intervention to get to the bottom of Audrey's problem. Summoning Audrey to No.8, Gail's hoping for a civilised discussion. Will she get her wish?
Imran tells Toyah he can't meet her for lunch as he is too busy in the office. Michael suggests she surprises him with a takeaway lunch but when she arrives at the office Adam tells her he hasn't been in the office all day and went to the Rovers. Toyah marches out on a mission. What will she find?
Frustrated that Corey's promotion to the first team and that his anonymity remains protected, Kevin, Nina and Asha agree that his County teammates should be made aware of the truth about him.
Kevin asks James to have a discreet word with County's manager as the team deserves to know they are playing alongside a murderer but when that fails Kevin resolves to speak to the manager himself. Tim offers to accompany him. Kevin reckons Corey getting thrown out of County might bring Abi home.
Nina's a bundle of nerves ahead of her college interview. Roy steels himself to deliver the latest update on Corey.
Sally's aggrieved to see a local councillor, who ignored her concerns about local traffic, parking his car on the street before catching a tram.
Tim and Kevin accost County's manager outside the ground but Bob's quick to remind them that Corey was acquitted in a court of law. Having learned of Kevin's attempts to wreck Corey's reputation at County, Stefan calls at the garage to warn him off. Seeing the strain his pal's under, Tim urges him to forget about justice for Abi and focus on his life with Jack. Tim tells Nina that Kevin's a broken man and urges them both to back down for the sake of their sanity, but is Nina ready to abandon the fight?
Imran tells Toyah that he spent the night of the trial at Sabeen's house but nothing happened. Sabeen backs him up but is intrigued as she knows he didn't stay there the whole night. Sabeen makes it clear she expects him to reconsider working on Harvey's appeal. Imran feels dreadful when Toyah apologises for speaking to Sabeen behind his back. As Toyah advocates total openness in the future, Imran swallows his guilty secret.
Audrey refuses to be bullied into having an eye test, telling Gail in no uncertain terms that all her organs are in perfect working order.
Nina clumsily reminds Asha she sees her purely as a mate. Asha's quick to assert that she's totally happy with how things turned out. Aadi's shocked when Asha bursts into tears, devastated that Nina doesn't want her. Aadi suggests she could find somebody else to date. Sally pesters Fergus to join her crusade, pointing out the potential for issuing penalty notices once residents' parking gets enforced.
If you've got a soap or TV story, video or pictures get in touch by emailing us [email protected] – we'd love to hear from you.
Join the community by leaving a comment below and stay updated on all things soaps on our homepage.
Source: Read Full Article