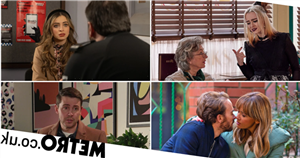 Coronation Street lines up another unmissable week, with big decisions and shocking mistakes on the cards for a number of Weatherfield's finest.
David Platt (Jack P Shepherd) makes a wrong move when he drunkenly tries to kiss Maria Connor (Samia Longchambon) after a discovery about Max Turner (Paddy Bever) – and it's a mistake that could cost him dearly.
Stephen Reid (Todd Boyce), meanwhile, is up to no good once more after he receives word that Carla Connor (Alison King) is intent on going back to work, but will his desperation prove to be his downfall?
Elsewhere on the street, Alya Nazir (Sair Khan) shares a moment of passion with ex Ryan Connor (Ryan Prescott), while Daisy Midgeley (Charlotte Jordan) and Daniel Osbourne (Rob Mallard) report stalker Justin (Andrew Still) to the police.
But things are ultimately set to get even darker.
For an in-depth look at what next week's (February 20 to 24) Corrie has to offer, you've come to the right place, as Metro.co.uk serves up your weekly episode guide, revealing all-things cobbles-related.
Be warned, it's a big week!
Monday February 20
David ask Daniel to find out how Max is doing following his imprisonment, but he's traumatised to discover that his son has been attacked. The hairdresser subsequently drowns his sorrows, before leaning in for a drunken kiss with Maria, who orders him to go home.
Maria relays the incident to Gary, who finds David and Shona in the Rovers and spills the beans, leaving Shona mortified as she hurries away – before later telling David that she's leaving him!
Alya says goodbye to Zeedan as he sets off for London. Afterwards, she comes face to face with Jayden, a client who's accused of stabbing someone. With emotions running high – and before Adam and Dee-Dee can intervene – Alya angrily describes exactly what it's like to be stabbed.
Ryan, meanwhile, listens as Alya opens up, and he suggests that she should put it all down in her personal victim statement. The two grow close, with Ryan pulling Alya in for a hug, which soon turns into a passionate kiss!
Is it time for Coronation Street's killer Stephen Reid to get caught?
Stephen takes shocking action to keep Carla away from work, turning up at her home and spiking her glass of water, leaving her feeling woozy and disoriented. Peter decides to call the doctor, worried sick about Carla.
Paul joins Dee-Dee in the kitchen and reveals that Billy kissed him, but he simply cannot afford to get involved again, citing too many complications as the reason why. Todd, meanwhile, urges him to come clean about the attack on Mike, but Paul has other things on his mind as his leg is still causing him pain.
Wednesday February 22
David reveals to Gail that Shona has left him. Maria, meanwhile, is quick to assure Shona that David's drunken attempt to kiss her meant nothing, urging her to give him another chance. But will her efforts pay off?
Alya stops by to visit Max, who explains how his life is a mess and, later, he telephones David, asking him to come visit. David subsequently thanks Alya for paying going to see Max. Alya, meanwhile, reads out her victim impact statement that she's written for Blake's trial, with Yasmeen listening.
Maria tells Gary that Len Cameron appears to have had a change of heart and has agreed to fund the refugee centre. Spider visits Griff in prison and agrees to get his sentence reduced if he reveals where the funding came from. Griff reveals that Len Cameron funded his terrorism campaign. Spider has enough and tells him he can forget about a reduced sentence, leaving Griff seething.
Daisy is bombarded by messages from Justin, with Daniel resolving to report the incident to the police. PC Scott, however, plays the whole thing down and begins to like all of Daisy's holiday snaps, much to her horror.
Billy and Paul break the news to Todd that they're back together. In the Rovers, Billy chats to Dee-Dee and neither of them notices Paul struggling to pick up his darts.
Friday February 24
Justin approaches Daisy with a bouquet of flowers in hand. Daisy, however, destroys the bouquet, stamping on them in front of the stalker, before punching him – after he lays a hand on her. Justin accuses Daisy of assault, as she is taken to the station.
Stephen informs Elaine that he can now afford to repay her loan in full. Elaine eyes a new flat in Redbank. Stephen is dismayed to find Carla fighting fit and almost ready to get back to work. Stephen asks Sarah to convince Carla that her mental health is still too fragile for her to return to work, but will he get Sarah on side?
The Platts stop by to see Max, while Nina volunteers to assist Evelyn at the charity shop when a customer named Mo cannot afford the suit he needs for an interview.
Hearing that Mo needed the suit for an immigration interview, Daryan invites him to sit down and later introduces him to Gary and Maria, excitedly announcing that he was at the same processing centre as his brother, who successfully arrived in England after all.
Alya informs Toyah and Maria that Blake was sentenced to 12 years.
Gemma is distraught when she receives an adjusted gas bill for £4000. Paul promises to help her sort it, but he's soon got other things on his mind as, while Billy's back is turned, he struggles to grip a glass with his right hand.
Maria is annoyed when Len Cameron invites the press to photograph him handing over a cheque for the funding. Suddenly, Spider and a colleague screech up in a car wearing stab vests.
Coronation Street airs these scenes w/c February 20 at on ITV1 and ITVX.
If you've got a soap or TV story, video or pictures get in touch by emailing us [email protected] – we'd love to hear from you.
Join the community by leaving a comment below and stay updated on all things soaps on our homepage.
Source: Read Full Article