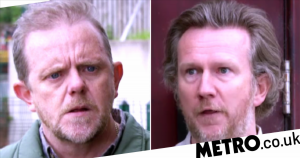 Dan (Liam Fox) took to threatening Lloyd in Friday's (June 30) edition of Emmerdale, as his disturbing behaviour towards Amelia Spencer (Daisy Campbell) continued to escalate.
Lloyd came across Amelia on social media. She has been building and creating a platform with the intention of becoming an influencer, earning money along the way.
Yesterday (June 29), Amelia welcomed Lloyd into the salon for a beard treatment. At the time, she had no idea who he was, but Lloyd then introduced himself as the top subscriber on her page, which terrified Amelia.
With barely any time to process the fact Lloyd was pretending to be a woman on the social media platform, Amelia was then faced with the fact her stalker wanted one-on-one time and believed that if they spend enough time with each other, he can help turn her into an online sensation.
To view this video please enable JavaScript, and consider upgrading to a webbrowser thatsupports HTML5video
The teen was trapped in the salon, with no choice but to hope and pray that someone would enter and save her.
Fortunately, Mandy (Lisa Riley) was on hand to comfort Amelia as Lloyd ran away.
That afternoon, Amelia received a letter from Lloyd, allowing her to learn that he now knows where she lives.
Tonight, a defiant Amelia headed off to college, convinced that Lloyd wouldn't be bothering her anymore.
Returning home, a horrified Amelia revealed to Mandy and Dan that Lloyd had someone got access to her number, which was enough for Dan to decide that calling the police was the best thing to do next.
However, PC Swirling explained that because Lloyd hadn't actually done anything illegal yet, there was nothing that could be done.
Dan decided to take matters into his own hands, heading to Lloyd's business to try and scare him away.
Sadly, it didn't work so, outside the pub, Dan decided to call the creep and told him that if he has to visit his establishment again, he'll be leaving in a body bag.
The threats will eventually lead to a confrontation between Lloyd and Dan in the village. As they argue, Dan will punch Lloyd, but what consequences will he face?
Source: Read Full Article