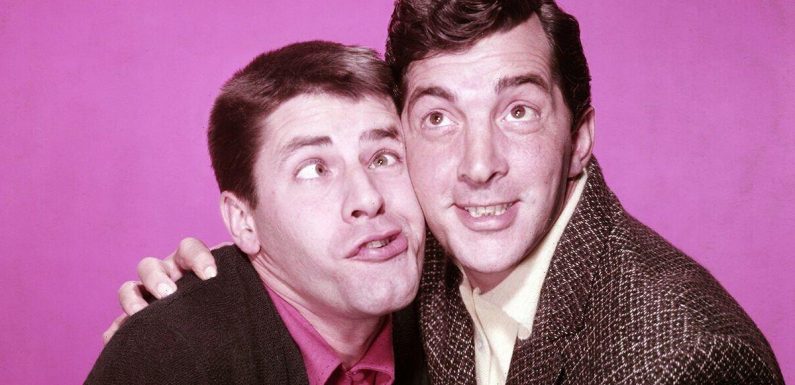 Hollywood or Bust: Dean Martin stars in trailer for 1956 film
We use your sign-up to provide content in ways you've consented to and to improve our understanding of you. This may include adverts from us and 3rd parties based on our understanding. You can unsubscribe at any time. More info
It was 66 years ago today that Dean Martin and Jerry Lewis split professionally and relationally, exactly 10 years after they teamed up. The duo had already become drawn apart after 16 movies together, with the crooner thinking the goofball comic was controlling their work, which made the latter feel betrayed.
Martin had a more relaxed approach to work, while Lewis was a workaholic who was seen by some to carry their act.
The singer was becoming fed up with their movie scripts at Paramount Pictures limiting him to what he felt were colourless leads in stories opposite his partner's comic antics.
The last straw was when he was cropped out of a cover shoot of both of them for Look magazine, leaving Lewis by himself.
Nevertheless, they stuck to their movie contract but would get into awful arguments, with Martin at one point telling Lewis, "You're nothing to me but a f***ing dollar sign."
Their 16th and final movie together, Hollywood or Bust, would be released after they split around Christmas 1956.
In his autobiography Dean and Me, Lewis said how the pair didn't talk to each other off-camera for the entire shoot and also admitted it was the only one of his movies that he hadn't seen because it was just too painful to watch.
The pair then gave a farewell performance at the Copacabana Club on July 25, 1956, exactly a decade to the day after their debut.
Lewis claimed they didn't speak to each other in private for 20 years after this, later commenting: "The stupidity of that, I cannot expound on. The ignorance of that is something I hope I'll always forget."
Over this period, when both saw surges in their careers, they did reunite in public a couple of times but it was never a personal behind-the-scenes reconciliation.
In 1960, both were performing separate acts at the Sands Hotel in Las Vegas. Lewis went to watch Martin's closing act and was introduced by the crooner to the audience, bringing him on stage.
For around 15 minutes they joked around before singing a duet of Come Back to Me, but the singer didn't do this for the comedian in return.
Although, later that year, Lewis was too tired to perform his stage act after filming The Bellboy, so Martin replaced him.
It wasn't until September 1976 that the duo would be reunited thanks to Frank Sinatra organising for Martin to surprise Lewis at his annual Labor Day telethon for the Muscular Dystrophy Association. Sinatra teased: "I have a friend who loves what you do every year."
Martin came on stage and the pair hugged and had a few minutes of banter. It was after this that Lewis said they spoke every day.
He was even there for the crooner when his son Dean Paul Martin was killed in a plane crash at just 35 in 1987.
Lewis attended the funeral unannounced, sitting at the back. When his old partner found out afterwards, he called him up and they spoke for a good hour.
DON'T MISS
Dean Martin's daughter 'almost died' after Elvis said how he saw him [ELVIS]
John Wayne 'exploded in rage' after being caught using his oxygen mask [JOHN WAYNE]
Jerry Lewis' cherished items to be sold at auction [JERRY LEWIS]
Two years later in 1989, Martin and Lewis would reunite for the final time at the singer's 72nd birthday party, which took place Bally's in Las Vegas, where he was doing a week of shows.
The golfball comic presented his old pal with a birthday cake and thanked him for the years of joy he'd given to the world, joking at the end: "Why we broke up, I'll never know!"
Martin died six years later on Christmas Day 1995 and Lewis wrote a sweet memoir of their time together in 2005 called Dean & Me: A Love Story before his death in 2017.
Source: Read Full Article