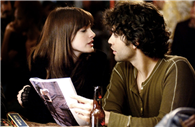 The Devil may wear Prada, but Andy Sachs is still riding solo.
"The Devil Wears Prada" screenwriter Aline Brosh McKenna revealed that if the film were to have a follow-up, Anne Hathaway's iconic character Andy Sachs would "definitely not" still be dating Adrian Grenier's unsupportive chef Nate.
"Andy and Nate are definitely not together," Brosh McKenna told Variety. "That much I can tell you."
Grenier's Nate has been deemed the true "villain" of the beloved 2006 rom-com following aspiring serious journalist Andy (Hathaway) while she rises in the ranks at Runway, a Vogue knockoff fashion magazine. Meryl Streep starred as Andy's boss Miranda Priestly, infamously modeled after Vogue editor-in-chief Anna Wintour.
Hathaway recently addressed the new Nate hate, saying during "Watch What Happens Live!" that Nate is not the villain. "No, I'm sorry, I don't [think so]," the Oscar winner said. "I think that they were both very young and figuring things out."
Hathaway added, "He did behave like a brat, but I also behaved like a brat in my 20s and I hopefully grew out of it. I think that that's what we all do, and I wouldn't want to be defined by my worst moment in my 20s, certainly. So, I don't hold Nate as a villain, actually."
Grenier himself weighed in that Nate was indeed "very selfish and self-involved" as a partner.
Brock McKenna additionally told Entertainment Weekly during the film's 15th anniversary, "He's saying [Andy is] following the devil down the wrong path. And that's his role, which is often a role played by women, which is to remind the character of their moral intentions. I think he isn't unsupportive of her work; he's happy for her, at the end. I don't think it's like he doesn't want her to work."
But alas, fans will not get to see it through.
"WeCrashed" star Hathaway later shut down a possible "Devil Wears Prada" sequel, explaining that while it's "tempting" to think about reuniting with co-stars Streep, Emily Blunt, and Stanley Tucci to reprise their respective roles perhaps in a Eurocentric sequel, a follow-up would simply just not make sense.
"I don't know if there can be [a sequel]," Hathaway said in November 2022. "I just think that movie was in a different era. Now everything's gone so digital and that movie is centered around the concept of producing a physical thing and it's just, it's just very different."
Source: Read Full Article