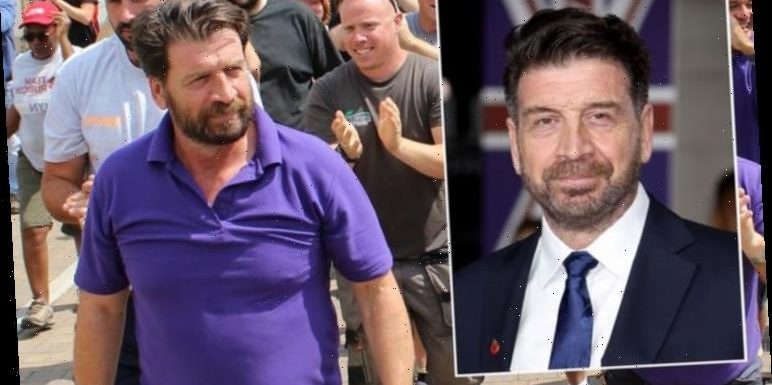 DIY SOS: Darren says son Ollie 'taught him about life'
When you subscribe we will use the information you provide to send you these newsletters.Sometimes they'll include recommendations for other related newsletters or services we offer.Our Privacy Notice explains more about how we use your data, and your rights.You can unsubscribe at any time.
Nick, who has worked on BBC's DIY SOS since 1999, has now signed a contract to present a rival show on Channel 5. The future of the tear-jerking home improvement series, which sees Nick and a team of home makeover experts transform the houses of people who need support, now hangs in the balance.
The show is a popular one amongst viewers, but now bosses are unable to confirm if it will continue now that Nick's contract has ended.
A source reportedly told The Sun: "DIY SOS has been a staple for years, so to see it not being prioritised is a bit strange.
"The pandemic has not helped with delays. There appears to be no firm plan as to when it will return."
The feel-good project show has been a favourite for years, attracting plenty of viewers and often sparking emotional responses on social media.
READ MORE: IR35: Rishi Sunak's rollout will be 'disastrous for self-employed'
The BBC has been contacted for a comment on the future of the show.
Nick, 58, has been signed up to host Your Life on Your Lawn, which assists families with decluttering their homes, and he will offer advice to bring their properties to their best potential.
Speaking about his new Channel 5 gig, Nick said: "I'm excited to be working with Channel 5 on these new programmes.
"They have been channel of the year for two years and are making such good shows currently, it was a no brainer to join in."
A spokesperson for the BBC told The Mirror: "Nick is not exclusive to the BBC and like many presenters, he is working across a range of services."
The popular presenter, who has appeared on ITV's I'm a Celebrity… Get Me Out of Here, is best known for his work on DIY SOS.
Nick recently confirmed the latest episode of the show, DIY SOS: The Big Build, would be "the last one for a while" after it was filmed in Northern Ireland.
He posted on his Twitter account: "Brand new Big Build on BBC1 right now folks – last one for a while."
DON'T MISS…
Rod Stewart 'instantly transformed' in interview after train surprise [VIDEO]
Coronation Street spoilers: Peter Barlow relapses as Carla leaves him? [SPOILERS]
Andrew Neil staggered over Ian Blackford being 'economical with truth' [LATEST]
He added: "There's one in half an hour and then we don't have a date for another."
Nick recently recorded a video message to promote the show to his 158,000 followers on Twitter, where he said: "Tune in if you can, it's the last one for a little while.
"There's a break again until they show any more. Please tune in if you can and support the show. I think you'll find it uplifting."
He received several positive reactions to the episode, with one viewer tweeting him to say: "Caught up on the @DIYSO Northern Ireland episode. It was brilliant.
"I often find myself wondering how these people are getting on now. Is there a way you can do a DIY SOS revisited? I'd love to know how the work you guys do changes the lives of the families?"
While he didn't respond to the question, Nick retweeted the suggestion, which saw a flurry of comments agreeing with the idea.
DIY SOS airs on BBC One.
Source: Read Full Article