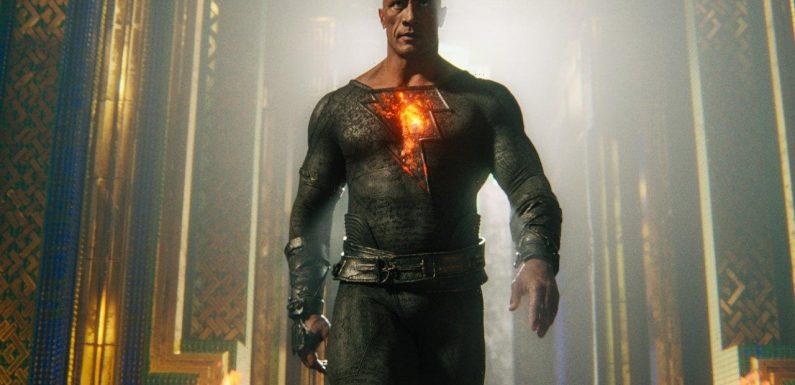 The 'Jungle Cruise' star confirms that 'Black Adam' sequel won't be part of DC's new first chapter under the supervision of new leaders Gunn and Peter Safran.
AceShowbiz -Dwayne "The Rock" Johnson's passion for Black Adam apparently doesn't resonate with James Gunn and Peter Safran. The actor has confirmed that a sequel to his movie won't be part of DC's new first chapter under the supervision of the new heads of DC Studios.
The 50-year-old addressed the uncertain future of "Black Adam" through his Twitter account on Tuesday, December 21. He wrote in a statement, "My passionate friends, I wanted to give you a long-awaited Black Adam update regarding the character's future in the new DC Universe. James Gunn and I connected, and Black Adam will not be in their first chapter of storytelling."
Hinting that it's an amicable decision, the wrestler-turned-actor continued, "However, DC and Seven Bucks have agreed to continue exploring the most valuable ways Black Adam can be utilized in future DC multiverse chapters." He added, "James and I have known each other for years and have always rooted for each other to succeed. It's no different now, and I will always root for DC (and Marvel) to win and WIN BIG."
Not one to be let down with the news, he assured his fans, "You guys know me, and I have very thick skin – and you can always count on me to be direct with my words. These decisions made by James and DC leadership represent their vision of DCU through their creative lens."
Johnson said that he was "very proud" to make the film. "I will always look back on the fan reaction to Black Adam with tremendous gratitude, humility and love. We did great," he penned. To Black Adam fans and his supporters, he said, "I love you, THANK YOU, and I will ALWAYS LISTEN TO YOU and do my best to deliver and entertain you."
Gunn responded to Johnson's tweet with a tease of possible future collaboration with the former WWF star. "Love @TheRock & I'm always excited to see what he & Seven Bucks do next. Can't wait to collaborate soon," the filmmaker tweeted.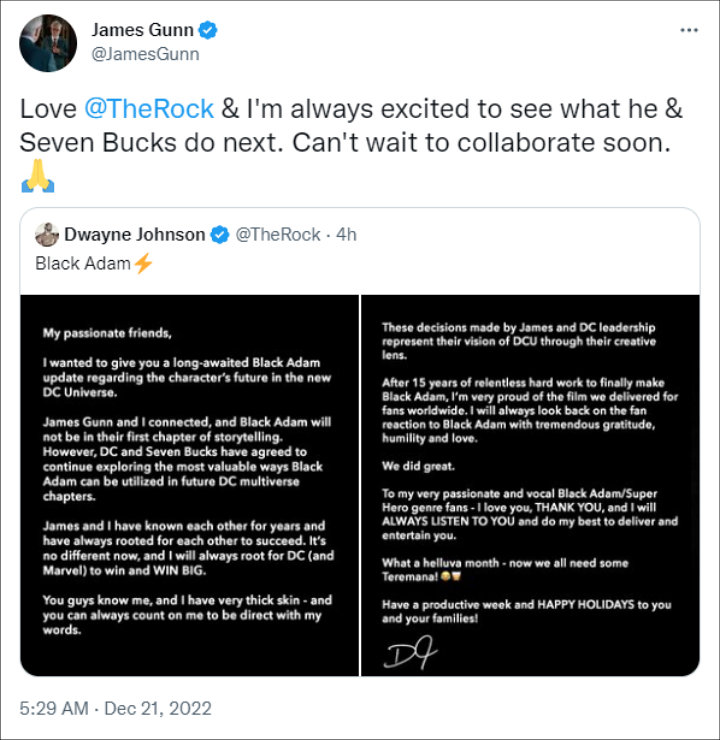 James Gunn responded after Dwayne Johnson addressed 'Black Adam' future in DC's new first chapter.
Johnson's statement arrives after Gunn defended his and Safran's plans for DC's future amid "unkind" and "disrespectful outcry" after ditching Henry Cavill as Superman. "No one loves to be harassed or called names – but, to be frank, we've been through significantly worse. Disrespectful outcry will never, ever affect our actions," he wrote on the micro-blogging site on Monday.
"We were aware there would be a period of turbulence when we took this gig, & we knew we would sometimes have to make difficult & not-so-obvious choices, especially in the wake of the fractious nature of what came before us," he stated. "But this means little to us in comparison to our jobs as artists & custodians in helping to create a wide & wonderful future for DC."
The "Guardians of the Galaxy" helmer also clarified speculation that he and Safran will recast all DC characters. "We're not recasting everyone except The Suicide Squad," he insisted.
Previously, Patty Jenkins addressed reports of her exit from "Wonder Woman 3" after allegedly clashing with the studio over her treatment for the threequel. "When there started being backlash about WW3 not happening, the attractive clickbait false story that it was me that killed it or walked away started to spread. This is simply not true. I never walked away," she tweeted earlier this month. "I was open to considering anything asked of me. It was my understanding there was nothing I could do to move anything forward at this time. DC is obviously buried in changes they are having to make, so I understand these decisions are difficult right now."
She added, "I do not want what has been a beautiful journey with WW to land on negative note. I have loved and been so honored to be the person who got to make these last two Wonder Woman films. She is an incredible character. Living in and around her values makes one a better person every day. I wish her and her legacy an amazing future ahead, with or without me."
James Gunn backed up Jenkins' claims as he replied, "I can attest that all of Peter and my interactions with you were only pleasant and professional."
You can share this post!
Source: Read Full Article