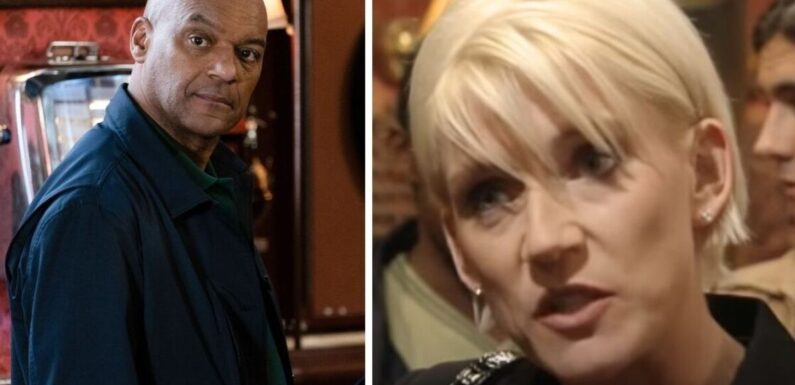 EastEnders: Kathy says she wants Ian Beale at the wedding
EastEnders fans think Rose Knight, who has baffled some viewers as well as some of Walford's residents, is in fact Cindy Beale (played by Michelle Collins) who's set to make a shock return "from the dead".
Some have gone as far as to link the theory with the Christmas Day murder.
The BBC soap showed a flash-forward to Christmas Day 2023 which saw some of the Square's women gathered around a dead body at the Vic.
The only thing they confirmed was that the victim was a male, and some have predicted Cindy will return and be the person to kill someone later in the year.
Walford's new family the Knights have brought a big mystery with them since arriving – the whereabouts of George Knight's (Colin Salmon) wife, Rose.
The timing of the character's upcoming reveal does seem to tie in with Cindy's epic comeback with Ian Beale (Adam Woodyatt).
This hasn't gone unnoticed by viewers, who have taken to social media to predict Rose's alter-ego.
Some have gone a step further by linking Rose/Cindy to the upcoming death, with Twitter user @AarJaeWilliams writing: "Got to be something regarding the Christmas plot I wonder if on Thursday we could see a different angle that shows Rose in the wedding scene. Something I hope ties in nicely #Eastenders."
@Rosskiernan_ penned: "The killer at Christmas could not be Rose/Cindy right? right. #EastEnders."
@UnicornYeti96 theorised: "Calling it: Rose is Cindy. Cindy's in police protection, hence why she can't contact the girls, and why the serious crime unit knocked on Callum's door over a search. And why no trace is on police databases. #Eastenders."
Don't miss…
EastEnders' George Knight begs for forgiveness after ex-wife bombshell[LATEST]
EastEnders' Rose Knight identity 'revealed' as fans spot link to iconic role[THEORY]
EastEnders Jay Brown turns to drink as he struggles ahead of Lola's funeral[VIDEO]
We use your sign-up to provide content in ways you've consented to and to improve our understanding of you. This may include adverts from us and 3rd parties based on our understanding. You can unsubscribe at any time. More info
"Gina is Cindy's sister's name, that must be who 'Rose' & George's daughter Gina is named after. Also Bobby likes Anna & killed Lucy. Cindy would surely hate Bobby for killing her daughter & won't want him anywhere near her other daughter Anna? #EastEnders," @CrysTalksVlogs shared.
@guppy662 added: "#EastEnders has anyone thought this rose thing and the knight family may be a red herring, and someone completely unexpected died at Christmas?"
Could Rose in fact be the iconic Cindy, who will soon be making a return to the Square? And does her story tie in with the Christmas death?
EastEnders continues on Wednesday at 7.30pm on BBC One.
Source: Read Full Article