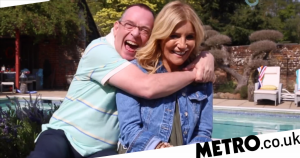 Instead, they took up temporary residence in 'freezing' Radlett, as Adam Woodyatt explained.
'We're supposed to be in France, except we're not, we're in sunny Radlett. Except, it's not that sunny, it's bloomin' freezing!'
Despite the weather, it's clear the cast still had a good time, with both Adam and Michelle enthusing about working together again. admitting how 'weird' it felt after so long.
'I have seen Adam within that 25 year period [between EastEnders stints], so it's kind of weird actually,' Michelle revealed. 'Adam said it earlier, it's a bit like putting on a pair of old slippers!'
'It's really weird filming with Michelle again,' Adam explained, 'because I see Michelle a lot outside of filming, and have done for years and years and years. So, actually to be back working with her again is… Yeah, it's good!'
Cindy's return was only possible thanks to a lot of research and planning among the production crew, with even Michelle admitting that she wasn't sure it could happen.
'I never thought they'd be able to do it,' she confessed, 'actually get her back after 25 years.
'But when they told me the storyline that they planned, I thought, "wow! This is quite exciting!"
'It's a bit daunting, I suppose, but it's exciting!'
Cindy and Ian weren't the only characters to make a surprise return, with Thomas Law and Jacqueline Jossa reprising their roles as Peter Beale and Lauren Branning, much to the shock and delight of viewers.
While Jac's appearance was a one time event, Thomas is set to rejoin the cast on a more permanent basis, and teases an 'exciting' future for Peter and the rest of the Beales.
'Stay tuned for what's to come,' he insisted, 'because I can't say too much about what's coming next, but I've heard it's very exciting!'
Consider us glued to our seats!
Source: Read Full Article