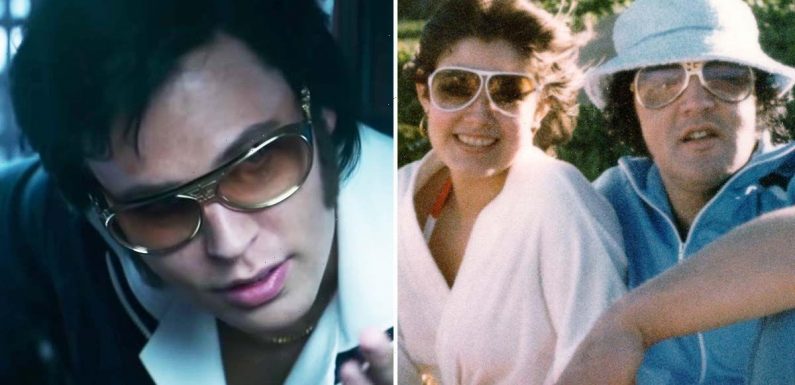 ELVIS: Official second trailer for Baz Luhrmann's movie
We use your sign-up to provide content in ways you've consented to and to improve our understanding of you. This may include adverts from us and 3rd parties based on our understanding. You can unsubscribe at any time. More info
Next week, the highly anticipated Elvis Presley movie will hit cinemas with Austin Butler starring as The King alongside Tom Hanks as Colonel Tom Parker. Express.co.uk has seen and reviewed Baz Luhrmann's new film, which focuses on the star's relationship with his manager through the latter's eyes from 1955 to the star's death in 1977. Priscilla Presley, Elvis' ex-wife, features throughout the film, however much of his final years and the women who dominated them do not.
Elvis as a biopic does tell the story of The King's short 42 years, with much of the focus around his rise in 1956, the 1968 Comeback Special and early 1970s Las Vegas years.
However, the action only goes up to late 1974, not long before his 40th birthday the January, as the star is depicted worring about not being remembered – a scene that features in the film's trailer.
Yet, while the movie does conclude with his 1977 death, neither his girlfriend from 1972-1976 Linda Thompson, nor his final lover Ginger Alden – who found him dead on his bathroom floor – are even mentioned in the film.
There is brief real archive footage of Linda with Elvis in a car driving into Graceland's gates, but that's it. In the last few days, both women have alluded to their frustrations in social media posts.
Linda posted recent snaps of herself visiting Graceland and wrote: "No one can ever take away your knowledge of the TRUTH… Your memories indelibly etched forever… Your significance and importance in the lives of others… Carve out your own accomplishments & know your place in the world. No one can ever take that away from you… Carry the dignity of authenticity and wear it like a crown of honour! Your history and the grace in which you handle it is your legacy."
Now Ginger has shared her feelings too, sharing a rallying call for the story "he would truly want" to be made.
View this post on Instagram

A post shared by Linda Thompson (@ltlindathompson)
Ginger, who claims she was engaged to the star, posted on Facebook: "There were things Elvis shared with me in his later life, his hopes and plans for the future which we talked about often. Being the one at his side, caring for him, loving him and experiencing many special times together, I can only hope for history sake, this can be included in his story one day as he would truly want…"
DON'T MISS
Elvis Presley's wild Vegas years: From hair dye on walls to decline [ELVIS VEGAS]
Lisa Marie Presley on 'emotional, incredible' time at Elvis premiere [LISA MARIE]
Elvis: Priscilla worried about 'adult, dangerous' Netflix show on King [PRISCILLA]
A fan commented on Ginger's post: "Thank you for sharing this! I hope you write another book about this. I think you are really brave to speak out for him always. He would be proud of you for standing up for him. They erased you from the Graceland displays, but real fans know you were his future." To which, she affirmed by replying: "Thank you."
Elvis hits cinemas on June 24, 2022.
Source: Read Full Article