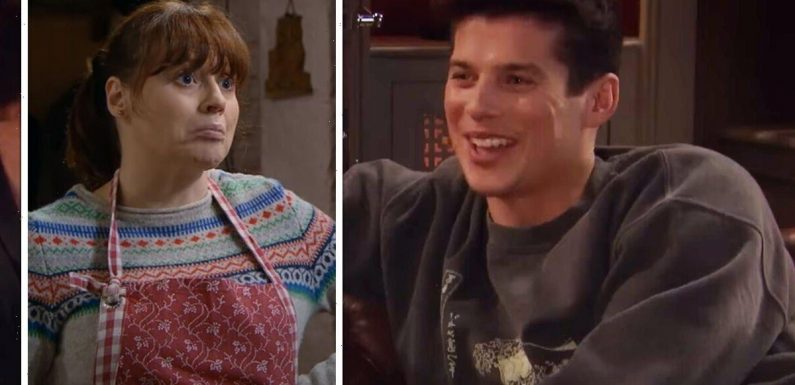 Emmerdale: Gabby Thomas turned down as she tries to kiss Nicky
We use your sign-up to provide content in ways you've consented to and to improve our understanding of you. This may include adverts from us and 3rd parties based on our understanding. You can unsubscribe at any time. More info
On Wednesday's instalment of Emmerdale, Gabby Thomas (played by Rosie Bentham) had a heart-to-heart with Nicky (Lewis Cope) about trying to kiss him while she was drunk. Nicky told her he did not want to lose his job as a nanny by "blurring the lines" between them. However, viewers are convinced he's got the hots for a married villager which is why he isn't interested in Gabby.
During the latest episode, Gabby spoke to Nicky about trying to kiss him while she was tanked up on alcohol the previous evening.
"It's not that I am not flattered, I just don't want to blur the lines," Nicky told a crestfallen Gabby.
"I like my job too much to lose it," Nicky explained as Gabby looked deflated.
Later on, Gabby and Dawn Taylor (Olivia Bromley) ended up clashing as the latter was reminded about being a prostitute in the past, which her children overheard.
Dawn broke down to her dad, telling him: "They are innocent kids, dad. I wanted to save them from all that."
Meanwhile, Nicky ran into Lydia Dingle (Karen Blick) while she was cleaning and brought her laundry to Kim Tate's (Claire King) house where he works.
"I gave the fridge a clear out too, it's all out of date, you lot won't eat it but Sam and Samson will," Lydia told Nicky who seemed confused.
Nicky replied: "Launderette and takeaway, someone is filling their boots. Don't worry, your secret is safe with me."
Emmerdale viewers found the exchange between the pair a little flirtatious, with some believing Nicky might make a move on Lydia in upcoming scenes.
Doreen Morfitt tweeted: "Story twist – Nicky has the hots for Lydia #emmerdale."
Elizabeth Scott replied: "That's what I was thinking. Or there's something dodgy about him."
However, Brandon suggested: "Nicky is after #Dawn not #Gabby on#Emmerdale."
DON'T MISS…
Emmerdale's Cathy Hope lies to dad Bob after hiding health battle [LATEST]
Emmerdale fans 'work out' Nicky's true identity after Dawn betrayal [UPDATE]
Emmerdale's Priya Sharma star on 'hard decision' to leave ITV soap [INTERVIEW]
Meanwhile, Peter penned: "#Emmerdale Got a feeling that Nicky is going to turn out to be a nasty character."
McWhiskers had another theory, adding: "I didn't think Lydia would be a bit cheeky with the 'past the sell-by date' stuff from Kim's fridge and using her washing machine.
"I wonder if Nicky is going to blackmail her – not a lot to blackmail someone over but I suppose it's how he'd say he'd tell Kim."
Could an unlikely romance be on the cards between Nicky and Lydia or would she remain faithful to her husband Sam Dingle (Jame Hooton)?
Elsewhere, Cain Dingle (Jeff Hordley) was looking through drawings his son Kyle Winchester (Huey Quinn) had made before Moira Barton (Natalie J Robb) accidentally knocked his drink over them.
"Do you know how much work [Kyle] put into that?" Cain raged at Moira.
"I know you're upset about the hearing and the visit tomorrow, but that doesn't give you the right to lash out at people," she snapped back.
When Cain apologised for overreacting, Moira said: "You always do Cain, that's what worries me.
"I hope to God that Kyle gets released on bail tomorrow. If you're this angry now and things don't go his way, well our lives won't be worth living."
Emmerdale airs on weeknights at 7.30pm on ITV and ITVX.
Source: Read Full Article