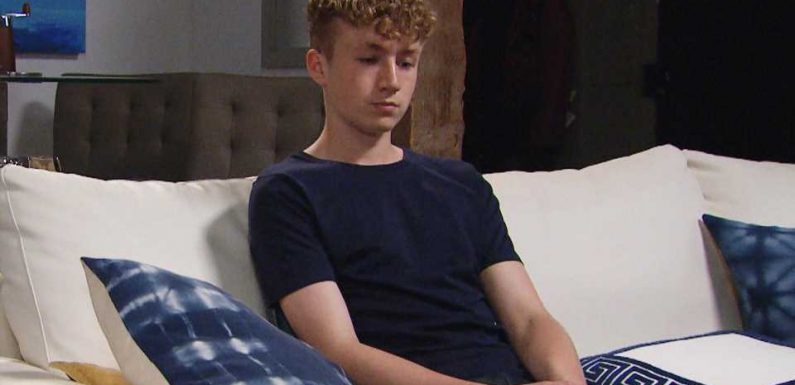 ZOE Tate was last seen in the Dales in 2005 before she left to start afresh in New Zealand.
But the legendary Emmerdale character makes a sudden appearance to give Noah Dingle a shock.
The troubled teen portrayed by Jack Downham has had a rocky life in the eponymous village.
ITV viewers will remember the lad was sent to prison after being found guilty of harassing and tormenting his former flame Chloe Harris.
Fans of the Yorkshire-based drama had lost hope the troublemaker could ever turn his life around as the chaos he wreaked throughout the village was continuous.
He had even planned to rape Amelia Spencer in an attempt to make Chloe Harris jealous.
More Emmerdale
Emmerdale shock as Caleb Miligan reveals his true colours
Vera shock as Emmerdale legend appears in tonight's episode
However, Noah shocked them when he returned to Emmerdale a changed young man.
In scenes due to air next week, it'll be Noah's turn to receive a massive surprise.
The 18-year-old finds out that his aunt Zoe Tate set up a trust fund for him in his father Christopher's name.
After changing his ways, Noah became romantically involved with Amelia Spencer, supporting her throughout her surprise pregnancy.
Most read in Soaps
EastEnders' Cheryl Fergison looks different to Heather Trott 15yrs on
Brooke Vincent sends Corrie fans wild as she's pictured returning to soap set
Legendary Corrie star hints shock return to the soap after 18 years off screen
Seven Corrie spoilers: family reunion, knife attack and an affair is exposed
Viewers were shocked when Noah stepped up to the plate and confirmed he was ready to take care of baby Esther as his own as the baby's biological father, Samson Dingle, wanted nothing to do with her.
Could Zoe Tate's decision come in handy for the young father?
Zoe Tate was involved in a string of explosive storylines during her stay in the eponymous village, which began in 1989.
The iconic character played by Leah Bracknell most notably came out as a lesbian and even had a passionate love affair with Noah's mother, Charity Dingle.
She also battled schizophrenia and had to cope with the deaths of her father and brother, Frank and Chris Tate.
The latter committed suicide after finding out he'd been diagnosed with an inoperable brain tumour and framed Charity for his murder.
EMMERDALE NEWS
Everything you need to know about Emmerdale
New, leaving and returning Emmerdale cast
Where is Emmerdale filmed?
All the Emmerdale spoilers
Our soap spoiler live blog with up to date news
The history of Emmerdale's iconic pub The Woolpack
Zoe had been willing to testify against Charity, affirming she'd killed her brother but the Woolpack landlady gave her custody of Noah for the evidence that Chris took his own life.
She then left Emmerdale alongside her nephew Joseph, of whom she obtained custody after the death of his parents, and her daughter Jean.
Is there a bigger surprise in store for Noah?
Read More on The Sun
Shocking video reveals why you should never rub your eyes if you're tired
Shoppers rave about Primark coat that's 'perfect dupe' for £290 North Face version
How will Charity react to the news?
Emmerdale airs weeknights from 7.30pm on ITV.

Source: Read Full Article