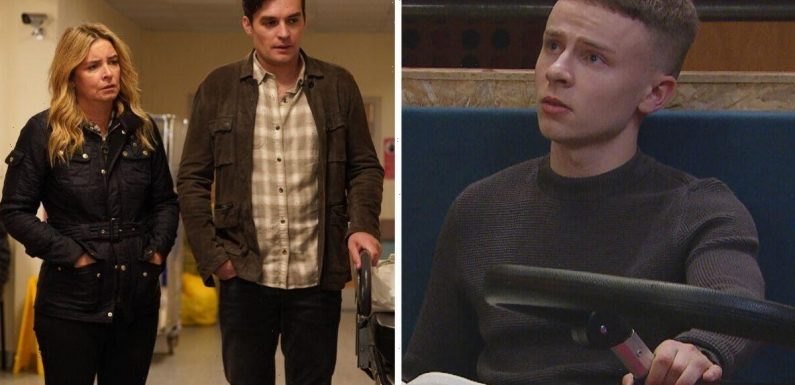 Emmerdale: Samson told about his daughter's trust fund
We use your sign-up to provide content in ways you've consented to and to improve our understanding of you. This may include adverts from us and 3rd parties based on our understanding. You can unsubscribe at any time. More info
Emmerdale's new mum Amelia Spencer (played by Daisy Campbell) has had a rough time of late, especially after Samson Dingle (Sam Hall) said he didn't want anything to do with their daughter Esther. However, it didn't take long for Noah Dingle (Jack Downham) to step up to the plate, as he has done nothing but support Amelia and Esther ever since.
More recently, he even put some money he had inherited into a bank account for Esther for when she grows up.
However, in upcoming scenes, it seems Samson has taken a U-turn after finding out about the substantial amount of money.
In a recent episode, Samson walked into the cafe as Noah, Amelia and Dan Spencer (Liam Fox) celebrated his newfound fortune.
Although, it didn't take Brenda (Lesley Dunlop) long to let slip what they were toasting to.
As Samson approached the cafe counter, he pointed out: "They seem cheerful?"
"Because they've got something to celebrate, haven't they?" Brenda replied:
"You've probably been out of the loop.
"Noah has been given a trust fund and he's going to put it all into an account for Esther."
"Is it worth much?" Samson probed further as Brenda let slip: "It's not to be sniffed at apparently."
In official spoilers released by ITV, Noah seems to interfere with Noah and Amelia's relationship.
Noah arrives in the cafe with Valentine's gifts but he's worried when he finds Samson spending more time with Amelia.
The boys have an awkward exchange before Samson leaves.
Despite Amelia's confidence that this is a positive step, Noah is unconvinced, and his insecurities over Samson rise.
Is Samson trying to get closer to Amelia just to get his hands on Esther's money?
If he succeeds, Amelia could be naive enough to be roped into his lies, and in doing so ruin her relationship with Noah.
Fans have also taken to social media to share their own thoughts about the storyline.
Many think Samson will try to get his hands on Esther's money, with user @macnamara60 writing: "Samson's about to do something monumentally sleazy, I fear."
"Samson…horror #emmerdale," Kathleen said as @unsworth1live added: "Samson eyeing up Esther's upcoming trust fund?"
Nat replied: "Is he trying to get at Noah as it feels like he is taking over completely?" (sic)
"No he has just heard about the money and will offer to sell him the baby," SJ Sampson shared throwing another theory into the mix.
Emmerdale airs weekdays from 7.30pm on ITV.
Source: Read Full Article