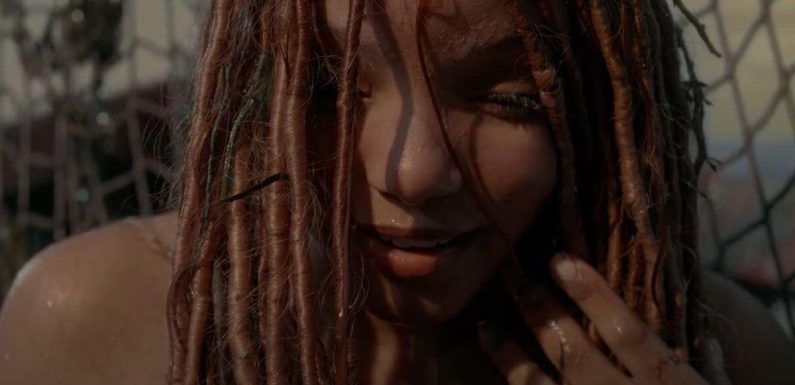 The Little Mermaid – Official trailer with Halle Bailey
We use your sign-up to provide content in ways you've consented to and to improve our understanding of you. This may include adverts from us and 3rd parties based on our understanding. You can unsubscribe at any time. More info
Disney unveiled The Little Mermaid trailer last night at the Oscars, with leading lady Haile Berry, accompanied by Melissa McCarthy (who plays sea witch Ursula), telling the star-studded audience, "It has been such an honour stepping into the iconic role of Ariel. It has been an extraordinary experience, a dream come true for me." There were initial grumbles online from viewers frustrated by anything that slowed down the already lengthy ceremony, but fans soon swamped social media with emotional celebrations. Apart from the predictable ongoing backlash against the casting of non-white actor Berry, there were also rather more substantial criticisms, including some horrified by the depiction of one of the original cartoon's most beloved characters.
The original 1989 Little Mermaid cartoon isn't just a cherished classic, it was responsible for rebooting the House of Mouse and heralding the dawn of a new age of triumphs including The Lion King and Beauty and the Beast.
The past decade has seen a somewhat divisive drive to recreate live action versions of the animated gems, to mixed critical and fan responses.
Many of the first reactions to last night's trailer were overjoyed, including: "This is too much for me! I'm in tears," and "Just finished watching the full trailer for the first time and I'm in tears, this looks beautifully done. I can't wait to see this in theaters!"
The film is a faithful recreation of the animation's take on Hans Christian Anderson's fable of the besotted mermaid who sacrifices her voice in order to walk on land and romance handsome young prince Eric (Jonah Hauer-King). Before that happens, Berry certainly sounds spectacular on a full-throttle, beefed-up version of the character's signature anthem Part of Your World.
Rob Marshall's new incarnation also stars Javier Bardem as sea king Triton with the voices of Awkwafina as seagull Scuttle, Jacob Tremblay as Ariels' BFF tropical fish Flounder and Hamilton star Daveed Diggs as crab Sebastian.
It's the latter's portrayal which has outraged some fans, and it's not just TV dramas that infuriate viewers with shadowy scenes – many comments blast struggling to be able to see anything at all in much of the trailer.
Watching the trailer you will see, or actually not see, how dark many of the scenes in the ocean's depths are. This may be pretty realistic but a night-time romantic rowing boat scene is also very atmospheric but admittedly murky. Commentators have been turning up the brightness on the screens to try and make out some of the characters.
Others posted spoof images of all-black 'screenshots' or Anna Wintour shrouded in shadows with the sarcastic tagline "The Little Mermaid looks pretty well lit to me."
Another said: "The Little Mermaid is the first feature-length movie filmed with the lens cap on."
DON'T MISS:
Little Mermaid trailer leaves Oscars viewers outraged
Vandals spray iconic Little Mermaid statue in colours of Russian flag
Malala Yousafzai on 'painful joke' aimed at her by Jimmy Kimmel
But the real vitriol has been saved for the film's depiction of Sebastian. Comments included: "What the f**k did they do to Sebastian in the live-action remake for the Little Mermaid? The other stuff in the trailer looks good but I cannot tolerate this."
One said: "I can't even describe how heartbreaking he looks….my gosh people need to stop "fixing" what was never broken and a classic!!"
Another was even harsher: "I love the original Little Mermaid – I went with an open mind… But my god… The Little Mermaid live action trailer was AWFUL… The actors all look out of place, the actors look awkwardly green-screened, the real-life sea creatures are UGLY… That's Sebastian?! No. No. NO!"
Supportive fans hit back with comments like: "Grown adults having deep negative opinions on The Little Mermaid trailer is so funny. You're 30! It's a kid's film! Enjoy it for what it is and worry about renewing your car insurance it's 7 weeks overdue!"
Less amusing is the revival of the "anti-woke" rhetoric of some like Republican campaigner Mark J Kilbane, whose Twitter tag line is "Vote against woke." He said: "Three and a half MILLION dislikes of Disney's live-action Little Mermaid trailer, not because of a mountain of racists but a public sick of virtue signaling (sic) stunt cast remakes. Make some new art."
The new trailer actually has 2.4million views with 64,000 likes and no recorded dislikes. And comments flooded in slapping back at Kilbane.
Replies included: "Mark…mermaids aren't real. I'm so sorry to break this news to you. They are fictional characters. They can be all different colors. Go touch some grass."
"People of colour have not seen anyone who looks like them in the media growing up. Then a few inclusive remakes get done and the racists have fits. At least it makes it easy to see you for what you are."
"Lol snowflakes triggered by what color mermaids are. Mermaids are fictional. They can be purple polka-dotted if someone wants to make them that way. Why would anyone care?"
THE LITTLE MERMAID IS OUT IN CINEMAS ON MAY 26
Source: Read Full Article