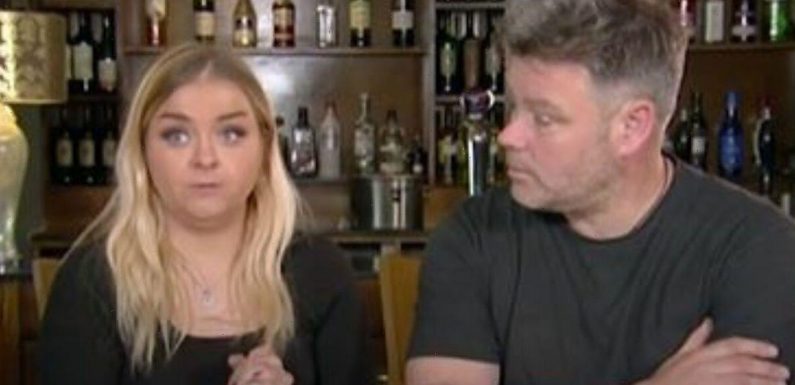 Four in a Bed owners 'devastated' over guests markdown score
We use your sign-up to provide content in ways you've consented to and to improve our understanding of you. This may include adverts from us and 3rd parties based on our understanding. You can unsubscribe at any time. More info
On Tuesday's instalment of Four in a Bed, Channel 4 viewers watched as the second couple pulled out all the stops to try and prove their establishment had the best value for money over the other teams. However, when receiving their feedback, one markdown left Georgia and Paul devastated.
Throughout the episode, each of the other guests seemed pleased with their stay with little criticism of the converted barns.
Although for couple Michael and Danielle, they had to sleep in separate spaces due to space with Michael being given the £65 single bedroom.
However, the Northumberland B&B owner was less than impressed with the noise coming from the small fridge in his room which resulted in him marking down the duo when it came to giving feedback.
When it was time for Paul and Georgia to find out what the three couples thought of their accommodation, they were thrilled with glowing praise from the first two.
Moving onto the third and final review from Michael and Danielle, they decided to mark down the duo for a few issues.
When asked how the hosts at The Shuckburgh Arms were, the couple had given a 10 as they described Georgia and Paul as faultless.
Calling the feedback overwhelming, it was then time for them to find out how their guests had slept in their converted barn.
However, realising they hadn't scored a perfect 10, the B&B owners weren't happy with the markdown.
Getting a total of eight, Paul said: "An eight?! Devastated, I'm devastated, should we read the comments."
Looking at the feedback, the guest confessed that although he had slept well, the fridge was making noises.
After hearing their comments, Georgia said: "I'm guessing this is Micahel's room because I did have an issue with that fridge."
Agreeing, her partner replied: "Yeah if it's whirling away all night, that would keep him awake, sorry Michael."
The markdowns didn't end there as the owners learned the guest, who they had figured out was Michael, gave them a nine.
Although Paul said he was pleased with the near-perfect score, they were aware it could have been a 10 if they had told Michael about other options at breakfast.
In the feedback, it stated the guest enjoyed their meal but would've preferred more coffee options.
Georgia commented: "We do have them, we just didn't say."
Don't miss…
EastEnders star Danny Dyer 'honoured' to be in new BBC comedy[LATEST]
Giovanni Pernice hesitant to confirm Strictly Come Dancing return [LATEST]
Coronation Street's Stephen Reid kills again as Carla loses it all [LATEST]
Going off of the review, Paul replied: "Maybe we need to put the coffee options at the bottom of the menu?"
When it was time to find out if the guest would be willing to come back to their accommodation Georgia was dubious.
She said: "I don't think they will."
However, the B&B owner was pleasantly surprised to learn the guest said they would.
High-fiving one another, she said: "Three out of three, we got positive feedback."
Paul added: "Yeah I'm over the moon with that, the game is wide open, bring it on."
In the next episode of the Channel 4 show, viewers will be taken to Great Yarmouth to Stu and Lou's Beachside Holidays.
Four in a Bed continues weekdays on Channel 4 from 5pm.
Source: Read Full Article