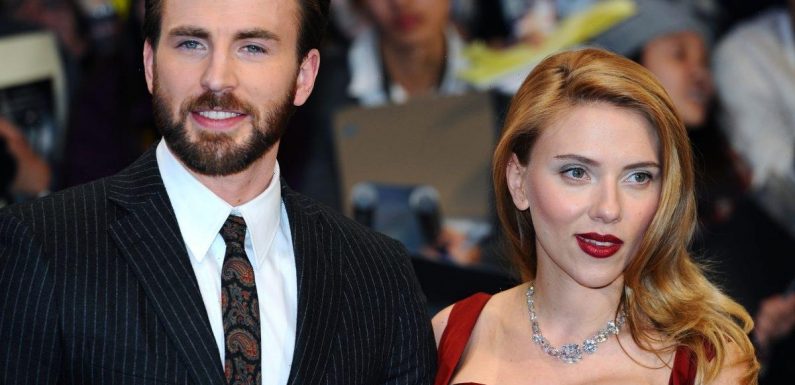 Chris Evans and Scarlett Johansson will once again come together for an action movie, but this time with some added romance. The Marvel actors will star in the Apple Tv+ movie, Ghosted, directed by Dexter Fletcher. Evans and Johannsson had worked on several movies together before making their debut in the Marvel Cinematic Universe. Ghosted is be the first project they will appear in together since their on-screen work in Avengers: Endgame.
'Deadpool' and 'Zombieland' writers join 'Ghosted'
Dexter Fletcher will direct the Apple+ project. Fletcher is known for directing Bohemian Rhapsody after replacing Bryan Singer in 2018. A year later, Fletcher directed the biographical musical fantasy drama Rocketman. Paul Wernick and Rhett Reese will join Fletcher as writers for Ghosted. The two writers have worked together on other popular action movies.
Wernick and Reese wrote the scripts for Zombieland, G.I. Joe: Retaliation, and Life. More notably, Wernick and Reese are behind the script for Ryan Reynold's Deadpool and its sequel. According to The Hollywood Reporter, Evans will produce the project with David Ellison, Dana Goldberg, and Don Granger of Skydance. Wernick and Reese will also work on the movie as producers.
Chris Evans and Scarlett Johansson are in advanced negotiations for 'Ghosted'
News of Ghosted has been kept under wraps as there are no details on a start date or the movie's storyline. Evans and Johansson are in advanced negotiations to star in the action-romance movie. According to The Hollywood Reporter, the movie has a similar feel to the 1984 adventure movie, Romancing the Stone. The movie stars the coveted Michael Douglas and Kathleen Turner in the lead roles.
Romancing the Stone is about a romance novelist, Joan Wilder (Turner), who is given a mysterious map on the way to meet her editor. She learns it is from her murdered brother-in-law and receives a call from her kidnapped sister. Joan must travel to the coastal city of Cartagena in Colombia with the map. In Colombia, Joan meets Jack T. Colton (Douglas), a rugged American bird hunter. Together they go on a wild and dangerous adventure.
From 'The Nanny Diaries' to 'Avengers: Endgame', Chris Evans and Scarlett Johansson have a long history
Ghosted is not the first movie Evans and Johnsson have worked on together. The two actors became well known for portraying Captain America and Black Widow in the MCU, they already had an acting history. As budding actors, Evans and Johansson stared in the 2004 movie The Perfect Score. Three years later, Evans appeared as Johansson's love interest in The Nanny Diaries.
They first appeared together in the MCU in The Avengers in 2012. As Captain America and Black Widow, Evans and Johansson would continue to appear on screen together in Captain America: The Winter Soldier, Captain America: Civil War, Avengers: Age of Ultron, and Avenger: Infinity War. Evans hung up his shield in Avengers: Endgame, ending his MCU run with Johansson.
Source: Read Full Article