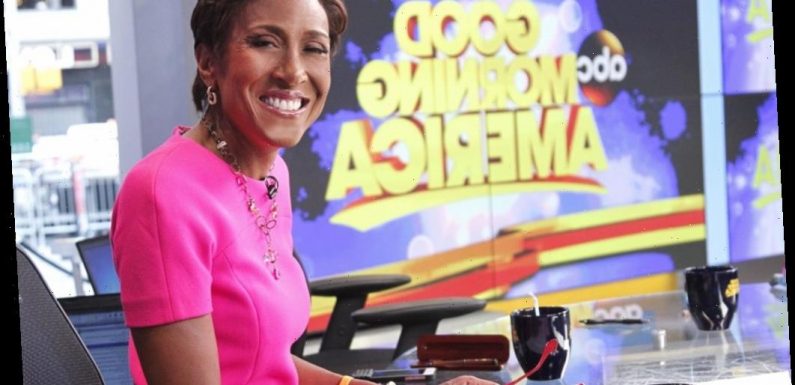 Robin Roberts of Good Morning America is known for her journalistic expertise and positive persona. Always one to keep her cool, Roberts surprised viewers with an offhand comment following an interview with former political aide and reality star Omarosa Manigault-Newman. The GMA star recently commented on her reaction after the segment, and revealed a question she was repeatedly asked.
'GMA's' Michael Strahan had a sit-down with Omarosa Manigault-Newman in 2017
When the former White House staffer spoke to Michael Strahan about her upcoming departure from the Trump administration in January 2017, Manigault-Newman alluded to sharing her political experiences at a later date.
"When I have my story to tell as the only African-American woman in this White House," Manigault-Newman told Strahan, "as a senior staff and assistant to the president, I have seen things that have made me uncomfortable, that have upset me, that have affected me deeply and emotionally, that has affected my community… when I can tell my story, it is a profound story that I know the world will want to hear."
Following the interview, Roberts gave viewers a clue to her thoughts on Manigault-Newman comments.
"She said she has a story to tell?" Robins said to co-hosts Strahan and George Stephanopoulos. "I'm sure she'll be selling that story. She will."
Then Roberts looked into the camera, and with a purely professional voice ended the conversation with, "Bye, Felicia!"
When Manigault-Newman heard of the post-interview comment, she wasn't happy. "That was petty," the former reality star told Inside Edition, according to Vanity Fair. "It's a Black-woman civil war."
Robin Roberts of 'GMA' called it 'a moment'
The uncharacteristic remark from the always-polished Roberts was apparently eaten up by viewers, who shared their delight on social media. While most audiences understood the dismissive 'mic drop' statement that was derived from a 1995 film, Roberts revealed that some people were confused by the colloquialism.
"I remember so many people from both sides of the aisle reached out to me saying 'Who's Felicia?'" Roberts told Variety in January 2021. "That's not how I normally react."
When the GMA anchor was asked what prompted her to make the comment, she explained that it was completely off the cuff.
"I don't think there was anything in particular that made me say it," Roberts revealed. "I wasn't trying to make it something at the time, but it was a moment."
'GMA' and other morning news programs will continue to evolve
With the many changes Good Morning America has undergone over the years, including more light-hearted segments and in-person viewers, Roberts noted the changes since she began on the morning news program in 1995.
"I would not have known when I started as a regular in 2005 that we would be in front of a live studio audience," Roberts shared. "That we would have the pace that we have, that we would have the story count and the number of stories and types of stories we do."
The GMA anchor makes a priority of staying attuned to what viewers want to see on TV in the morning.
"I have no idea of what will happen in five or ten years," Roberts explained. "I think we are going to take what's working and what's good and what people like. We will keep that and we will tinker with whatever it feels like is going to serve the audience best."
Source: Read Full Article